Parenting tips: 18 things I know on my son's 18th birthday
All the parenting tips that matter about how to raise a baby from birth to adulthood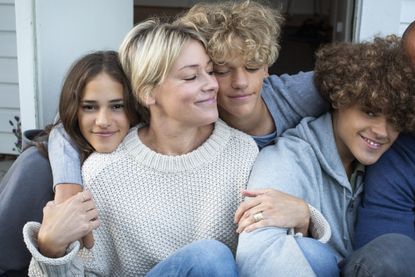 (Image credit: Future)
Parenting tips can change with the tide and babies don't come with a manual. This might be the next best thing: 18 parenting tips from our Consumer Editor on her first child's 18th birthday.
There's no substitute, when it comes to parenting, for trusting your instincts and simply doing the best you can. But whether you're navigating baby sleep (opens in new tab) and night feeds (opens in new tab) or navigating the trenches of the teenage years, downloading some parenting tips from other mums can really help you find your feet - especially if you're a first-time parent.
As a mum of three and Consumer Editor (opens in new tab) of Goodto with a lifetime (literally) of experience as a parenting journalist; "I've been there and bought the t-shirt when it comes to motherhood (opens in new tab). (I've also washed and ironed the t-shirts, replaced the t-shirts with costly designer alternatives, and now I'm preparing to pack the t-shirts as my son heads off to Uni. Sob.)
18 parenting tips from a mum-of-three
So, on the occasion of my firstborn's 18th birthday, here are 18 parenting tips I've picked up along the way.
1. Save for your child's 18th birthday
Putting even tiny amounts of cash into an account that my son couldn't touch until his 18th birthday is one of the best parenting tips we've picked up as parents. (Drinks are on him.) You might feel like you can't justify putting anything away for your child's future, especially when the cost of living is so high. Or perhaps you think the amount you can afford to save right now is too little to be worth it. But saving just £5 a month over 18 years adds up to more than £1000 - hopefully still enough by then to put towards a second-hand car or a decent laptop. Chances are you'll be able to increase what you save as the years go by.
Check our guide to the best bank accounts for kids (opens in new tab) to start saving now.

2. Print the photos
Get them off your phone where no-one sees them. Fill your home with family memories. Start a photo wall. Please, I beg you, book an hour in your diary once a month to sort through your snaps and get them printed. You won't regret it and they'll come to mean more to you with every year that passes.
3. Adopt a parenting mantra
Mine was: 'The days are long but the years are short'.
Let me explain: I had two gorgeous but rambunctious boys, both in nappies, born 21 months apart. And then, at the grand old age of 38 when the boys were 6 and 8 years old, I started all over again with my daughter - just as broken sleep was finally beginning to fade into a distant memory. On the most challenging days, I sometimes felt like motherhood was a game I couldn't master. This mantra - a parenting tip shared with me by an older mum who'd raised three boys - helped me more than I can say. Pick a guilt-free mantra. All that stuff about how few summers you get with your kids is not for me. My mantra was a guide rail for my emotions; acknowledgment of the challenges of early parenthood but an anchor to the long-game goal of loving my children safely into adulthood.
Tip: Buy or download affirmation cards for mums and pick a new one every day.
4. Love Bomb your child
Of all the fads that I've put to the test over the years as a parenting journalist, one of the most useful parenting tips I've tried is Love Bombing. The premise is best explained by psychologist Oliver James, who coined the phrase to describe the practice of giving your child an intensive experience of being loved and in control as a way of resetting their emotional thermostat. Love Bombing can be particularly helpful for children with emotional or behavioural difficulties but it's something all children can benefit from.
Tip: Buy or borrow Oliver James' book and try out the technique.
5. Laugh. A lot
At yourself. At each other. At the absurdity of trying to raise a human and do life alongside other people. Humour will get you through most (if not all) of the parenting challenges that come your way. And training your kid in the art of laughing often is a tip that will make your lives and your relationship much easier when you come to navigate those tricky teenage years. I've lost count of the times my lads have diffused a difficult domestic moment with a well-timed wisecrack and our shared sense of humour is one of my all-time favourite things about our family.
6. No guilt about not keeping the artwork
Trust me, they won't be delighted if you present them with a memory box of all their treasured scribbles on their 18th birthday. Or ever. Keep this stuff if it matters to you. Otherwise frame the really important stuff (it's good for kids to see their artwork on the walls) or keep a folder on your phone of each masterpiece before you file it in the recycling bin. I've discovered that my kids prefer living in a clutter-free home compared to one filled with every piece of paper they've ever made a mark on.
Tip: Make or buy a slot-sided frame and rotate the masterpieces on display.
7. Say yes when they invite you into their world
I'm not always good at this but I'm trying. (These are my parenting tips, not necessarily the things I've got right.) But I know that children want us to care about the things they care about. When you're juggling so many things as a mum and dealing with competing pressures, it's easy to find yourself turning away too soon from the things our kids want to show us. Don't do that. Learn the offside rule. Familiarise yourself with the names of the Arsenal squad. Play the video game, even if it makes you feel seasick.
Even the Queen (opens in new tab) had this parenting tip nailed.
8. Be open to bend a little
I'm not talking daily stretching, although that's also important if you plan to keep step with your child as they grow up. I mean don't be one of those rigid parents who can't change their minds or won't change the rules. Different seasons of parenthood require different parenting approaches (opens in new tab). Go with the flow. Keep learning. Be flexible in your opinions. And always stay open to the possibility that your child has more to teach you than you'll ever teach them.
9. Be okay with breaking
Some of my closest 'mum friends' are the ones I spilled my guts to when I felt like everyone else at the school gates had parenting nailed, except for me. When my lads were younger I felt like no-one really talked about the challenges of parenting (opens in new tab). (They were born before Instagram, I'm that old.) So I often felt alone in the things I struggled with as a knackered working mum. Social media has since made it easier to access encouragement and support from other mums - but that can have its downsides too. If you're surrounded by Instamums who only share their highlights reels, it can feel like you're the only one whose child is still crying at school drop-off, wetting the bed, or not sleeping through the night. You're not. Find your tribe and let them in.
10. Apologise often
As parents, it's easy to fall into the trap of thinking that we have to convince our kids that we've got everything sorted. And it's hard to admit when we make mistakes. But one of the most helpful parenting tips I've learned is to say sorry to my kids whenever I mess up. Far from persuading them that you're a maverick who has no clue what they're doing, saying sorry when you get things wrong is a powerful way of acknowledging their needs. Admitting your shortcomings also teaches kids the value of an apology and modelling good 'sorry skills' means your child is more likely to be forthcoming with their own apology when they make a mistake.
11. Tell them you love them
You can't overdo this. Make it unconditional and do it daily. As kids hit their teenage years, expressing affection is more difficult than when you could scoop them up for a cuddle on a whim - and yet more important than ever. Morning hugs is a parenting tip I stumbled on by accident during a post-pandemic family holiday which drew us all closer together than the previous years had allowed. It's simple. I yell 'morning hugs' at random (but strictly only in the morning) and my long-suffering children oblige me with a hug. No words are needed. It connects us, I like to think, with happy memories of that holiday. It also re-establishes a sense of family togetherness, no matter how busy we are. You don't need morning croissants and pool days to deepen your affection - you just need a daily ritual that works for your crew.
Parenting tips for raising teenagers: never be afraid to offer them a hug. In my experience, they're even bigger fans of hugs than toddlers are.
12. Don't try to get it right all the time
You won't. And you'll exhaust yourself trying. If you remember just one of these parenting tips, let it be this: kids don't need perfect parents. You are the perfect parent for your child.
13. Never say 'because I said so'
Breaking a parenting cycle is hard, and if this sentence was uttered to you when you were growing up it might be hard to stop yourself from saying it. Also, if you say it when they're little expect to hear those words thrown back at you when they're old enough to start doing what they want, with whomever they please, I strongly recommend banishing this sentence from your parenting vocab.
14. Write it down. You'll forget stuff. Even birth
I know, another thing to do right. But, trust me the cute mispronunciations. The funny things they say. All the magical milestones. In the thick of parenting, you believe you'll remember it all but you won't. Not even pregnancy and birth, not in the technicolour detail that you remember it at first. Start a journal. Capture your birth story. Record it all. Write a letter to them on their birthday every year.
But if, like me, so many of your parenting days are already a blur, don't beat yourself up. Birth is the biggest moment in two lives and yet just a day like any other, fading to the margins as other milestones take centre stage. The real miracle is watching your child unfold into themselves before your very eyes and discovering they're the kind of human you'd choose to be around, even if you weren't their mother.
15. Chill about screen time
Look, I gave away our telly when my son was born. That's how worried I was about the perils of too much screen time on my precious firstborn's tiny brain. I rationed telly time, said no to mobile phones until high school, and I still rant often about excessive gaming on school nights.
The risks are real. I get that. And I understand the worry. But if you're fretting about whether you're giving your child too much screen time, that's probably a reliable sign that you're a switched-on, caring mum. We know all about screen time limits and the importance of issuing boundaries but sometimes screen time wins. My parenting tip is this: cut yourself some slack on this. Their brains (probably) won't melt.
(Just make sure you've got internet safety (opens in new tab) covered.)
16. It gets easier. (And other lies)
Yes, eventually they start sleeping through the night. They grow in independence and you get some semblance of your mind and body back. But no-one tells you about the panic that hits at 3am on Sunday when you fly into your teenager's room to check they made it safely home after you fell asleep in front of Happy Valley. Easier? It was easier when I knew where they were every waking minute. My tip: ignore these parenting platitudes - there's not much truth in the silly stuff we say to mums.
On the upside, I find parenting charming teens way more rewarding than looking after sleepless babies or negotiating with toddlers. Easier? Nah. Better? Absolutely.
17. Learn how to take care of yourself
Before my son was born, I'd never kept so much as a plant alive. The words failure to thrive struck fear into my heart as a sleep-deprived breastfeeding mum and made me feel like a failure myself. Over time, I learned to take good care of my baby, of course. But it was a long time before I realised that I also had to take better care of myself if I was ever going to have the resources that motherhood required. Implement a daily and weekly self-care routine, no matter how basic or simple. That's hands down one of the best parenting tips I've picked up and I wish I'd learned it earlier.
18. Trust yourself
"People always told me I knew my son better than anyone else, back when he was a newborn," says our Family Editor, Stephanie Lowe (opens in new tab). "They meant well and were encouraging me to listen to my instincts, but I always wanted to shout back: 'Do I though? Do I know him? Because we're rarely on speaking terms!"
It's normal to feel like that and learning to listen to your instincts takes practice. But you've got this. You know your child better than anybody else. Even if it doesn't always feel like that. Listen to your intuition. Trust yourself and the decisions you make.
Caveat: I feel I ought to acknowledge that my son once broke his arm playing football and my 'instincts' told me to give him Calpol and put him to bed as normal. Not a decision that felt good in A&E the following day. The parenting tip I learned from *that* adventure is this: always run your instincts past the nice people at NHS 111 (opens in new tab) if your child is injured.
Oh, and that kids can fracture their wrists and still wiggle their fingers.
Related Features:
Video of the Week:
As a parenting specialist, Heidi has written for Prima Baby, Gurgle and Practical Parenting and was baby gear editor of Mother & Baby magazine for six years, looking after regular consumer features for the shopping pages as well as specialist consumer content such as buying guides and gift guides.