I saved £121 on my monthly food shop with this ONE change
You might have even considered this change yourself, but not realised just how much you could slash off your bill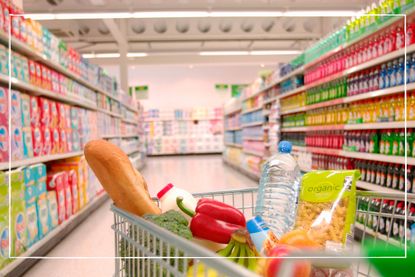 (Image credit: Getty Images)
With food inflation being a huge driver in the cost of living crisis, it's unsurprising that families are concerned about how to save money on food (opens in new tab) as they try to make ends meet.
There are multiple complex reasons why food prices are going up (opens in new tab). But the end result means that families are struggling to stretch their household budgets to cover the rising cost.
But there is a simple change that you can make to significantly reduce how much you spend on food. And it's a change that sticks - I made the change at the start of the pandemic and slashed my monthly food bill by more than 30%. And I haven't gone back.
So what did I do? I swapped to the cheapest supermarket (opens in new tab).
Now this is something you might have already considered, but when I told my friends just how much I'd saved, they were surprised. They thought it would be much less, and so hadn't made the change themselves, thinking it wouldn't be worth it.
But I think it absolutely is, and here's why.
Why I switched supermarkets
I was a die-hard Sainsbury's fan for years, decades even. I'd shop online and the nice delivery person would bring my groceries right to my front door.
But the pandemic changed all that. Suddenly getting a Sainsbury's delivery slot was incredibly difficult. And as a fit and healthy person, I thought it was best to leave the limited online delivery slots to old or vulnerable people who didn't feel safe going to the supermarket in person.
Forced to now drive to the supermarket, I decided to try a cheaper one and for a while alternated between Aldi and Lidl.
The result? I've switched to Aldi permanently (it has better parking than my local Lidl) and saved hundreds, perhaps thousands of pounds. While money-saving wasn't my main goal when I switched, as prices have skyrocketed, I'm very glad I did!
What I spend on a big shop
A quick look through my online Sainsbury's account shows that, pre-pandemic, I normally spent about £100 on each online order, which would last me about two or three weeks. With food inflation at its highest in 40 years, I expect those online orders would cost a lot more now.
Now I do my "big shop" at Aldi, at the same frequency, and my bill is normally about £60 for a car boot load of food. That's a 40% saving based on Sainsbury's pre-pandemic prices. Even with food prices going up, the price differences between the two supermarkets would still be quite similar.
In between big shops, I still have to top up things like fruit, vegetables and milk at my nearest Sainsbury's Local or Tesco Express.
How do prices compare?
Here are some examples of things I always buy and how the prices compare (prices were correct at the time of writing):
Swipe to scroll horizontally
| Item | Sainsburys | Aldi | Price difference | % difference |
| --- | --- | --- | --- | --- |
| Frozen chicken breasts | £7/kg | £3.79/kg | £3.31 | 46% |
| Frozen raspberries 350g | £2.50 | £1.49 | £1.01 | 40% |
| Greek Feta Cheese 200g | £2.10 | £1.59 | £0.51 | 24% |
| Spaghetti 500g | £0.95 | £0.28 | £0.67 | 70% |
| Grated Mozzarella | £2.65 for 250g | £1.25 for 250g | £1.40 | 53% |
Even if I just bought those five items from Aldi instead of Sainsbury's, I would save £6.90.
But let's compare an actual big shop. Conveniently, my bank, Monzo, categorises my spending so I can see what I spend on groceries each month.
According to Monzo, I spent £386 on groceries in April 2019 (when I was still a Sainsbury's fan) but just £265 in April 2022 (when I was an Aldi regular). These total monthly figures for groceries also include top-up shops at Sainsbury's Local, Tesco Express or the local corner shop.
That's a saving of £121 over the course of the month!
But don't just take my word for it
It's not just my experience that suggests you can save a fortune by switching to Aldi or Lidl – my claims are backed up by the experts.
For example, The Grocer magazine found that Aldi is, on average, 35% cheaper than some of its rivals.
Meanwhile Which? has just crowned Aldi the cheapest supermarket for the seventh month in a row and the cheapest supermarket overall for 2022. But there's not much in it between Aldi and Lidl – the basket of 48 items Which? looked at cost £81.63 at Aldi and just £1.61 more at Lidl (£83.24).
The same items cost £95.71 at Sainsbury's, £102.87 at Ocado and a whopping £112.62 at Waitrose.
What I learned by switching supermarkets
Pros of switching supermarkets
It's cheaper
On the whole, I can't taste a difference
Great seasonal options
Some people think the quality of food in budget supermarkets won't be as good as in the more expensive supermarkets. While arguably, this is probably true for some items, it's not what I have found on the whole. I like to eat quite healthily, cook meals from scratch and batch cook for convenience (which can also help reduce the price of your food shop). Since I've switched to Aldi my meals have tasted the same as before.
I even cooked a family Christmas dinner with food from Aldi – and no one noticed any difference. Moving on to Easter, Aldi has some of the swankiest looking and nice-tasting Easter eggs I've ever had.
Switching supermarkets has made me realise I need to be more organised and go more often. When I pop into Tesco Express or Sainsbury's Local for a few bits (and always take my supermarket loyalty card (opens in new tab)), I realise I'm paying over the odds compared to Aldi. A Tesco Clubcard offers discounts on lots of items – but, in my opinion, Tesco has simply hiked up prices for non-Clubcard users.
Downside of switching supermarkets
Less choice
Can't always find branded items
Limited options for those with specific dietary requirements
Lack of online deliveries
A major downside of ditching Tesco, Waitrose or Sainsbury's for Aldi or Lidl is that they sell less products.
With both Aldi and Lidl stores typically a fraction of the size of a large Sainsbury's or Tesco store, they don't have as much choice. If you like certain branded food, you might find you can't buy your favourite items. For example, I couldn't see any Doritos (£1.75 in Sainsbury's) in Aldi on my last visit so I bought budget tortillas (48p) instead – they were a fraction of the price but, admittedly, not as nice.
Aldi also lacks decent oat milk – I still go to Sainsbury's or Tesco for that.
If you buy toiletries with your supermarket shop, it's slim pickings in both Aldi and Lidl, although their basic brands of shower gel, shampoo and face cream are cheap and good quality.
A big issue is that neither Aldi or Lidl do online deliveries, so you'll need both the time and transport to go and do a "big shop" in person. Fortunately, I have a car and a trip to my local Aldi would be pretty tricky without it.
But online grocery shopping is ultimately a lot less time-consuming – pre-pandemic I could whizz through an online Sainsbury's order while watching TV.
Weighing everything up, the extra effort of a trip to Aldi (or Lidl) is worth it for the cost savings, and I'd recommend other people think about making the switch too.
Other ways to slash the cost of your food shop
Changing to a cheaper supermarket is a great starting point if you want to save money on food, but there's lots more you can do to keep food bills as low as possible.
Write a shopping list and stick to it - it'll help you avoid impulse purchases
Don't shop hungry
Be wise to supermarket tricks (opens in new tab) that encourage you to spend more
Shop later in the day for the best reductions
Avoid pre-prepared fruit, salad and sandwiches
Buy a brand level lower - in most cases, you won't be able to taste a difference
Sign up to the supermarket's loyalty scheme for exclusive offers and discounts
Click and collect if you shop online - it's cheaper than delivery
Remember to take your shopping bags.
Emma Lunn is a multi-award-winning journalist who specialises in personal finance and consumer issues. With more than 18 years of experience in personal finance, Emma has covered topics including mortgages, first-time buyers, leasehold, banking, debt, budgeting, broadband, energy, pensions and investments. Emma's one of the most prolific freelance personal finance journalists with a back catalogue of work in newspapers such as The Guardian, The Independent, The Daily Telegraph, the Mail on Sunday and the Mirror.