What to wear to a job interview: 11 outfit ideas and expert tips for a professional look
Stuck on what to wear to a job interview? These fail-safe outfits are guaranteed to make a good first impression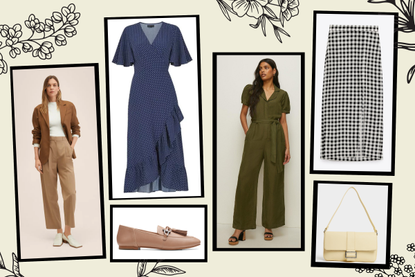 Stuck on what to wear to a job interview? These fail-safe interview outfits for women are guaranteed to make a good first impression.
Of course, it goes without saying that a job interview isn't a fashion show but it's still important to go into it feeling your best. Much like, when deciding what to wear to a wedding or what to wear to a funeral (opens in new tab), many of us find what to wear to an interview a daunting task. There are no set rules when it comes to both formal and informal interviews but there are certainly a few style guidelines you should stick to.
Stylist and Senior Style Consultant for Stitch Fix Katie Eastwood told us, "After a couple of years of working from home, our workwear wardrobes have definitely changed. Many of us have moved away from more traditional workwear looks, in favour of more casual items that suit the reality of working from home. Having said that, the desire to dress up and make an effort for new job interviews remains, regardless of whether the meeting is in-person or virtual."
What to wear to a job interview
Why you can trust GoodTo Our expert reviewers spend hours testing and comparing products and services so you can choose the best for you. Find out more about how we test.
1. Plan your outfit in advance
Along with all the interview prep, you should also plan your outfit ahead of your interview date so you're not stressing about it minutes before it's about to start. Lay it out the night before and make sure it is all clean and freshly ironed.
"Planning your outfit is an essential part of the interview prep and will help you get in the right mindset," says GoodTo fashion director Paula Moore (opens in new tab). "Now's not the time for experimenting, look to your capsule wardrobe - think cigarette trousers, a crisp white shirt and classic dresses for a stylish yet comfortable look."
Mango Pockets Straight Trousers | Price: £49.99 | Sizes: 4-26
These straight-leg trousers are a versatile addition to your wardrobe and can easily be dressed down with trainers when the interview is over. They sit high on the waist with dart detailing for a flattering finish on the leg. The beige hue keeps them classic and easy to mix and match with other neutral hues.
VIEW NOW - £49.99 | MANGO (opens in new tab)
2. Go for a sensible hemline length
Midi-length dresses are a sartorial saviour when it comes to dressing appropriately for an interview and for the office. Falling between the knee and ankle, the modest length means you can sit down easily, without having to adjust and it's not too long that you'll be tripping over either.
"A midi dress is a versatile wardrobe piece that never fails to make an impression," says Paula. "I would steer clear of loud prints and look to smaller, classic prints such as polka dots and ditsy florals."
M&S Floral Button Through Shirt Dress | Price: £45 | Sizes: 6-24
Give tailoring a feminine spin with a classic shirt dress. This has a delicate floral print on a chic white and blue colour palette keeping it elegant and modern. The built-in belt helps to cinch in the waist for a flattering silhouette.
VIEW NOW - £45 | M&S (opens in new tab)
3. Avoid anything revealing
Likewise with your longer hemline, you don't want anything too low cut either. Look to button up shirts and dresses, pussybow blouses and midi length skirts and dresses. Avoid cut-out detailing and sheer fabrics. "If you want to wear a sheer fabric, it's best to wear a cami underneath or layer over a knitted vest, simply to remain as professional as possible," adds stylist Katie Eastwood (opens in new tab).
Next Casual Boyfriend Shirt | Price: £22 | Sizes: 6-26
This classic blue shirt is a style staple must when it comes to deciding what to wear to a job interview. Made from a super soft cotton, it's thick enough that it's not too see-through either. The boyfriend fit makes it easy to tuck into skirts or trousers and you can leave it loose for a relaxed fit at the weekend.
VIEW NOW - £22 | NEXT (opens in new tab)
4. Don't go too casual
It's always better to be too smart than towards the casual end of the spectrum. So steer clear of distressed denim, loungewear and sports attire such as trainers. "I also think it's better to lean towards smart/casual pieces as opposed to heavily ripped jeans, joggers or gym leggings – unless of course, you are interviewing for a role as a PT at the gym!" says stylist Katie Eastwood.
Swap joggers for wide-leg trousers and denim jackets for blazers for a smarter approach.
John Lewis & Partners Crop Linen Trousers | Price: £35 | Sizes: 8-18
These wide-leg trousers are super flattering, highlighting the waist and lengthening your legs. The linen fabric is lightweight and breathable making them a go-to choice for summer. Wear with a tucked-in shirt or blouse. The cropped length makes it easy to show off your shoes too.
VIEW NOW - £35 | JOHN LEWIS (opens in new tab)
5. Bring a jacket
A smart jacket won't just keep you warm but can help pull the whole look together too. Try layering a blazer over your midi dress for extra polish or add a pop of colour to an all-black ensemble with a mint green or soft pink cover-up.
"Your outerwear will be the first thing the interviewer sees so keep it smart too. Blazers, trench coats and wrap styles will work like a charm," says fashion guru Paula Moore.
H&M Oversized Blazer | Price: £34.99 | Sizes: XS-XL
This light beige blazer is extremely versatile and the oversized silhouette makes it ideal for layering too. You may want to downsize if you're after something more fitted. It has a soft pinstripe print for added interest and is fully lined.
VIEW NOW - £34.99 | H&M (opens in new tab)
6. Wear practical shoes
You don't have to wear high heels if you find them uncomfortable. A low heel or flat shoe is just as empowering and won't have you walking like Bambi on ice. Not a good first impression. Try a block or kitten heel to add height whilst remaining practical or opt for a smart loafer.
"Footwear can help elevate your outfit but I would avoid wearing new strappy sandals or heels for your interview - they may look fantastic but you don't want to turn up with blisters and plasters everywhere! If you are opting for open toe sandals, colour your toe nails intentionally so they tie in with your whole look. It's a small detail but the more prepared and considered you are, the more confident you will feel!" says Katie.
Clarks Pure Tassel Praline Combi Loafers | Price: £43 | Sizes: 4-8
When it comes to polished flats, you can't beat a classic loafer. And these are a go-to smart option when deciding what to wear to a job interview. These have a cushioned foam footbed for extra comfort and a breathable leather lining. The buckle and tassel detail gives them a high-end finish too. Available in five wearable hues, wear with skirts or trousers.
VIEW NOW - £43 | CLARKS (opens in new tab)
7. Add some personality
Whilst you'll want to avoid anything too bold and garish, your interview outfit doesn't have to be completely boring and you'll still want to feel like 'you'. Show off some of your own personal style with a fun accessory - a statement earring or a colourful bag can really elevate a simple outfit.
"When it comes to colour palette, an all black outfit can also be a really powerful look, especially when you team it with statement jewellery or fun footwear," says Fashion director Paula Moore.
New Look Pale Yellow Leather-look Baguette Shoulder Bag | Price: £14.99 | Sizes: One size only
Add a pop of colour to your look with this sunny-hued shoulder bag. The pastel shade softens the palette and the boxy shape keeps it looking smart too. Roomy enough for all the essentials whilst still looking cute and compact. A bargain buy!
VIEW NOW - £14.99 | NEW LOOK (opens in new tab)
8. Keep it comfortable
Comfort is key in helping you feel your best so avoid anything too tight that will have you constantly readjusting yourself. Don't feel you have to wear something completely new from head-to-toe - what about that wrap dress that always makes you feel good? Go for it.
"I always recommend that my clients wear some of their favourite items with that new statement blouse or embellished heel so they feel like the best version of themselves, rather than a walking mannequin!" adds stylist Katie Eastwood.
Mela Navy Spotted Wrap Dress | Price: £45 | Sizes: 8-16
A wrap dress is a classic and timeless silhouette that you'll reach for time and time again. The tie waist highlights the waist before flaring out to a swishy skirt. We love the polka dot print and ruffle hem on this design which adds a playful touch without being too overpowering. It looks just as good teamed with trainers too for off-duty days.
VIEW NOW - £45 | DEBENHAMS (opens in new tab)
9. Avoid anything too bold
Statement prints and vibrant hues can be overwhelming so keep things more muted in pastel shades and pared-back designs so they don't steal all the attention. "Wear prints away from your face so they don't distract from the interview, for example a printed skirt or trousers with a colour block top. And avoid anything too loud and jangly such as bangles and sequins," says Fashion director Paula Moore. You don't want your clothes to outshine your skills.
Zara Gingham Check Skirt with Slit | Price: £29.99 | Sizes: XS-L
Gingham is a go-to print for the summer but the monochrome colour palette on this skirt makes it wearable all year round. It has a classic pencil-style fit, falling at a midi length. The statement slit allows for easy movement. Keep it pared-back and team with a black top and heels.
VIEW NOW - £29.99 | ZARA (opens in new tab)
10. Consider your look from head to toe
Even if the job interview is over Zoom, don't be tempted to team that fancy blouse with your pyjama bottoms. "I often advise my clients to consider their whole look, from head to toe – even if it is a virtual interview. Teaming a gorgeous shirt with joggers may be comfortable but it's unlikely to make you feel interview ready," says Stitch Fix stlist consultant Katie Eastwood.
Consider a jumpsuit to take the stress out of coordinating an outfit. Comfy and stylish, it's a ready-made look that requires minimal styling.
Oasis Tailored Linen Mix Puff Sleeve Jumpsuit | Price: £63.20 | Sizes: 6-18
This all-in-one is perfect when considering what to wear to a job interview. It will take the stress out of putting an outfit together - just throw it on and go. The linen mix will keep you cool in the summer and its tailored design ensures you'll remain smart too. The wide-leg and built-in belt offers a flattering silhouette whilst the puff sleeves adds extra interest to your top half - perfect for a virtual interview.
VIEW NOW - £63.20 | OASIS (opens in new tab)
11. Check the company's dress code
Although we would always recommend sticking to smart attire, not all workplaces are corporate so it's worth checking what the company's dress code is before your interview to help steer you in the right direction. Some cool creative spaces are more relaxed so you might want to balance out your smart blazer with more casual items such as a t-shirt rather than a full-on suit.
Mint Velvet Blue Puff Sleeve T-Shirt | Price: £39 | Sizes: XS-XL
If you want to dress down a two-piece, layer this t-shirt underneath your blazer for a contemporary take on tailoring. The blue hue will lift the look and add a pop of colour when teamed with a cream or black jacket. It's cut from cotton so super soft on the skin and it has short puffed sleeves for an on-trend finish.
VIEW NOW - £39 | MINT VELVET (opens in new tab)
What you should not wear to a job interview?
Clothes that are typically casual should be avoided when pulling your outfit together for an interview - distressed denim and loungewear in particular. Shoes such as trainers and accessories such as caps are also a big no-no. Stick to a minimalist aesthetic and a pared-back palette of neutral colours and be wary of anything too bold or garish.
Most importantly, make sure you're comfortable when considering what to wear to a job interview. "I recommend that my clients avoid anything too tight or uncomfortable in their interview ensemble, as these pieces can cause distraction. Shorts or skirts that ride up as you sit down will likely cause more stress, so stick to comfortable, well-fitting items that will allow you to concentrate on getting that dream job!" says stylist Katie Eastwood.
Where to shop interview clothes:
Video of the Week: