Harry Kane hits back at hypnobirth criticism after welcoming second child with fiancée Katie Goodland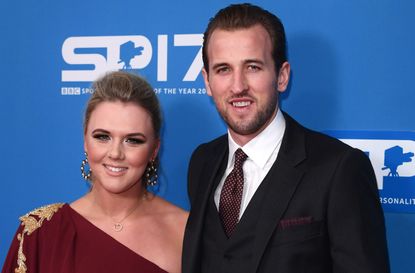 (Image credit: Rex)
GoodTo newsletter
Sign up to the GoodTo Newsletter. You can unsubscribe at any time. For more information about how to do this, and how we hold your data, please see our privacy policy
Thank you for signing up to . You will receive a verification email shortly.
There was a problem. Please refresh the page and try again.
Harry Kane welcomed his second daughter earlier this week, and made the lovely announcement on social media.
The proud dad told fans his second child had arrived with a sweet picture of him, fiancée Katie and their newborn baby girl, alongside a sweet message that read: 'Our beautiful addition to the family! Vivienne Jane Kane. 😍 So proud of @KateGoodlandx for having the most amazing water birth with no pain relief at all 💖💖💖 #mygirls #hypnobirthing'.
In the tweet, Harry praised Katie for going through the birth without any pain relief, as she, like many mums nowadays, used hypnobirth (opens in new tab) techniques to enter a state of self-hypnosis during labour and delivery, which is said to decrease the pain that a woman experiences at that time.
However, Harry's comment attracted criticism from some users on Twitter, who said they found it problematic that Harry would be 'proud' of his partner for not using pain relief.
Hypnobirthing: Everything you need to know (opens in new tab)
One said: 'I'm delighted for @HKane & his family but why on earth should anyone be "proud" of not having pain relief while giving birth? Utterly absurd! There's a reason why women get pain relief during labour: because it bloody hurts.'
Another wrote: 'I love Harry Kane but I feel so uncomfortable for a tweet praising not using pain relief during birth. You absolutely do what's right for you as the person giving birth, obviously, but...holding not using pain relief as a standard? Nope.'
Faced with the backlash, Harry decided to speak out on social media and wrote: 'Let's get one thing straight, any women can give birth however they would like. I'm very proud of my fiancée for doing it the way she wanted and we both learnt a lot from hypnobirthing.'
Fans of the sportsman applauded his comment, with one saying: 'Harry, you don't need to defend Kate's choices. She did what was best for her. Congrats again.'
Another wrote: 'As a father of 3 children 2 of whom were born at home with hypnobirthing and with no pain relief I am also very proud of @amelialindsay. Totally with you @HKane and the sentiment behind your tweet. People are too quick to see/find any malice in any comment to spout their own rage.'
What do you think of Harry's tweet? Is it unfair for women when 'no pain relief' births are held as standard? Head over to our Facebook page and let us know your thoughts!