Heartbroken Sue Perkins reveals her dog Parker has passed away
'One half of my favourite ever double act'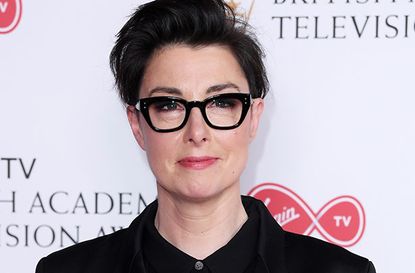 Sue Perkins has revealed that her beloved dog Parker has sadly passed away.
The former Great British Bake Off (opens in new tab) star, 47, shared the news with her fans on her Twitter account, with a picture of Parker and a message which read: 'Farewell, beloved Parker. One half of my favourite ever double act. Love you xxx'
'If there is a God, then he needs to be keeping an eye on his roast chicken round about now, that's all I am saying... #parker,' she added in a second tweet.
Fans have rushed to send Sue their condolences over the sad loss, with one empathising: 'So sorry for your loss , I lost my little one just over a week ago'.
'They're so easy to love and so heart breaking to lose,' another agreed. 'Damn! Life is so full of dark and light. Hope you still have plenty of light.'
'Sorry to hear, they really are like a member of the family,' a third wrote. 'Heartbreaking when they go , ❤️ and thoughts x.'
It's not the first time Sue has shared her devastation at the loss of a pet online - in January 2014, she wrote an emotional letter to another of her beagles, Pickle, who had to be put down due to illness.
'I have said I love you to many people over many years; friends, family, lovers. Some you liked, some you didn't,' she said as part of the tribute. 'But my love for you was different. It filled those spaces that words can't get to.'
Just last month, Sue spoke during an episode of Desert Island Discs about the joy that owning dogs had brought into her life.
'When I got a dog I couldn't believe how joyous it was,' she explained. 'My dogs helped me through the darkest time and when my dog died, a bit of me died.'
'There's another dog in my life now, this big, silly, rescue mutt. It's just brilliant to give an animal a second chance. A dog is a great thing.'