'I cried for 24 hours when we were told' Julie Neville opens up about daughter's cerebral palsy diagnosis
13-year-old Isabella and her mum appeared on Lorraine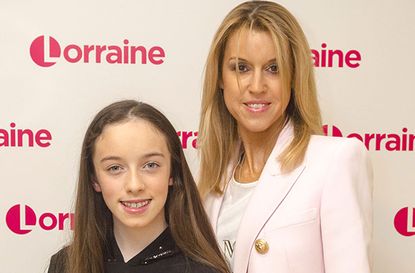 Julie Neville - wife of England footballing legend Phil Neville - has appeared on Lorraine to talk about her daughter's cerebral palsy diagnosis.
Julie appeared on the chat show alongside 13-year-old Isabella to open up about how she took the news of her daughter's condition, and the family's pride at Isabella's new modelling career.
Explaining her initial reaction to the diagnosis, which they were given when their daughter was just 18 months old, Julie told Lorraine: 'Isabella's prognosis was fairly bleak at the time. I cried myself to sleep that night. I allowed myself 24 hours to feel sorry for myself.'
However, the parents quickly made a joint decision to adopt a positive mental attitude, explaining: 'The next day Phil and I were very much along the thought process that if we accept that Isabella won't do all the things that she potentially might - then she never will.
'We said: "If we do everything in our power to do everything an able bodied child might do, then she's got a chance."'
Julie revealed that Isabella, whom they were initially told would probably never walk, has since gone on to exceed expectations with her movement and co-ordination, as she's able to walk unaided and gets involved in PE classes alongside able-bodied children.
Not only that, but the teen has just been signed by British modelling agency Source Models, becoming the first girl on their books with a disability - and her family couldn't be more proud!
'This hasn't been done before' Julie explained. 'There are many disabled models out there but big brands don't use models with disabilities - for Isabella to sign with a huge agency, it's a huge step.
'I am proud of her', the mum added. 'She has achieved this on her own merit. What shines through in Isabella is her continuous courage and determination to be normal, to be the same as everybody else.'
According to the NHS, cerebral palsy is a neurological condition (caused by problems in the brain and nervous system) that affects movement and co-ordination.
The main symptoms are muscle stiffness and weakness, as well as uncontrolled body movements and problems with balance.