Kate and William on their wedding day
We look through some of Kate and William's (aka the Duke and Duchess of Cambridge)best Royal Wedding moments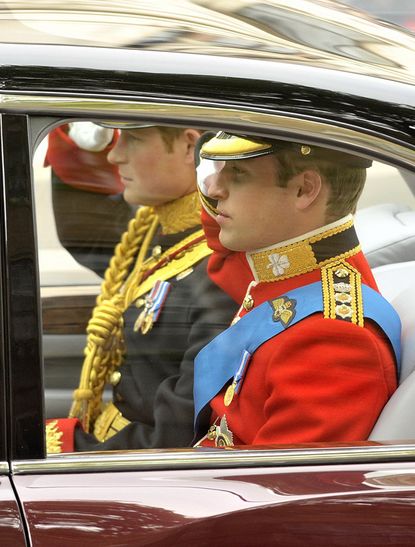 GoodTo newsletter
Sign up to the GoodTo Newsletter. You can unsubscribe at any time. For more information about how to do this, and how we hold your data, please see our privacy policy
Thank you for signing up to . You will receive a verification email shortly.
There was a problem. Please refresh the page and try again.
We look through some of Kate and William's (aka the Duke and Duchess of Cambridge)best Royal Wedding moments
29th April 2011 was a day that changed our country's history forever, as Catherine Middleton entered Westminster Abbey a Miss, and left as a future Queen after marrying Prince William, the second in line to the throne.
The pair became engaged in 2010, and their wedding instantly became the biggest national event since the nuptials of William's parents, Charles and Diana, in 1981. As soon as the engagement ring (14 solitaire diamonds surrounding a 12-carat oval blue Ceylon sapphire set in 18-karat white gold, originally belonging to Diana) was on Kate's finger, speculation was rife about everything from the venue to the honeymoon destination. The couple eventually chose a Westminster ceremony followed by a reception at Buckingham Palace, with a staggering 1900 guests in attendance.
The day was a lavish celebration, which combined formal traditions with personal touches and gestures from the couple's close friends and family. Prince Harry was the obvious choice as William's best man, whilst Kate's sister Pippa took centre stage as maid of honour. Kate, in a stunning white lace Sarah Burton gown accessorised with a now-iconic halo tiara, which was designed by Cartier and borrowed from the Queen herself, changed the face of bridal fashion forever - and William scrubbed up rather well in his officer's tunic, too.
From the opening notes of the ceremony, to the closing fireworks display, every detail was documented, and had been carefully chosen for a reason. Even the wedding cakes had special meaning to the couple, with one eight tier floral cake made by designer Fiona Cairns standing proudly next to a McVities chocolate biscuit cake - a favourite of William's, which he specially requested for the day.
Want to relive the Royal wedding in all of its glory? Here are some of the most iconic snaps of William and Kate from their wedding day…
William and Kate on their wedding day: William arrives
William arrived at Westminster Abbey looking very smart in his wedding outfit - the officer's tunic of the Irish Guards, accompanied by his brother Harry, who was wearing a similar formal uniform.
When Kate and William got engaged in 2010, William reportedly informed Harry of the news by telling him, 'You've got a sister'. Harry has since often described her as 'the sister he never had'.
William and Kate on their wedding day: Kate arrives
Kate arrived in a Rolls Royce Phantom VI, wearing a beautiful lace dress by Sarah Burton at Alexander McQueen, with one of the Queen's tiaras holding her veil in place.
She was with her father, Michael Middleton, whom, in a surprising break in tradition, William only asked for permission for Kate's hand after he popped the question at a wildlife reserve in Kenya.
William and Kate on their wedding day: Kate greets the crowds
Kate's dress was shown off in its full glory as she walked the red carpet to the entrance of Westminster Abbey. The train of her dress was an impressive 110 inches of fabric, carried by her sister and maid-of-honour Pippa on her way down the aisle, whilst Kate herself carried a small white bouquet.
The dress was later exhibited at Buckingham Palace from 23 July 2011 until 3 October 2011. It attracted a record number of visitors to Buckingham Palace that year, and helped raise a reported eight million pounds towards Kate's charity fund and palace renovations.
William and Kate on their wedding day: Kate arrives at the altar
Michael and his eldest daughter held hands as they walked together past the estimated 1900 guests to the front of the Abbey.
They were joined by Pippa and four bridesmaids; Lady Louise Windsor, the daughter of the Earl and Countess of Wessex; Margarita Armstrong-Jones, the daughter of the Viscount and Viscountess Linley; Grace van Cutsem, the daughter of the couple's friend, Hugh van Cutsem; and Eliza Lopes, granddaughter of Camilla, the Duchess of Cornwall.
William and Kate on their wedding day: Sharing a joke
The couple were pictured smiling and laughing as they stood at the altar together. Although the main ceremony could be heard, many of the smaller remarks remained private, but a lipreader was later asked to interpret some of the quotes from the wedding.
William reportedly greeted Kate by telling her 'You look lovely... you look beautiful', before joking with his new father-in-law, 'We're supposed to have just a small family affair!'
William and Kate on their wedding day: Singing hymns
William and Kate chose three hymns for their wedding service: Jerusalem, and two others with a strong association with Wales.
'Guide me, O thou great redeemer' - better known today as the Welsh rugby anthem Bread of Heaven - was the first to be performed, and had great emotional significance, as it was also sung at the funeral service of William's mother Diana, Princess of Wales in 1997.
William and Kate on their wedding day: During the service
The wedding was officiated by the Dean of Westminster, John Hall, whilst the Archbishop of Canterbury acted as celebrant of the marriage, and Richard Chartres, the Bishop of London, preached the sermon.
Kate's brother, James Middleton, also gave a reading of an extract from Romans 12. It was later revealed that he has dyslexia, and had learned the speech off by heart to avoid making mistakes - a move which clearly worked, as he was word perfect!
William and Kate on their wedding day: The exchange of rings
The vows and exchange of rings went without a hitch, with Kate following in the footsteps of William's mother Diana by omitting the word 'obey' from the traditional promises to love and cherish.
Kate's wedding band is made from Welsh gold, and was created by the royal warrant holder Wartski. William, meanwhile, chose not to receive a ring. 'It is simply down to personal preference,' an aide said at the time.
William and Kate on their wedding day: Walking back down the aisle
The couple turned and left the Abbey with their siblings in tow, heading to first see the assembled fans outside the landmark, and then to their reception at Buckingham Palace.
Kate was, at 29, the oldest bride in Royal history, and will become the sixth Queen Catherine when her husband eventually takes the throne.
William and Kate on their wedding day: Leaving Westminster Abbey
This was one of the first pictures of Kate and William leaving Westminster Abbey as man and wife - their official titles now being the Duke and Duchess of Cambridge.
The bells of Westminster Abbey rang a full peal as the newly married couple and guests left the church, a phrase which means that they lasted more than three hours, with no sequence of sounds repeated.
William and Kate on their wedding day: In the Royal Carriage
The couple were watched by huge crowds as they travelled down The Mall in their horse-drawn carriage, en route to Buckingham Palace for their wedding reception. 'I am so proud you're my wife,' William said to Kate as they boarded the vehicle.
Kate and William briefly held hands while in their carriage before letting go to wave to the gathered admirers, many of whom had travelled from countries around the world the celebrate the day and catch a glimpse of the pair.
William and Kate on their wedding day: Arriving at Buckingham Palace
William and Kate arrived at Buckingham Palace, to a lunchtime reception hosted by William's grandmother, Queen Elizabeth II. William was seen holding his wife's bouquet as she made sure her dress had left the carriage safely.
The flowers included in the arrangement were lily-of-the-valley, hyacinth and sweet William - a rather appropriate choice!
William and Kate on their wedding day: Laughing on the balcony
Kate was said to be nervous as she stepped out, reportedly gasping 'oh wow' as she saw the size of the audience, but William quickly put her at ease as they smiled and laughed together whilst making their first appearance on the east balcony of Buckingham Palace.
They were joined by many other members of the Windsor and Middleton families, as well as the bridal party and groomsmen, to enjoy a performance from the Royal Airforce, with flights from Spitfire, Hurricane and Lancaster planes.
William and Kate on their wedding day: The first public kiss
The couple then shared an iconic balcony kiss, mirroring Charles and Diana on their wedding day, to the delight of the cheering crowd below.
Body language expert Peter Collett later told the Daily Mail (opens in new tab) that their kiss 'signals that theirs will be a long and happy union'.
William and Kate on their wedding day: Back to Buckingham Palace
William and Kate departed the balcony to enjoy the rest of their reception, but Kate couldn't resist one last peek at the spectacle before they left.
Their appearance on the balcony is now known as one of the highlights of the day, and set the precedent as a tradition for generations for come. Perhaps one day we'll see the couple's children, Prince George (opens in new tab) and Princess Charlotte (opens in new tab), make similar outings with their new spouses?
William and Kate on their wedding day: Off to continue the celebrations!
William drove Kate up the Mall and back again in his father's 41-year-old Aston Martin, which Charles was given as a gift for his 21st birthday party. The car was decorated in full celebratory regalia, with ribbons on the front and balloons strung from the back, and the license plate read 'JU5T WED'.
The couple then attended a private evening of dinner and dancing hosted by the Prince of Wales at the palace. They had their first dance to Ellie Goulding's 'Your Song', before finishing the party at 3am with a small fireworks display and spending the night at the venue.
Many thought they would then head off on honeymoon immediately, but William returned to his work and they didn't head off until 9th May, to a secluded villa on a private island in the Seychelles. Seems worth the wait to us!