Kate 'hopes to encourage George and Charlotte to speak about their feelings' in emotional article
Kate Middleton has guest edited The Huffington Post as part of her work for children's mental health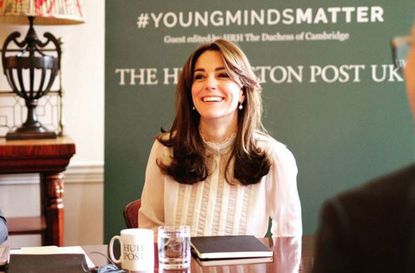 The Duchess of Cambridge has guest edited for The Huffington Post to help raise awareness about children's mental health. Her heartfelt piece mentions George and Charlotte and touches on issues that many parents face.
The article, which urges us all to 'make a real difference for an entire generation of young children' is part of Kate's work as ambassador for the charity campaign #YoungMindsMatter. Young Minds Matter is a new series which hopes to lead the conversation with children about mental and emotional health, so they feel loved, valued and understood.
Kate shared her own parenting fears concerning mental health
Speaking passionately about the subject, Kate touched on her own hopes for George and Charlotte's futures - that her and William wish for them to be able to express themselves as they grow up, saying: 'We hope to encourage George and Charlotte to speak about their feelings.'
Relating to parents everywhere, Kate was also keen to emphasise that talking to children about their feelings shouldn't be restricted by the 'predjudcies' or stigmas surrounding the idea of mental health issues because, 'parenting is hard enough'.
The Duchess is a keen supporter of children's charities
She continued that, 'Like most parents today, William and I would not hesitate to seek help for our children if they needed it [and we hope] to give them the tools and sensitivity to be supportive peers to their friends as they get older.' She continued, 'We know there is no shame in a young child struggling with their emotions or suffering from a mental illness.'
Watch Kate in action in her video for Children's Mental Health Week.
Following Kate's article there will be a series of pieces written for the Huffington Post by families affected by mental health, which will include a first-person account from 'a recently bereaved wife, confronting the reality that the depression that led to her husband's suicide was with him as a 10-year old boy'. Accompanying the emotional first-person accounts of the affects of mental health on children the series will also, importantly, be looking for solutions.
Rosie is an experienced food and drinks journalist who has spent over a decade writing about restaurants, cookery, and foodie products. Previously Content Editor at Goodto.com and Digital Food Editor on Woman&Home, Rosie is well used to covering everything from food news through to taste tests. Now, as well as heading up the team at SquareMeal - the UK's leading guide to restaurants and bars - she also runs a wedding floristry business in Scotland called Lavender and Rose.