Kate leaves hospital with William
We're happy to see that Kate Middleton has left hospital today after being treated for severe morning sickness...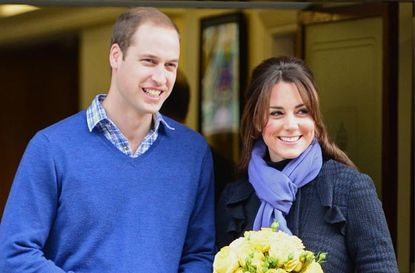 Congratulations to The Duke and Duchess of Cambridge, who are expecting their first child in 2013! And we're over the moon to hear that pregnant Kate Middleton has finally left hospital after her being treated for acute morning sickness.
We've been eagerly waiting to hear the news since the royal couple tied the knot in April 2011, and we couldn't be happier to find out that Kate Middleton is pregnant!
St James's Palace announced the happy news on 3rd December 2012 and said The Queen, The Duke of Edinburgh, The Prince of Wales, The Duchess of Cornwall, Prince Harry and members of both families are delighted with the news. The baby will be 3rd in line to the throne.
Prime Minister, David Cameron, also tweeted: 'I'm delighted by the news that the Duke and Duchess of Cambridge are expecting a baby. They will make wonderful parents.'
And The Duchess of Cambridge, who is thought to be less than 12 weeks pregnant, has now left King Edward VII Hospital in central London where she was treated for acute morning sickness for 3 nights. Kate, 30, looked much better and beamed whilst she posed for cameras with Prince William outside the hospital on 6th December 2012 (pictured above).
The good news came the day after St James's Palace updated the public on Kate's condition, while she was still in hospital on 4th December, saying she was 'continuing to feel better'. Prince William also looked relieved after paying his wife a 6-hour visit in hospital on the same day and the royal couple expressed their thanks for the good wishes they've received. We're glad to see Kate's out of hospital and the couple can now celebrate their happy news at home.
We wish Kate Middleton a very happy pregnancy and are looking forward to welcoming their 2013 baby when it arrives, but will she have a prince or princess? We've consulted our Chinese birth predictor, which tells us she'll give birth to a girl if she fell pregnant in October 2012, or a boy if she fell pregnant in September 2012.
Congratulations!
You've been sending the royal couple your messages of congratulations via our Facebook page and here are some of them:
Su said: 'Fantastic news, really happy for them.'
Mich said: 'It's what we've all been waiting for.'
Fiona said: 'I hope you get better soon Kate.'
Michelle said: 'Wonderful news! May the pregnancy be a blessed, healthy one.'
And if you'd like to send your well wishes, post them to us on our Facebook fan page.
Where to next?
Pregnant celebrities 2012




Parenting advice, hot topics, best buys and family finance tips delivered straight to your inbox.