I'm a parenting expert and here's why Kate Middleton's parenting style may be the one (no nanny required)
Kate Middleton's parenting style is modern and child-led and here's why that works on so many levels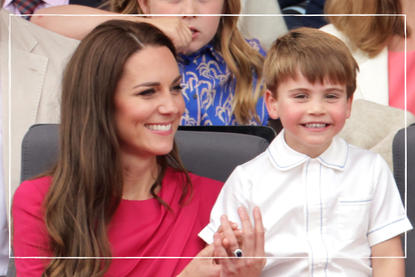 (Image credit: Getty Images / Future)
Kate Middleton, Princess of Wales and mum-of-three is breaking the mould and the royal parenting cycle with her Early Years campaign, and child-led style of parenting - and I for one am here for it.
As a parenting expert with nearly 25 years in childcare, I have seen parenting styles (opens in new tab) change and evolve frequently, with many a new TV nanny or high-profile celeb extolling the virtues of certain ways to parent (gentle parenting (opens in new tab), anyone?). And now, in 2023, it's clear that The Princess of Wales, mum to Prince George, 9-years-old, Princess Charlotte, 6- years-old and five-year-old Prince Louis, is fast becoming a bit of an icon in the parenting and early years world - and it's not because of nannies.
Google can give you one of many suggestions on how best to parent, but one of the most common patterns in raising children is by parents following their own parents' style and methods. In Kate's case, she has a tight-knit family and her childhood home was full of love. And as she grew into an adult, Kate and her siblings Pippa and James, remained close to and see their parents as their best friends.
For some parents though, there is a need and a want, to break past parenting cycles. So while the Middleton method may sound idyllic, many may question if it is really achievable and wonder how exactly you go about ensuring that your children grow up happy. Could Kate's approach help...
The Sofa chat - what it means
The Princess has previously revealed that there is no shouting and yelling in their house and that they choose 'time in' when things escalate, with a 'sofa chat.' The sofa chat and 'time in' means sitting with your child rather than putting them into solitary confinement (i.e. the 'naughty step' or being sent to their room) and talking through their behavior once they are calmer. Focussing on how the adult can support them to better handle frustration, anger, (and annoying siblings). Culminating in agreeing on plans to help them to move forward.
This approach may seem a little 'wishy-washy', but it helps children to regulate their emotions better and helps keeps their self-esteem intact. They are also more likely to come to you for help when the bigger things happen, rather than try and hide them from you, for fear of punishment.
Allowing 'time in' doesn't mean that there are no consequences for behavior though, so always keeping to your side of the family rules and boundaries is important, while being mindful of your expectations. These methods are something Kate and William deploy as a more 'respectful' way of parenting, based on Kate's positive upbringing and, I suspect, William, wanting to break the 'parenting past' that he and Harry endured.
Listening and speaking to children on their level
This is something the Duchess is pictured doing regularly. Whenever she's snapped out and about with George, Charlotte, or even Louis, Kate is seen to make a point of getting down to their level (most of the time), before speaking to them. Doing this when speaking to your little'uns helps them to feel safe and listened to, as you're giving them your full attention.
Spend time outdoors
In the past, she's revealed that she often hauls her three kids outside rain or shine, to enjoy all the things nature has to offer. Back in 2017, before the arrival of Prince Louis, she explained, "I've got such fond memories of being in the garden and being outside from my own childhood, and I'm sharing that with my own children, George and Charlotte, at the moment."
The family's move to Windsor castle was well-thought-out to ensure that the children could play outside without being under the glare of the public, meaning that they could, while being at home, have a much more 'normal' childhood and have their physical and mental health nurtured.
"As children, we spent a lot of time outside and it's something I'm really passionate about. I think it's so great for physical and mental well-being and laying those foundations." She told host, Giovanna Fletcher on the podcast Happy Mum, Happy Baby. (opens in new tab) She is not wrong, a minimum of an hour outdoors each day makes all the difference to a child's mental and physical health - whatever the weather, so ensuring that children have time to take their play outdoors is important - Be that at home in the garden or a trip to the park.
Be there for them (when you can)
With a packed royal schedule and all sorts of important things requiring her attention, the Duchess of Cambridge (to an extent), faces a lot of the same time management issues as us regular parents do.
But she often proves that she and William prioritise being there for their three babies as often as they can be. Kate has mentioned in the past that she and her husband make a point of doing the school run each morning and afternoon as much as they can. Of course, we can't all dictate our schedules in that same way, and for many parents it just isn't possible to do the school run every single time.
But it's an important lesson to apply to everyday life - making the most of the little moments with our kids. Perhaps it means always getting up to make them breakfast, and eating it with them before they go to school and you go off to work. Or, it may mean simply lying in bed with them and reading a story when you return home from a long shift.
Be realistic and kind to yourself
We're all human, we've all shouted at our children at one point, and that's okay, it's easy to be caught in the moment, but my advice to parents in my consultations, is to always strive for setting these expectations for the majority of the time, not all of the time, and on the occasions where you do shout, you apologize to and repair with your child. Ensure that they understand that shouting wasn't the right way to handle your frustration or to get them to listen. This is a great way to model the behavior that you are expecting from your child, also.
Parenting doesn't mean perfection, Kate Middleton herself admits that she regularly feels the pressure of not living up to the idea of being 'the best' parent. The royal has not been shy about sharing the fact that she can find being a mother incredibly difficult, but that recognising it and embracing the idea of 'winging it' is vital to your mental health. In a speech, she said, "Nothing can really prepare you for you the sheer overwhelming experience of what it means to become a mother. You go from thinking of yourself as primarily an individual, to suddenly being a mother, first and foremost.
"And yet, there is no rule book, no right or wrong — you just have to make it up and do the very best you can to care for your family. For many mothers, myself included, this can, at times lead to lack of confidence and feelings of ignorance."
Kate has previously talked about experiencing 'mum guilt' and how even she finds parenting a constant challenge – something that is refreshing to hear as, royal, or not, there is no such thing as the 'perfect parent'.
Kate's parenting style is the one because....
In conclusion, Kate's parenting style lets children know that they, their voices, and their thoughts are important too. Gone are the days of 'children should be seen and not heard', in rolls a new and modern way of parenting, where we give children the space they deserve to fill with curiosity, fun, and confidence - its the only way we'll see a happy healthy future generation. And, with Kate's impressive and dedicated work on her Shaping Us campaign shining a light on the importance of the first five years of a child's life, I think change will happen. The campaign is giving a well-needed voice for the early years, all while the working mum aims to be a positive role model for her own children. Kate is, in my opinion, becoming a great role model for other mums too, it's all in how you respond to your children, the language used, and how heard and worthy their parents and caregivers make them feel - no nannies required.
Related features:
Video of the Week:
Kirsty is a qualified early years practitioner and parenting consultant with a wealth of knowledge and experience from over 22 years of working with families and children from birth to the teenage years. Kirsty's career has seen her work in a variety of roles, from children's holiday rep and nursery nurse to over 16 years working as a daily nanny.