"Marie Kondo has finally shared advice I can get on board with - and it has nothing to do with folding."
Marie Kondo - famous 'Queen of Clean' - has said what this mum-of-one, and every parent, already knows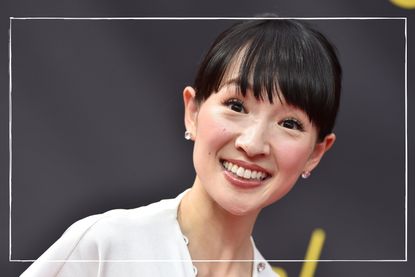 (Image credit: Getty Images / Future)
Marie Kondo made it big in 2014 and her hugely popular book, The Life-Changing Magic of Tidying Up was a mega-hit how-to of minimalism and decluttering. And I hated it.
Back then, the KonMari Method (opens in new tab) flooded every website and magazine, and Marie Kondo (opens in new tab)'s organsation tips were everywhere I looked. Her unique selling point was a neat blend of life philosophy, decluttering strategies, and clothes-folding tips. 'Does it spark joy' soon became meme fodder, a one-liner that everyone recognised, not hard to reach this status when more than four million (and counting) copies of the book have been sold worldwide. But now, she's saying it's okay not to tidy every day. And even that she's 'kind of given up', and that is the kind of positivity I need in my life.
Disclaimer, even before I became a mum my very personality meant that Marie Kondo's touted way of living was not, nor ever will be, my bag baby. I don't put lids on things, I always spill food down me, I'm un-phased by coffee stains, and drink rings on tables go unnoticed. And since having a child tidying is so far down my list of things to do that it (and by that I mean my house) can be embarrassing at times. My shelves are full of tat and clutter lays dormant on every side, but it's my clutter, my tat, my life. I rarely fold anything let alone fold it in certain ways. So Marie Kondo intimidated me. Her suggested organisation - and the directives of how to achieve it - made me feel like I'd flunked in adulting if I'm honest.
The KonMari Method of tidying:
Commit yourself to tidying up
Imagine your ideal lifestyle
Finish discarding first
Tidy by category, not by location
Follow the right order
Ask yourself; 'does it spark joy?'
And then along came motherhood to really level the playing field. Yep, Queen of clean, and now mum-of-three, after welcoming a little brother to daughters, Satsuki and Miko who she shares with husband Takumi Kawahara, admits that tidying up is 'no longer top of her to-do list' either. Posting on her website (opens in new tab) shortly after the birth of her third child in 2021, the Japanese organization expert reflects on motherhood, saying she had "eased up on herself" when it comes to tidying.
She writes; "Just after my older daughter was born, I felt unable to forgive myself for not being able to manage my life as I had before. But, with time, I eased up on myself; then, after I gave birth to my second daughter, I let go of my need for perfection altogether."
She goes on to admit that she's 'busier than ever after having [her] third child, she writes; "so I have grown to accept that I cannot tidy every day – and that is okay!". Speaking at a recent media webinar she said: "My home is messy, but the way I am spending my time is the right way for me at this time at this stage of my life."
Amen, Marie. Amen. My home is messy too, and I now feel fully vindicated - life happens, and it's not a neatly organised event with folding lines to follow. It's messy, it's out of our control, it's constant and that is all okay.
Also, worth noting that this admission came during a recent webinar to promote her latest book, "Marie Kondo's Kurashi at Home: How to Organize Your Space and Achieve Your Ideal Life." So while she's no longer tidying up as much as she was, she's still vastly better at it than me... I bet her bedroom doesn't have a well cultivated floordrobe.
Related features:
Video of the Week:
Stephanie Lowe is Family Editor at GoodTo covering all things parenting, pregnancy and more. She has over 13 years' experience as a digital journalist with a wealth of knowledge and experience when it comes to all things family and lifestyle. Stephanie lives in Kent with her husband and son, Ted. With his love of choo-choos, Hey Duggee and finger painting he keeps her on her toes.