Best Cyber Monday Le Creuset deals 2021: Huge savings on stoneware, cookware and more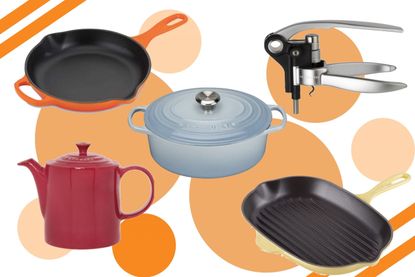 GoodTo newsletter
Sign up to the GoodTo Newsletter. You can unsubscribe at any time. For more information about how to do this, and how we hold your data, please see our privacy policy
Thank you for signing up to . You will receive a verification email shortly.
There was a problem. Please refresh the page and try again.
From the iconic Le Creuset casserole dish to the signature frying pan, here are the best Le Creuset Cyber Monday deals for 2021.
With plenty of Le Creuset products up for grabs on Cyber Monday including a range of cookware such as the popular Le Creuset stove-top kettle, it's the perfect time to grab yourself a bargain and save money on this sought-after collection.
Retailers such as John Lewis, Wayfair, and Selfridges have a great range of deals, including a massive 70% off at TKMaxx, 40% off on Amazon, and up to 25% off at Le Creuset.co.uk on Le Creuset bakeware range. Deal highlights for Cyber Monday include £85 off Le Creuset Signature oval cast-iron casserole dish (opens in new tab) at Amazon and a massive 20% off Le Creuset toughened non-stick 3 piece cookware set (opens in new tab).
Plus have a look at these incredible Cyber Monday KitchenAid deals (opens in new tab) and a few tempting Cyber Monday Ninja deals. (opens in new tab)
Best Cyber Monday Le Creuset deals - at a glance
Best Cyber Monday Le Creuset deals 2021
Our roundup includes the following best Cyber Monday Le Creuset deals:
Best Cyber Monday Le Creuset casserole dish deals
Best Cyber Monday Le Creuset stoneware deals
Best Cyber Monday Le Creuset skillet, grill, and pan deals
Best Cyber Monday Le Creuset bundle deals
Best Cyber Monday Le Creuset accessories
Where can you find the best Cyber Monday Le Creuset deals?
Le Creuset.co.uk is a great place to look for a Cyber Monday bargain. Their main brand website is currently offering up amazing discounts for shoppers who shop directly on their site.
Amazon is one of the leading retailers for Cyber Monday, especially when it comes to cookware and kitchen appliances. They're covering everything including Cyber Monday coffee machine deals (opens in new tab) this year - and Le Creuset cookware is no exception.
Other top places to pick up a Cyber Monday Le Creuset deal are department stores like John Lewis, TKMaxx, and Selfridges. Plus online home store Wayfair has gone big on Le Creuset bargains in recent years. For everyday kitchen accessories like butter pots, salt and pepper shakers, and storage pots - TKMaxx is your best port of call. Whilst the latter three are known for slashing prices on the brand's famous pans and casserole dishes.
Best value Le Creuset dish for Cyber Monday 2021
If you're looking for a bargain on Cyber Monday the Le Creuset Signature Cast Iron Casserole Dish, 4.7L (opens in new tab) is undoubtedly top of the range when it comes to Le Creuset's dishes. While they all have similar features, such as the tight-fitting lid, suitability for various hob and oven types, and being dishwasher safe, this one beats the rest for a variety of reasons.
Firstly, it's a perfect size. Cooking with a cast iron pan is heavy enough, to begin with, let alone adding a couple of extra kgs by going for the larger 6.7L model that has space you're unlikely to need - unless you're planning a real feast. The 4.7L is ideal for making everything from casseroles to cakes for up to 6 people.
Secondly, the oval shape allows space in the oven for premium cooking. While some of the other, more traditional Le Creuset models are rounder, making them more ideal for cooking on the hob, the oval model is the best of both worlds. The shallower shape allows the dish to just slide into the oven with enough space over the top to allow for perfect heat circulation. Alternatively, you could turn it lengthways in the oven and still have space to slide in a dish on the side.
And thirdly, it's Le Creuset's most popular model. While this means that the discounts are likely to be less significant than on other models (although we've seen prices slashed by up to £100 this week), it means that the dishes are more likely to be available in a whole range of colours. Just this week alone, we've seen the 4.7l Le Creuset Cast Iron Oval Casserole Dish on sale in 10 different colours, from the classic Volcanic to more serene shades like Coastal Blue.
Best Le Creuset Signature Cast Iron Casserole Dish deals