Best Black Friday / Cyber Monday KitchenAid deals 2021 from Amazon, Currys and more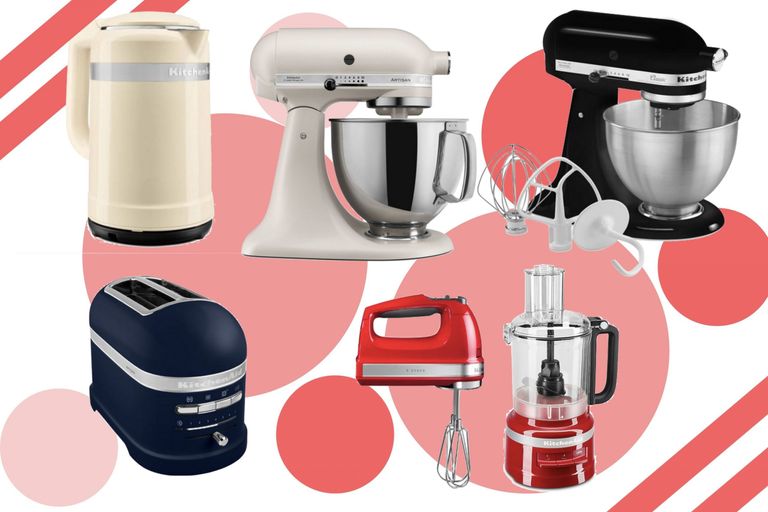 Bag yourself a bargain today with these amazing Black Friday / Cyber Monday KitchenAid deals and discounts. The top deals for this year are from retailers such as Amazon, Currys, Wayfair, Lakeland, and more.
We've rounded up the best Cyber Monday KitchenAid deals for 2021. From £158 off a KitchenAid Heavy Duty Mixer (opens in new tab) at Amazon to £60 off a KitchenAid 2.1L Food Processor (opens in new tab) at Lakeland.
Cyber Monday is the perfect time to get money off your favourite KitchenAid products, from cookware to must-have stand mixers. This Cyber Monday, KitchenAid is offering incredible discounts up to 50% off across the whole KitchenAid range. So if you want to save over £100 on KitchenAid Artisan stand mixer (opens in new tab) and more, see all of the best deals below.
Plus look out for the Cyber Monday Ninja deals (opens in new tab) and a few tempting Cyber Monday coffee machine deals (opens in new tab). Perfect if you're in the market to update your whole kitchen gadget department.
Best Black Friday / Cyber Monday KitchenAid deals - at a glance
Highlights for Cyber Monday include the following KitchenAid deals and discounts:
Best Black Friday / Cyber Monday KitchenAid deals
Our roundup includes the following best Cyber Monday KitchenAid deals:
Best Black Friday / Cyber Monday KitchenAid stand mixer deals
Best Black Friday / Cyber Monday KitchenAid kitchen appliance deals
Best Cyber Monday KitchenAid cookware deals
Best Cyber Monday KitchenAid bundle deals
Where can you find the best Cyber Monday KitchenAid deals?
Amazon is one of the leading retailers when it comes to kitchen appliances. They have everything from Cyber Monday blender deals (opens in new tab) to Cyber Monday slow cooker deals (opens in new tab) - and KitchenAid's are no exception, with some of the best deals listed above.
Lakeland, Currys, and Wayfair are another handful of brands that are quick to launch a range of Cyber Monday KitchenAid deals. AO.com is another that is currently offering up to 14% off KitchenAid mixers (opens in new tab).
Make sure to keep in mind when buying your mixer that some retailers offer free delivery, some have a free click and collect option, some even have next day delivery - just make sure you shop around, not just for the best Cyber Monday KitchenAid deal, but for the best delivery options to suit you too.
Best value KitchenAid for Black Friday / Cyber Monday 2021
If you're looking for the best budget mixer, it's got to be the KitchenAid Classic Stand Mixer, 4.3L - £349 £299 (SAVE £50) on Amazon (opens in new tab).
If you're a once-in-a-while baker, the KitchenAid Classic is the ideal model to begin with. Coming in at over £100 less than the Artisan Mixer even when it's not in the sale, this simple appliance is undoubtedly the least expensive option. But it's still so worth the money.
http://www.youtube.com/watch?v=wuW4dATFar0
This KitchenAid is made with the same parts as the more technical KitchenAid mixers, it has a strong motor (250 watts) and a spacious working stainless steel bowl. While it's on the smaller side with a 4.3L bowl, it handles standard bakes - like cookies, brownies, cake, and occasional bread dough - just fine.
The best KitchenAid mixer to buy on Black Friday / Cyber Monday
The perfect KitchenAid mixer for non-professional cake and bread bakers to buy on Cyber Monday is the KitchenAid Artisan Mixer, available in 47 different colours.
KitchenAid Artisan mixer deals
While the top model is naturally the best pick, Goodto's Consumer Editor Heidi Scrimgeour says it depends on what you're going to use the mixer for exactly. "The Artisan Mixer is great value for money, perfect for those who love casual baking. While there are more high-tech options with bigger mixing capabilities, they're very expensive and not necessarily worthwhile if you're not planning on going professional."
Heidi adds, "I'm always going to say the same thing - if you're investing in a 'big ticket' item for your kitchen and can afford the top range model, go for it. A premium model is typically more expensive for good reasons - the features and functionality will outperform the cheaper models and you're practically guaranteed to get more bang for your buck."
What is the difference between a KitchenAid Artisan mixer and other models?
The Mini (which is also Artisan) is the smallest option but not the cheapest. It has a 3.3L capacity, comes with three attachments, and is ideal for people with smaller kitchens. It currently costs £349 on the KitchenAid website (opens in new tab).
The Artisan models have bigger bowls, more powerful motors and come in many colours. These models start from £399. The 4.3L Classic model only comes in black or white. Yet it still offers the same degree of reliability and the same speed options as Artisan mixers. According to KitchenAid, it's a 'popular entry-level model.' It is currently £349 on Amazon (opens in new tab).
It's worth noting that if you sign up to the KitchenAid newsletter you get 5% discount off your next purchase.
What is the difference between the KitchenAid Tilt-Head and Bowl-Lift mixers?
The KitchenAid Tilt-Head Mixer is the classic design you'll recognise anywhere. It allows you to tilt the top of the mixer so you have easier access to the bowl. The small and medium models are Tilt-Head and are generally used in domestic kitchens. They come in 3.3L , 4.3L or 4.8L bowl capacity.
The Bowl-Lift Mixer is larger and sturdier with a bigger bowl capacity of either 4.8L or 6.9L. These have arms that pick up the bowl to bring it closer to the central attachment (such as a whisk or paddle). These models are better adapted for larger-scale baking and cooking so are popular with professionals.
What accessories come with your KitchenAid mixer?
All KitchenAid models come equipped with three stand mixer accessories. These are guaranteed to save you time in the kitchen - whatever you're whipping up:
Wire whip: The whisk is your go-to gadget when making a meringue. Or any other recipes that require egg-beating for that matter. Similarly, it can whip cream and is a timesaver with homemade sauces like mayonnaise.
Flat beater: Perfect for mixing together thicker ingredients like cake mixtures and batter.
Dough hook: Exactly what it says on the tin. Your dough hook expertly mixes your pizza or pasta dough for professional results every time.
These accessories are made from a mix of stainless steel and aluminum. And this is a conscious choice so that they can continue to do the job after 5 years plus. It's worth noting though that they aren't dishwasher safe. So be sure to hand wash if you want to keep them in mint condition and working for longevity.
Are KitchenAid mixers worth the money on Black Friday / Cyber Monday?
There's no doubt about it, hundreds of pounds is a lot of money. But you have to consider what you get out of a KitchenAid Stand Mixer.
Design: It works so well it's only been slightly modified over the years. In fact, KitchenAid parts are still compatible with models going as far back as the 1930s. They are also solid, reliable, energy-efficient, and easy to clean.
Quality: When you purchase a KitchenAid Stand Mixer you can expect to own a quality product you probably won't have to replace in your lifetime. There's a good reason why celebrity chefs and professional kitchens use KitchenAid Stand Mixers – these are appliances that are built to last.
Versatile: They're probably the most versatile appliance in your kitchen. These mixers can form a dough, mix cake batter, whisk eggs, whip creamed potatoes and make butter from cream, and that's before you've even used any of the extra attachments. Extras allow cooks to roll and cut pasta, grind meat, stuff sausages, slice and dice vegetables, shred cheese and veggies, core fruit, spiralise, make ice cream, mill flour, and juice – amongst other uses.
Aesthetics: If aesthetics mean a lot to you, KitchenAid Stand Mixers are sleek and shiny stainless steel. What's more, there's a range of colours so you're likely to find one to match your kitchen. There are currently 30 colours to choose from, with names such as Candy Apple, Majestic Yellow, Fog Blue, Pebbled Palm, and Velvet Blue. You can also personalise your mixer. Just add a different bowl and engrave the head with the text of your choice.
Last but by no means least, KitchenAid Stand Mixers carry a guarantee to protect the buyer.
Looking for more fantastic discounts over the weekend? There's some great Cyber Monday Beats headphones deals (opens in new tab) live right now. Also, be sure to check out the Cyber Monday Molton Brown deals (opens in new tab) for the perfect Christmas present and the Cyber Monday deals on Fitbit for 2021 (opens in new tab). And if you're looking to revamp your home in 2022, why not check out the Cyber Monday treadmill deals (opens in new tab) on offer from Sports Direct?
What were the best Black Friday / Cyber Monday KitchenAid deals in 2020?
Last year we saw plenty of KitchenAid deals on Cyber Monday. Retailers such as Argos and Amazon had some of the best deals including £100 off KitchenAid Artisan at Currys.
And KitchenAid mixers weren't the only deals on for KitchenAid last year. The KitchenAid hand mixer and KitchenAid food processor had up to £30 savings too.
Jessica Dady is Senior Content Editor at Goodto.com and has over 10 years of experience as a digital journalist, specialising in all things food, recipes, and SEO. From the best food hampers to cookbooks, from the best cake stands to baking sets, Jessica has a wealth of knowledge when it comes to must-have food products. A passionate baker, she spends much of her time creating celebration cakes for friends and family - particularly for her two lucky children.