Best Cyber Monday duel air fryer deals - they're LIVE and in stock for 2022
The best Cyber Monday duel air fryer deals for 2022 from Salter to Tower, from Ninja Kitchen to Tefal...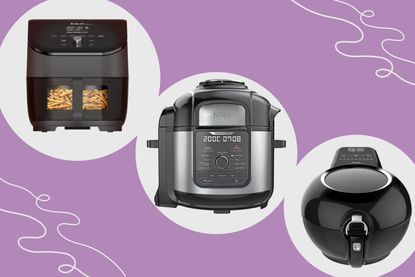 (Image credit: Future)
Goodto Newsletter
Parenting advice, hot topics, best buys and family finance tips delivered straight to your inbox.
Thank you for signing up to GoodTo. You will receive a verification email shortly.
There was a problem. Please refresh the page and try again.
Quick the best Cyber Monday duel air fryer deals and standard air fryer deals are here but they're selling fast; including popular brands such as Ninja Foodi, Salter, and Tefal.
Air fryers are really having a moment. And we can see why, it really is the perfect addition to your household if you're looking for an appliance that's energy efficient and gets you and the family eating a little healthier too, with the majority of brands promising little or no oil necessary during use. Some air fryers even take cooking to the next level and offer a range of multi-cooking functions including grilling, and steaming.
Cyber Monday air fryer highlights so far include a £30 Tower Air Fryer in the Argos sale, a generous £100 off the Tefal ActiFry Genius XL AH960840 Air Fryer Black and £60 off the Instant Pot Duo Crisp + Air Fryer 11-in-1 Electric Multi-Cooker, 5.7L on Amazon.
Buy your air fryer during the Cyber Monday sales to bag a bargain and really save some money - what we all need during the current cost of living crisis. Plus, it's a clever way to save yourself some money cooking in the long run too as air fryers are cheaper to run than ovens.
Where to find the best Cyber Monday duel air fryer deals
---
Best Cyber Monday duel air fryer deals 2022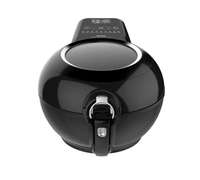 Tefal ActiFry Genius XL AH960840 Air Fryer Black - View at Currys
RRP: WAS £249, NOW £149 (SAVE £100)
The Tefal ActiFry Genius XL AH960840 Air Fryer has 9 automatic programmes as well as an ActiFry paddle that stirs the food during cooking to make sure everything is cooked evenly and to perfection. Functions including Delayed Start and Keep Warm make using it a dream. The touchscreen interface is a high-tech modern bonus that's easy to navigate.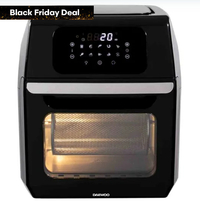 Daewoo SDA1551GE 1800W 12L Rotisserie Air Fryer Oven - View at Robert Dyas
RRP: WAS £219.99, NOW £139.99 (SAVE £80)
Make an epic saving on this impressive air fryers, it boasts a large Window with interior light, 80-200°C thermostat control, basket, skewer, drip tray & 3 mesh baskets. Healthy fry with this rotisserie air fryer to cook your favourite fried foods, all whilst using absolutely no oil; cook for friends and family in a much healthier and almost guilt-free way.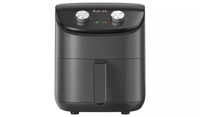 Instant 3.8L Air Fryer - Grey - View at Argos
RRP: WAS £60, NOW £45 (SAVE 25%)
Great buy for smaller families, as suggested 3-4 portions. This Instant air fryer is fast, versatile, and convenient for cooking. Manual controls provide simplicity and ease of use for the whole family. Dials to quickly set the desired time and temperature of cooking.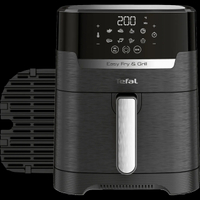 Tefal EasyFry 2in1 Precision EY505827 Air Fryer & Grill - View at AO.com
RRP: WAS £134, NOW £109 (SAVE £25)
This brilliant buy is an air fryer and a grill in one. Giving you plenty of ways to cook meals without spending more than you have to. Plus, this model also comes with Extra Crisp technology, which makes sure hot air is spread round the inside in the best way to give everything from chicken to veg a wonderfully crispy finish. And, you'll have no trouble finding your favourite settings, because using the digital touchscreen is effortless, and there's enough room inside to feed up to 6 people. Result.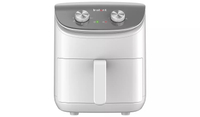 Instant 3.8L Air Fryer in white - View at argos
RRP: WAS £70, NOW £60 (SAVE £10)
Great buy for a smaller family, and very saving helps. This has one cooking compartment and removable bowl, which is dishwasher safe. It also offers variable temperature from 49°C to 205°C.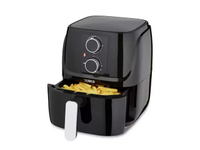 Tower T17079 3L Air Fryer - View at Argos
RRP: WAS £50, NOW £30 (SAVE £20)
Perfect for a family of two, especially if that family like crisp and fluffy chips in just 15 mins. It also boasts impressive rapid air circulation technology cooks food 30% quicker with 99% less oil. The 3l capacity means from for aout three to four portions, the non-stick cooking basket can be removed for easy cleaning, and the controls are said to be 'intuitive' making it a doddle to use. Bag your bargain now.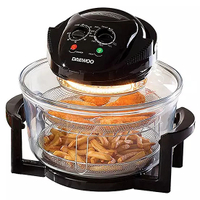 Daewoo SDA1032RD 17L Halogen Air Fryer Low Fat Oven - View at Robert Dyas
RRP: WAS £89.99, NOW £39.99 (SAVE £50)
We love that you can see your food while it's cooking, this buy offers a revolutionary way to cook whole meals quickly, easily, and healthily with less fat. It has both a carbon heating bulb and a built-in fan to circulate the air evenly, so you're guaranteed to get perfectly cooked, succulent food - and it'll be cooked far quicker than in a conventional oven.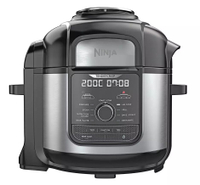 Ninja Foodi 7.5L Multi Pressure Cooker Air Fryer Dehydrator - View at Argos
RRP: WAS £230, NOW £200 (SAVE £30)
Ninja Kitchen certainly knows a thing or two when it comes to air fryers and this multi-pressure cooker is no exception. Functions include air frying, steaming, grilling, and slow cooking. It has a 7.5 litre capacity which is roughly 5-6 portions. Dishwasher-safe removable pot for easy cleaning. 96% of Argos customers would recommend this air fryer.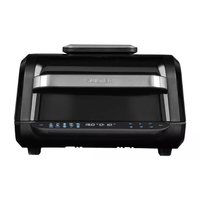 Salter AeroGrill Pro EK5106 3.8L Air Fryer Black - View at Argos
RRP: WAS £160, NOW £140 (SAVE £20)
Save £20 on this fast-selling air fryer from Salter. Available for free click and collect at Argos, this AeroGrill Pro is a great choice for smaller families as it makes 1-2 portions per go. It's easy to clean with removable parts and can be heated up to 230C making it ideal for cooking meat, pizza, chips, and more.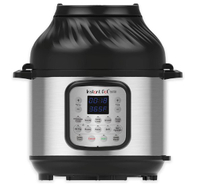 Instant Pot Duo Crisp + Air Fryer 11-in-1 Electric Multi-Cooker, 5.7L - View at John Lewis
RRP: WAS £199.99, NOW £159.99 (SAVE £40)
Get 30% off this Instant Pot Duo Crisp and Air Fryer. This multifunctional multicooker is perfect for air frying, steaming, slow cooking, dehydrating food, and more. Rated 5 stars by over 80% of Amazon customers who have bought this model.
Cyber Monday dual air fryer deals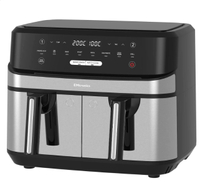 EMtronics EMDAF9LD+ Dual Air Fryer Extra Large - View at Amazon
RRP: WAS £279.99, NOW £239.95 (SAVE £40)
Save £20 on this EMtronics extra-large 9-liter air fryer with 8 adjustable pre-set menus and a 99-minute timer. This large machine is perfect for bigger families looking to cook large-batch meals. Rated an average of 4.5 out of 5 by Amazon customers.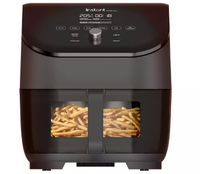 Instant Vortex Plus 6-in-1 ClearCook 5.7L Air Fryer Black - View at Argos
RRP: WAS £120, NOW £80 (SAVE £40)
Save £40 on this dual air fryer perfect for feeding 5-6 people per use. Parts are dishwasher safe making it a great choice for easy cleaning. Pre-set programmes include air frying, roasting, grilling, baking, reheating, or dehydrating.
What are the best air fryer brands to buy on Cyber Monday?
NINJA KITCHEN - From air fryers to multi-cookers, Ninja is the leading brand when it comes to multi-cooking kitchen appliances. If you're looking for a high-quality, durable air fryer, Ninja Foodi has got you covered. Most Ninja models have a larger capacity as well as a range of cooking functions. This 5-star rated brand is a popular choice.
SALTER - If you're looking for a quick and easy-to-use air fryer model, the Salter air fryer and/or multi-cooker may be the perfect fit. Most machines are simply designed and easy to navigate. Salter prides itself on efficient kitchen appliances since 1760.
TEFAL - High-tech air fryers with an innovative design. This air fryer brand produces affordable models that look the part on your kitchen counter without breaking the bank. Variety of sizes, types, and colours available.
COSORI - Award-winning kitchenware by the brand Cosori bringing versatility to the world of air fryers. With a great range of colours to choose from, Cosori air fryers are much more compact than others, particularly its LITE range.
INSTANT BRANDS - This sell-out brand is famous for its multi-cookers and air fryers. From Vortex to Duo, to Pro, Instant Brands has a range of different models to choose from with a variety of different functions too. The majority of models are also reasonably priced too.
What types of air fryers are there?
There are two types of air fryers to choose from; the basket air fryer and the air fryer oven. Both are similar in style however, one has more functions than the other.
Basket air fryer
Basket air fryers include a drawer or drawers with removable baskets (similar to deep fryer baskets) where the food is placed. The basket allows the food to be heated from the top and the bottom of the machine. The fan in the air fryer circulates the air evenly around the food in the basket. Basket air fryers tend to have basic functions and are often purely for air frying.
Require less counter space than an air fryer oven
Pre-heats faster
Many colours and choices are available
Easy to clean with removable basket
Limited capacity
Can't see food during cooking
Cheaper than air fryer ovens
Oven air fryer
Air fryer ovens have a similar cooking method as basket air fryers - the heat is circulated around the food and around the inside of the machine from the top and bottom with a fan which ensures even cooking.
The main difference is that an air fryer oven has no basket, instead has a rack or shelf, similar to an oven, to hold food. It may be bigger in size and suitable for baking trays depending on the model you choose. Most air fryer ovens also come with a variety of added functions like baking, toasting, etc.
Machines are often bigger so need more counter space compared to basket air fryers
Large capacity - so great for bigger families
Accommodate a range of baking dishes and trays
Can often see the food through the glass door
Depending on the model, most removable parts are dishwasher safe
More expensive than basket air fryers
Limited colour choices
Is it worth buying an air fryer?
If you're looking for a healthier way to cook food (without the added oil for example) or you're looking for a more efficient way to whip up dinner, an air fryer could be the perfect choice for you.
"An air fryer is essentially a mini oven that uses a fan to circulate air quickly and efficiently cooking food much more speedily than a standard oven," says Food Editor, Jessica Dady. "They are quicker to pre-heat as they are smaller than an oven, and some models don't even require pre-heating. Air fryers are said to be more energy efficient compared to standard ovens too."
Depending on the size of your air fryer, often basket air fryers are targeted at smaller families or smaller meals, however air fryer ovens can cater to more people but will cost more money to purchase.
"One of the main downsides of owning an air fryer is that food can burn quickly if not used correctly and food isn't monitored properly during cooking. As air fryers heat up so fast, food is more likely to catch and get burnt so you may need to keep this in mind," says Food Editor, Jessica Dady.
You are limited in serving sizes and often models are bulky so can be either hard to store or you will need to make sure you have counter space to keep your machine.
That being said, we feel that an air fryer is a great addition to a household particularly if you're looking for a convient, quick and efficient way to cook.
Tried and tested air fryers to buy on Cyber Monday
Salter EK4548 Dual Cook Pro Air Fryer
Specifications
RRP: £130
Type: Oven air fryer - with baskets
Reasons to buy
+
Easy to use
+
Easy to clean
+
Cooks food quickly and thoroughly
The Salter EK4548 9L Dual Cook Pro Air Fryer is incredibly versatile as not only is it an air fryer but it can be used to roast, grill and fry. It has an easy-to-use touch-control LED display alongside a 60-minute timer with adjustable temperature control - up to 200C. The 4.5 litre baskets are easy to remove and easy to clean too. Ideal for cooking chips, vegetables, meat, and more.
Family Editor Stephanie Lowe says: "There's a reason everyone is talking about air fryers, they really are game changers. I chose the dual drawer air fryer as we have a vegetarian in our family so it's really easy to still get the dinner done together without cross-contamination. For us, it's no more burned fish fingers or charred sausages. I chuck them in, set the timer - which you can set so they are in sync, and cooking ends at the same time - and I can then get on with 'no phone play' before dinner - no interruptions, it's so brilliant."
---
Tefal ActiFry Advance Snacking FZ729840 Health Air Fryer
Specifications
RRP: £169
Type: Basket air fryer
Reasons to buy
+
Simple to use
+
Quick and efficient to heat food
+
Modern, sleek design
Not just for snacking, this basket air fryer is ideal for cooking stir-fry, curry, casserole, paella - you name it. It has a 6-portion capacity and comes with plenty of recipe inspiration thanks to the easy-to-download Tefal app with over 400 recipes to choose from. Rated an average of 4.5 stars by Amazon customers, this air fryer has been complimented for its versatility, simple set up and delicious end result.
Goodto.com reviewer Maria Lacey says: "This nifty air fryer makes around 6 good-sized portions in one go. So far we've tried making our own chips, and potato wedges and have cooked various vegetables in it too - all of which have come out perfectly. The machine itself isn't too big either which was a bonus as we don't have much counter space so it needed to fit in a cupboard which it does easily. A recommended, speedy way to cook starters, sides, and snacks."
---
Top tips for buying an air fryer on Cyber Monday
The main thing you should do before committing to any new kitchen appliance is researching it. Research the top brands, research the different types of machines you can get, and find out as much information about it before purchasing. This will ensure that you're super happy with your long-term purchase and it'll be worth the money in the long run.
In terms of buying an air fryer, particularly during the Cyber Monday sales, it's about finding the model to suit your needs and your family. Once you've settled on a specific model or design, you will then need to shop around to find the best deal.
Features and functions
Basket air fryers are much more basic than air fryer ovens - do you want an air fryer that can grill too? Do you want one that is easy to clean or one that has a pre-set timer? Deciding on the type of machine that you want to commit to is a great idea, it will make hunting on Cyber Monday much easier as you'll have all the knowledge and information you need before adding that particular air fryer to your shopping basket.
Capacity and size
One of the main things to keep in mind when purchasing an air fryer is its size - and not just the size of the machine itself but the capacity. How many people do you need to cook for? Will it feed all of you or will you have to use it twice to get the most out of it? Whatever your decision, make sure you find out more about the capacity of the model before purchasing as well as the overall size of the air fryer to see if it can fit on your countertop or in the cupboard easily.
Recommendations and reviews
Read as many reviews and talk to friends and family who may already have an air fryer. Getting a first-hand recommendation of a specific brand or type of air fryer is a great place to start.
Best Cyber Monday air fryer deals from 2021
Last year we saw a great array of discounts on sought-after air fryer brands such as Instant Pot, Cosori, Ninja Foodi and Tefal.
We're predicting this year Cyber Monday air fryer sales will be even bigger and better, especially as Black Friday deals have begun earlier this year too.
Retailers such as Amazon, Currys, AO.com, Robert Dyas, Argos, Very and John Lewis are said to be top retailers when it comes to purchasing an air fryer this yber Monday.
Related Cyber Monday features:
Parenting advice, hot topics, best buys and family finance tips delivered straight to your inbox.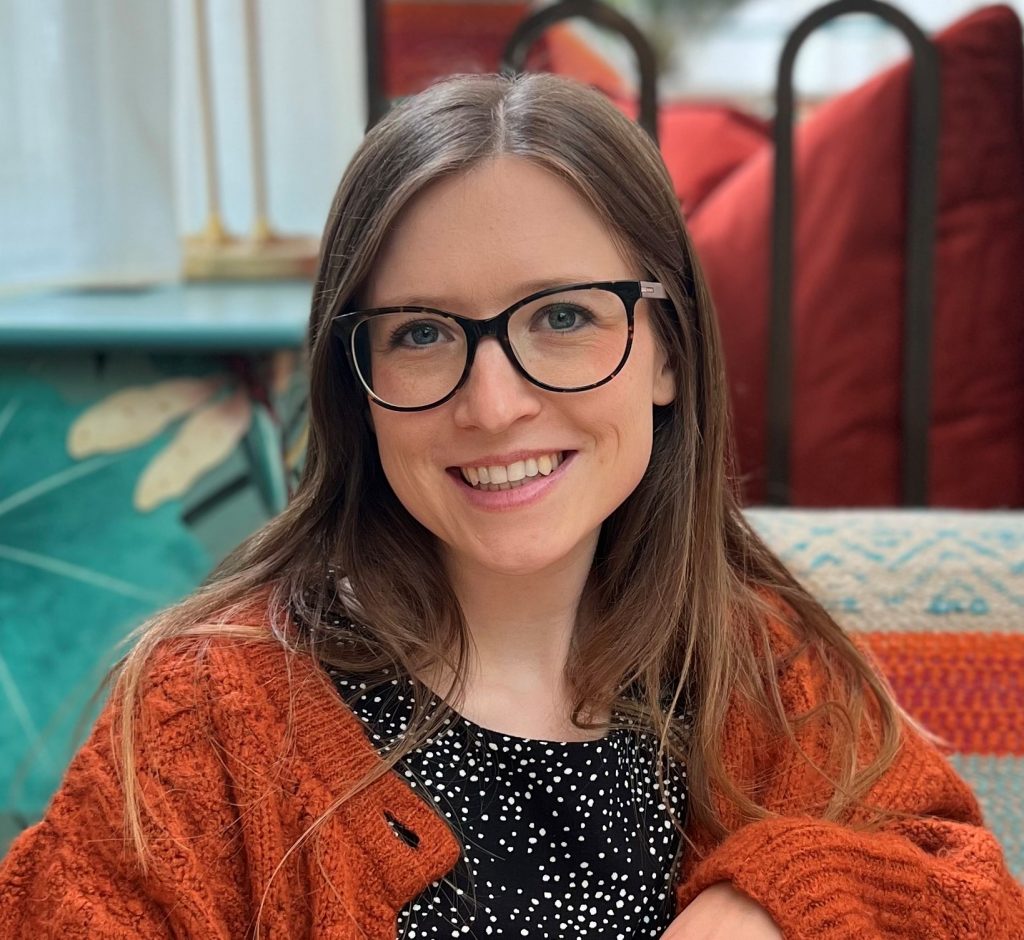 Jessica Dady is Food Editor at Goodto.com and has over 10 years of experience as a digital editor, specialising in all things food, recipes, and SEO. From the best food hampers to cookbooks, from the best cake stands to kitchen appliances, Jessica has a wealth of knowledge when it comes to must-have food products. A passionate baker, she spends some of her time creating celebration cakes for friends and family including her two lucky children.