Average cost of....
What's the average cost of a wedding, or having a baby, or home insurance? We've found ways of helping you save on major life events and purchases so read on to find lots of useful money-saving advice.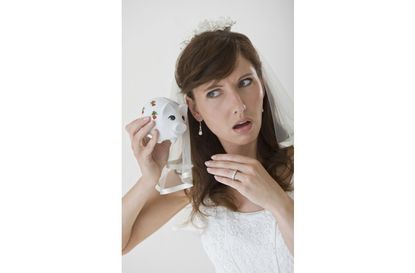 (Image credit: WestEnd61_Rex Features)
GoodTo newsletter
Sign up to the GoodTo Newsletter. You can unsubscribe at any time. For more information about how to do this, and how we hold your data, please see our privacy policy
Thank you for signing up to . You will receive a verification email shortly.
There was a problem. Please refresh the page and try again.
What's the average cost of a wedding, or having a baby, or home insurance? We've found ways of helping you save on major life events and purchases so read on to find lots of useful money-saving advice.
If you're feeling the pinch, you're not the only one. There's no doubt that prices have gone up for lots of things we have to buy – from gas and electricity to food and insurance. They're not luxuries, but they're not cheap either.
And then there are the major life events, like getting married, moving house or having a baby, which can put a massive dent in your wallet even if they are some of the most memorable experiences you'll ever have.
We've found out the average cost of some of the main events and purchases that many people have to fork out for at some stage in their lives, either every day, yearly or as a one-off. Some of the prices have increased sharply in the last 10 years for lots of different reasons.
So here are lots of useful, practical money-saving tips to help you reduce your spending on the big stuff. Whether it's how to save money on your wedding, the best way to shop for insurance, how to help your teenager budget at university or how to slash costs when you're having a baby, this feature is packed with lots of useful tips and links to other useful features and resources.
Average cost of a wedding
Everyone knows how expensive weddings can get and according to a 2012 survey by foreign exchange provider Travelex, the average cost of a UK wedding is now over £18,500. The Church of England is also increasing the cost of church weddings by 40% from January 2013. On the plus side, the average wedding cost is expected to drop to around £16,164 in 2013 so follow these money-saving tips.
- Saturday nights and summer are generally the most expensive times to book venues so go as off-peak as you can.
- Don't go for the most obvious wedding venues. Consider everything from National Trust properties to smaller hotels. Many venues are licensed for civil weddings and offer good-value wedding packages'.
- Take out wedding insurance. It's an extra expense rather than a money-saver, but if anything goes wrong, you're covered. It's also a good idea to pay by credit card for items over £100 for extra consumer protection.
- Print out your own invites, name cards and even menus. Just Google 'wedding invite templates' online and get creative.
- It's not easy, but avoid mentioning the word wedding' when it comes to flowers and decorations. The 'w' word is notorious for bumping up prices for the exact same product or service.
For more tips, read our feature about 15 ways to throw a wedding on a budget (opens in new tab)
Average cost of university
According to a 2012 Moneysupermarket survey of 31 UK universities, a three-year degree can cost as much as around £75,000 including accommodation, fees and travel. Of course, these figures are estimated and depend on the course, any financial support and different lifestyles, but there are ways students can save.
- Make sure they buy an NUS Extra Card from the National Union of Students as they'll get discounts for everything from cinema and food to train and bus travel and mobile phone deals.
- Teach your teen how to cook basic dishes before they set off. Spending money on takeaways and ready meals will very quickly eat into their weekly budget.
- A good mobile phone price plan is a must as many students won't have a landline. Make sure you've found a competitive deal for them with enough inclusive minutes, texts and internet allowance.
- Check you've applied in advance for any grants they're entitled to. You can find out more in the Student Finance section (opens in new tab) on the government website.
- Encourage them to get a part-time job. It's a good way to meet other people and if it's in a shop, they might get handy discounts too. A bar or restaurant can also be good for free food and drink.
Want more tips? Read our money-saving guide to university (opens in new tab)
Average cost of a new kitchen
The average cost of a kitchen depends on many factors such as whether it includes new appliances or flooring, but it's certainly not a cheap home improvement. Most people expect to pay between £5,000-£6,000 for a full refit and labour costs. Save money on a new kitchen with these tips.
- First, think about what needs revamping. Do you need a new kitchen or could you get new tiles, change the doors and handles or replace the worktops?
- If you can DIY it, you will save a fortune on labour costs. However you may still need an electrician, plumber or tiler for any fiddly bits and for safe installation.
- You don't have to buy the kitchen from one place. Save money by shopping around for the different items such as carcasses, doors, hinges, door handles and appliances. You can then employ a kitchen fitter to install it for you.
- Shop around - get at least three quotes for the installation and be very clear about what it includes to avoid extra costs.
- Where possible, choose a recommended tradesman – they're worth their weight in gold!
- If you use a kitchen design company, don't feel pressured to commit on the day of the visit. If they say it's a one-day special price' just politely show them the way out.
Average cost of moving house
House prices aren't the only thing going up. The costs of moving house have also increased - by 69% over the last 10 years, according to a 2012 report by Lloyds TSB. Since 2001, costs such as agent fees, stamp duty and home removals have gone up by £3,632 and by 2011, the average cost of moving house was £8,922 (£19,544 for London homeowners). Save money with these tips.
- You can save a small fortune by avoiding estate agent fees and selling your home privately using websites such as houseweb (opens in new tab) and propertybroker (opens in new tab). There's lots of advice and support available too.
- If you're using a removals company, ring around for the best deal as prices can vary.
- Check if your home contents insurance covers accidental damage during the removal process. If it doesn't, ask for extra cover to be added for the relevant days.
- Removals firms charge more if they pack for you so be organised and pack things up yourself. It's also a chance to declutter - the less you take, the less you pay.
- Also, think about whether you actually need to move! An extension or conversion can sometimes cost the same, add value to your home and eliminate the stress of moving house.
Read our feature for tips on how to declutter and make money (opens in new tab)
Average cost of a funeral
No-one likes to think about their funeral or that of a loved one, but for most of us, it will be something we or our family have to deal with. According to Sun Life Direct's 2012 Cost of Dying Report, funeral costs have gone up by 71% in the past 8 years. A basic funeral costs £3,284, compared to £3,091 in 2011.
- Not everyone has spare cash to save, but put away whatever you can afford each month.
- Write a will which states what you do and don't want. An expensive coffin and bouquets of expensive flowers are not a must and if that's in writing, no-one feels pressured.
- Many people opt for cremation over a burial. There are many reasons, but it is also a money-saver as there are no cemetery plot, casket and headstone costs.
- It sounds morbid but shopping around is key if you end up organising a funeral. Many people go to one funeral director instead of seeing if others offer a more affordable service.
- You don't need a hearse or limousine to transport the body. If you find a good funeral director, they will advise you well and only offer the necessary services if they know that money is an issue.
Average cost of living
According to a 2012 report by social policy research and development charity, The Joseph Rowntree Foundation, two parents need to earn at least £18,400 each to support themselves and two children for a socially acceptable standard of living.' We all know prices have gone up but there are lots of ways you can save.
- Be a savvy supermarket shopper. Stick to the list, buy value/non-branded products and only be tempted by offers if you were going to buy the product anyway. Read our top supermarket saving tips from goodtoknow mums.
- Take advantage of Quidco cashback offers (opens in new tab) - you can get money back for everything from clothes and presents to fridges and insurance. Also check our Money Saver page for the latest voucher codes and printable discount vouchers.
- Always shop around before you buy. Whether it's your electricity or broadband provider or you want a new computer or bed, prices for the same or similar products can vary widely, especially with so many online stores.
- Consider cutting back. Do you need satellite TV? Can you switch brands? Are you overpaying for your mobile phone price plan?
- Petrol is the same wherever you buy it so use the petrolprices.com website (opens in new tab) to find the cheapest fuel nearest to you.
Picture credit: Monkey Business Images/Rex Features
Average cost of car insurance
Running a car is costly enough with regular expenses such as MOT, servicing and petrol, but car insurance is now sky-high too. According to the AA British insurance premium index, the average price of car insurance has risen to more than £1,000 a year. Here's how you can save money and still get good cover.
- Make sure your car is secure. An alarm and immobiliser can reduce your car insurance premiums.
- It's in your interest to park and drive your car carefully. The more times you claim, the more you will pay for the following year's insurance.
- When you're getting quotes, ask for prices for both comprehensive and third party cover. Often comprehensive cover is cheaper or only slightly more expensive and that way, you're covered for any incidents which are judged to be your fault.
- Adding a second driver with a clean driving record can sometimes reduce the cost of your car insurance – handy if you have any points or penalties!
- Never auto-renew your car insurance. Always look around for the best-value quote from other companies and then haggle with your current provider before choosing the best policy for that year. Use price comparison websites to get a general idea of what you should be paying.
Thinking of getting a new car? Read goodtoknow's guide to buying a car
Average cost of home insurance
Everyone knows home insurance costs can mount up over time. According to 2012's Shoparound summary, produced by the AA British Insurance Premium Index, the average quote in early 2012 from different insurers (based on the five cheapest premiums) was £1,132 (£737 on price comparison websites).
With home insurance, while it's important to save, it's also essential to have the right cover so follow these tips for better deals.
- It's a dull task but add up the value of your contents to work out how much cover you need. Being under-insured will cost more if you have to claim, and being over-insured will increase your premium.
- Use a mixture of price comparison websites and insurers such as Aviva and Direct Line to find the best quote and always check if you can get cashback with Quidco (opens in new tab).
- Never automatically renew your home insurance. Always find quotes from other providers before trying to haggle a better deal with your current insurer.
- Making your home more secure by installing a burglar alarm or better locks on windows and doors can bring down the cost of your home insurance.
- If your home is prone to flooding or subsidence, make sure you've got appropriate cover. It's not worth saving a few pennies if anything does happen.
Get more top tips for cheaper home insurance (opens in new tab)
Average cost of having a baby
Being a first-time parent can be scary and the pressure to cater to every possible scenario means new mums and dads are spending an average of £1,786 before the baby's birth, according to a survey of 2,000 parents in 2012 by the TV series How To... prepare for your baby's arrival'. But you don't have to buy every gadget and piece of equipment going...
- Borrow what you can. Ask friends and family if they have any baby gear they can lend you, from cots and prams to blankets and baby clothes.
- Save money with re-usable nappies. They can work out almost half the price and that's just with the first baby so it can be a huge money-saver over time.
- Make sure you claim any benefits which you are entitled to, for example, maternity pay or the SureStart maternity grant. You can find out more in our feature about family benefits (opens in new tab).
- Register with Freecycle (opens in new tab), a local community giveaway' website. People give away all sorts of items, including baby products from prams to clothes. Other free resources include any local toy libraries – ask your council if there's one near you.
- For good-value, good-quality second-hand items, go to an NCT (National Childbirth Trust) Nearly New Sale (opens in new tab).
For more tips, see how you can save money on new baby items
Average cost of Christmas
It may well be the most wonderful time of the year – but also the most expensive. In 2012, a MoneySupermarket.com poll found the average Brit would be spending £445 on Christmas, even if it meant going into debt. Have a cheaper Christmas next year with these tips.
- Start putting away a small amount of money each month. You can start in January or whenever you can afford it. Just don't have a credit card Christmas' unless you're going to pay off the full amount as the interest you pay on the card will make it very expensive.
- More food is thrown away at Christmas than at any other time of year so think carefully about what to buy and how many people you are catering for.
- The cost of family presents can mount up so suggest Secret Santa. Each person buys for one other person and you can ask for wishlists and set a price limit. It means everyone receives one great gift they want and it's cheaper too.
- Be organised and use the January sales to buy decorations and gifts for the following Christmas. With many items, it just doesn't matter when you buy them.
- Before you do your big Christmas food shop, run the items through mysupermarket.co.uk (opens in new tab) to see which supermarket has the cheapest basket'.
Where to next?
Back to the start
More money-saving tips
Slash your living costs in 7 days
Trusted, informative, and empathetic – GoodTo is the ultimate online destination for mums. Established in 2007, our 15-year-strong archive of content includes more than 18,000 articles, 1,500 how-to videos, and 7,000 recipes.