How to declutter and make money
Got lots of stuff lying around in your loft or buried in cupboards? Now is the time to declutter and some of it may well be worth selling. Not only will you get extra space, you could make extra pennies too...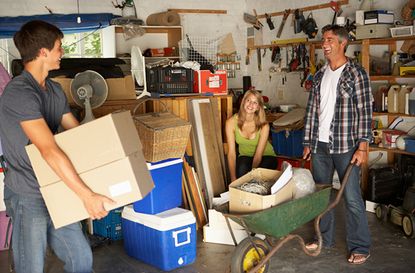 GoodTo newsletter
Sign up to the GoodTo Newsletter. You can unsubscribe at any time. For more information about how to do this, and how we hold your data, please see our privacy policy
Thank you for signing up to . You will receive a verification email shortly.
There was a problem. Please refresh the page and try again.
Got lots of stuff lying around in your loft or buried in cupboards? Now is the time to declutter and some of it may even be worth selling. Not only will you get extra space, you could make money too...
If you've got a lot of clutter clogging up your house, it can take a lot of time and patience to sort it all out - but it's worth it in the end. Make sure you set aside a few hours, a day or even a whole weekend to tackle the job.
Some items are destined straight for the tip or the recycling bin, others might be perfect for selling, while other things may be better for the charity shop. Here are some of the ways you can make some money from your 2012 clear-out.
Sell online
Selling online has become easier and quicker due to websites like eBay (opens in new tab), Gumtree (opens in new tab) and Amazon (opens in new tab).
In most cases, you write a short a description, upload a few photos and you're on your way. You may have to answer questions about your items so make sure you check your emails every day. With larger items such as furniture, buyers will usually collect them from you, so don't forget to state if you are in a flat or if there are parking restrictions at certain times. With collection from home, it's best to have someone else around or put goods on the driveway or in a communal lobby. eBay can also work well for selling more valuable items, even antiques and electronics, and if goods are unopened or with tags, even better.
Top tip: Research the postage costs for items you're sending by mail, so you don't get stung by a larger-than-expected postage charge and end up making a loss.
Selling at second-hand stores
Your local second-hand shop will also be willing to take good quality items off your hands. It's best to check what they'll take before you go as they can be quite specific. You might not always get the best price for everything, but overall, it will still make you more than if it is left unused in your loft. There are some stores which won't pay upfront but you might get a cut of the price after it's sold - which is obviously less appealing.
Top tip: Vintage clothes often do well at second-hand stores so bear that in mind if you come across any old gems in your clear-out.
Car-boot sales
If you have a lot of good quality items, for example, new or almost new clothes, DVDs and CDs, small items of furniture and unused gadgets, then it can be worth hiring a pitch at a car-boot sale. You can use websites like carbootjunction.com (opens in new tab) and yourbooty.co.uk (opens in new tab) to find your nearest sale. If possible, team up with a friend who also wants to sell items so you can split the cost of the pitch.
Top tip:Things move fast at car-boot sales, so preparation is key. Put price stickers on everything before you go, arrive early and take a table to display your goods.
Freecycle.org
Although Freecycle (opens in new tab) won't make you money as it's based on giving items away without exchanging money, it can save you funds in a different way. Instead of paying for a clearance firm to take away old appliances or furniture that you can't sell, you might find someone who wants it and is able to collect. Fridges, beds and wardrobes are among the items people have successfully used Freecycle for. Groups are arranged according to neighbourhood so you can target who sees your goods. Also, some councils will also take furniture off your hands for no charge, but each one is different, so call and check.
Top tip: Just because you're giving it away for free doesn't mean the item should be in poor condition. If something doesn't work or has noticeable marks, state that in your description.
Garage or 'yard' sales
They're more common in the USA, but are starting to become popular in the UK, especially on streets where neighbours know each other. The basic idea is you let people know you're hosting a sale of goods which you will display in your front garden or garage. If you can, offer biscuits, squash, or even tea and coffee - its also handy to have friends available to help out.
Top tip: Don't expect to make too much money from these sorts of sales - the idea is to get rid of as much stuff as you can with the least effort, and make a few extra pennies in the process. Most of the 'customers' are your neighbours/friends so you want to encourage quick, spontaneous purchases.
Give it to charity
If you don't mind not benefitting from the money directly, giving away goods to charity and registered non-profit organisations can make these organisations cash instead. Many charities use Gift Aid, so if you're a UK taxpayer they will mark your items and when they sell your clothes, DVDs or crockery, they can claim the tax back and make a little extra money. Not all charities can accept electrical items, but you may be able to recycle them elsewhere - have a look at recyclenow.com (opens in new tab)
Top tip: Some charities collect large goods, or several bags of items - call and ask. Also, some charities make money from other items such as old mobile phones or even rags, so check if you can include those goods in a separate bag. Find out more about donating at charityshops.org.uk (opens in new tab)
Gift them!
If you've got items like books, jewellery or DVDs which are still tagged or in their wrapping, they might make good presents for other people. Obviously, they need to be right for the person you're giving them to otherwise it will look like you're offloading your clutter, but it can work out perfectly, saving you time and money on buying new gifts.
Top tip: If you've tried to sell things without success, it might be time to just give them away. After all, the main purpose is to clear out for extra space, so enjoy the feel-good factor by just asking friends and family if they want that book, DVD or dress.
Get someone else to sell it
If you don't have time to sell your goods, you can use a service like stuffusell.co.uk (opens in new tab). They collect your goods, sell them on your behalf and send you a cheque, minus their commission. Anything they don't sell, you can either have it back or they'll scrap it, give it to charity, or take it to the recycling centre for free. Obviously you won't make as much as if you sold it yourself, but they claim to sell goods for up to 25% more than individual sellers. Their minimum sales value is £30.
Top tip: Work out the commission before you commit. It's not complicated but you'll have to work it out, or ask them to send you a breakdown. They take a third of the selling price (including any fees) for sales up to £500, then 10%. For example, an item selling for £1000 will make you £783, or something sold for £315 will give you a return of £210.
Don't let history repeat itself
Now you've decluttered, don't let it build up again - it only means you're buying things you don't use or have room for! Try to only buy what you need and sell items on as soon as you realise you're not using them. Avoid the 'black hole' situation by storing things close to where you actually use them, otherwise you spend forever looking for things or even buying it again, thinking you've run out of it.