Mum shares little-known hack for getting cheap child train tickets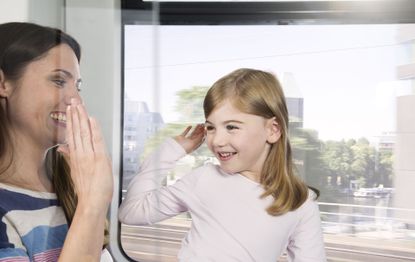 (Image credit: REX/Shutterstock)
Sarah Burns saved over 70 per cent on her child's train ticket thanks to a helpful conductor.
Feeling the pinch this Easter? Taking the kids out on day trips (opens in new tab) can be expensive. Entry fees, train tickets – they all add up, especially if you have a big family – which is something Sarah Burns knows only too well as a mum of three.
But the home education blogger recently discovered that she should actually have been paying a lot less for her children's train tickets – and she reckons you might well be paying over the odds, too.
When the ticket machine she usually uses at Woodley Station in Stockport was out of order, she was forced to wait until she boarded her train to Manchester Piccadilly to buy tickets for her and her kids.
She usually buys each of her children a 'child' ticket from the station ticket machine, which costs £2.85. Incredibly though, the guard on the train offered her an 'accompanied child' ticket for just 80p, saving her £2.05 per ticket.
https://www.facebook.com/MsBurns82/posts/10156922439320170
Sarah shared her discovery on Facebook, writing: 'Little tip that I learnt today. In off-peak times you can buy an accompanied child ticket on the train for 80p return (40p single). I didn't know this and found out by accident as the ticket machine wasn't working so I had to buy on the train. Ask for the accompanied child ticket. Isn't available at the machines though. Ticket would have been £2.85 return per child over five so 80p is a big saving. Apologies if this is common knowledge!'
Several parents replied to thank her for the tip, and to express their own astonishment. 'I never knew!' wrote one.
Sarah also contacted Northern and Transport for Greater Manchester on Twitter.
Northern apologised and confirmed that accompanied child tickets could not be purchased from ticket machines, only from 'staff in a ticket office or on the train'.
Transport for Greater Manchester offers the accompanied child fare for up to four children aged five to 15 who are travelling with one adult aged 16 or over.
But train companies in other areas also operate similar schemes for children travelling with over-16s, including Southern and Thameslink, so it's well worth checking their websites before you travel!
Samantha is a freelance writer at Goodto who has been with team since 2019. Initially trained in psychology, she specialises in health and wellbeing and has additionally written for magazines such as Women's Health, Health & Wellbeing, Top Santé, Healthy, Refinery29, Cosmopolitan, Yahoo, CelebsNow, Good Housekeeping and Woman&Home.