Pandora Disney Black Friday sale 2022: Amazing deals now LIVE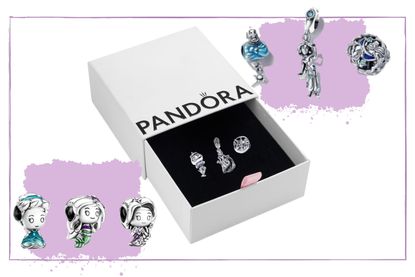 (Image credit: Future)
You'll be glad to know that the Pandora Black Friday Disney deals are part of their epic sale! And it really does have amazing savings to be made.
There's never been a better time to shop for Black Friday Pandora deals. The iconic dutch jewellery brand, famous for it's sell-out charm bracelet, is giving you a whopping 20% off selected full price jewellery. Above all, this offer is online and in-store - and especially on the Pandora Black Friday Disney deals - during this exciting promotional period.
Pandora do fabulous collaborations, with franchises such as Star Wars, Stranger Things and our favourite of all time - Disney. We've done the leg work for you and found all the best Black Friday Pandora deals to be had.
What to buy from the Pandora Disney deals
Is the Pandora charm bracelet worth buying on Black Friday?
If it's utterly unique and completely original-to-you jewellery that you're after then yes. In other words, a piece from Pandora's collections is totally worth buying. The Pandora brand is the main lead in original and innovative charm bracelets. With most of the jewellery on offer at Pandora made to high standard sterling silver. It offers unique designs, including strong collaborations such as Disney and Harry Potter collections. So, in conclusion, yes people are still buying the world-renowned charm bracelets.
In addition, according to marketing reports Pandora is the world's largest jewellery producer. With statistics showing that the charm bracelets make an impressive 52% of the company's profit. So we think it's safe to say that people are definitely still buying the charm bracelets, and the charms to go on them. Making them the most popular bracelets on the market today.
Pandora markets them as more than jewellery, each charm is an emotional token, sharing your life milestones. Whether it's a gift for a new mum, a nod to their favourite childhood Disney cartoon or their birthstone. The charms hit almost any memorable note.
Stephanie Lowe is Family Editor at GoodTo covering all things parenting, pregnancy and more. She has over 13 years' experience as a digital journalist with a wealth of knowledge and experience when it comes to all things family and lifestyle. Stephanie lives in Kent with her husband and son, Ted. With his love of choo-choos, Hey Duggee and finger painting he keeps her on her toes.