Placenta encapsulation and eating your placenta - is it safe and what are the benefits?
Placenta is a natural part of every woman's pregnancy - but can it benefit you once your baby is here?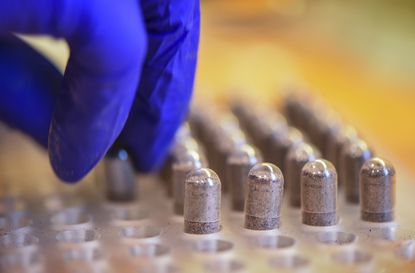 (Image credit: David Eulitt)
Placenta is a natural part of every woman's pregnancy – but can it benefit you once your baby is here?
The placenta is the first organ that forms when you get pregnant – before any of your baby's organs – and grows alongside your baby. The placenta is expelled from the uterus after your child is born.
In recent years there have been cases of women eating placenta raw, incorporating placenta in to their meals, and in Hilary Duff's case turning her placenta into a smoothie.
Clinically, this is known as plancetophagy. Plancetophagy is not a new concept – women throughout history have been known to consume their placentas, and many animals such as dears and giraffe consume it too.
What are the health benefits of eating your placenta?
With celebrities such as Chrissy Teigen, Kim Kardashian and Love Island's Jess Shears endorsing placenta pills on Instagram, the health benefits associated with placenta encapsulation have been questioned.
Some women believe that having your placenta ground into powder and turned into pills has many health benefits because it contains the nutrients and vitamins transferred from mother to baby throughout the pregnancy.
Placenta specialist and founder of Placenta Mamas, Kimberley Knight says: 'The most common benefits reported include increased milk supply, reduced lochia (postpartum bleeding), reduced stress, increased energy and stabilised hormones during the post-partum period.'
We've rounded up a list of health benefits reported by mothers who have consumed their placenta:
Supply new mothers with iron, amino acids and essential fats
Supply new mothers with vitamin B6 and vitamin E
reduce post birth bleeding
encourage a quick and healthy milk supply
balance hormones
reduce stress levels
prevent baby blues and postnatal depression
boost energy levels
prevent developing insomnia
improve the appearance of skin/hair/nails
How safe is eating your placenta?
While some mums rave about eating placenta, there is little scientific evidence on the benefits and safety of placenta pills.
Scientists from Society of Obstetricians and Gynaecologists of Canada in May 2019 issued a warning against placenta encapsulation stating: 'Despite the growing trend...there is no documented evidence of benefit for improved iron stores, mood or lactation.'
There is a huge risk that the preparations made to the placenta before consumption may not have completely destroyed infectious bacteria and viruses the placenta may contain. The SOGC also found that improper sterilisation of the placenta could lead to serious health risks for a mother and her new born baby. The report stated: 'There is potential for transmission of bacterial, viral, or fungal pathogens to both mother and baby or close contacts.'
Similarly in 2017, a report published by Centres for Disease Control and Prevention documented a case of a new born baby developing group B streptococcus after a mother breast-fed her baby while consuming placenta pills.
While some scientific studies have not wholly supported the benefits of placenta encapsulation, they have not completely dispelled the health benefits of the practice either.
Below we have listed the different ways of eating placenta. Though, bear in mind some hospitals may not allow you to take your placenta away, so it is important to check their policy before you make your decision.
How does placenta encapsulation work?
Around 70-80 per cent of women who eat their placenta opt to send their placenta away to be encapsulated - in other words, turned into placenta pills.
Former Atomic Kitten star Natasha Hamilton chose this option, sharing a picture of her pills online after the birth of her fourth child Ella, and other celebs including Coleen Rooney and January Jones have revealed that they've also encapsulated their placenta.
Mothers are advised to transfer their placenta to a placenta company as soon as possible after birth - though, it can be stored in a fridge for up to three days below 4°C. The placenta should be stored in a clean and leak-proof container immediately after the umbilical cord is cut and inspected by your midwife or doctor. It should be kept in a fridge at home or stored in a cooler box with ice.
After your chosen placenta specialist receives your placenta, it will be firstly steamed, then dried using a food dehydrator for eight to 10 hours and turned into a powder. The powder is sealed in vegetable capsules, which can be taken orally throughout the first few months after birth. Typically the placenta encapsulation process is complete 24-48 hours after the placenta company receives your placenta.
A placenta will make around 75 - 200 capsules, although this depends on the size of your baby, placenta and placenta pills. According to the Placenta Remedies Network, the average number of capsules from a placenta delivered at 40-42 weeks is 120 capsules.
Placenta capsules are usually consumed two to four times a day during the first 6 weeks. Placenta pills should be stored somewhere cool and dark. Do not store your pills in the refrigerator as this can effect their benefits. Though, they can be transferred to the freezer after one year to keep for use during the menopause as they help with hormone imbalances later in life.
Placenta expert Kimberley Knight emphasises the importance of choosing a certified placenta specialist certified by the IPEN to carry out your placenta encapsulation.
She advises: 'The Placenta Remedies Network in the UK provides a website so that you can search for qualified specialists who adhere to strict health and safety guidelines approved by Environmental Health and who know the contraindications for placenta consumption.'
All members of the Placenta Remedies Network are fully certified in food safety, hazard analysis and infection control to ensure your placenta is prepared in a safe environment.
How much does placenta encapsulation cost?
Professional services for placenta encapsulation are popping up over Britain and in the United States. Some companies offering the process in the UK are Placenta Plus, Placenta Practice, and Placenta Tree.
The standard cost for placenta encapsulation ranges anywhere from £150 to £500 per placenta. Usually prices include picking up your placenta from hospital or home, transporting and chilling your placenta correctly, and delivering your capsules back to you when they're ready.
As mentioned previously, some hospitals may not allow you to take your placenta away so check with your midwife beforehand.
Placenta smoothie
A BBC One documentary brought the debate about women consuming their placenta raw after childbirth to life, by showing a woman blending hers into a fruit-based smoothie.
Childbirth: All Or Nothing, which aired in 2015, featured Kati Edwards, who had recently given birth, whipping up a seemingly unremarkable blend of berries, banana and coconut milk, before adding the key ingredient – a small portion of her placenta.
Whilst the squeamish amongst us might feel queasy at the thought of consuming a by-product of childbirth, Kati appeared unfazed as she sipped the mixture.
Sharing the thought process behind her unusual beverage, she explained: 'It's just to replenish my body of the nutrients it's lost… I thought it was a bit weird when I first heard about it but when I started reading up about why you might do it it becomes much more normal.'
Consuming your placenta in raw smoothie form is not an uncommon practice. A search on YouTube shows hundreds of videos of other new-mums sharing their placenta smoothie recipes online.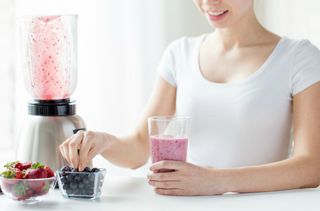 Cooking placenta
Although many mums prefer placenta pills as they don't have to deal with the raw tissue with themselves, you can use your placenta fresh (provided you do so as soon as possible) or preserve your placenta in the freezer until you are ready to consume it.
You can use it in a meal – some women add theirs to stews or sauces to make it more palatable, or blend it into a drink. TV presenter Hugh Fearnley-Whittingstall once incorporated the placenta in a pate recipe on his show TV Dinners for a family of a new born baby.
Placenta face cream
Some beauty conscious mums are indulging in the new phenomenon of placenta face cream. Former TOWIE cast member Amy Childs after the birth of her daughter in April 2017, took to social media to share a snap of her placenta pills as well as her placenta face cream made by the company Placenta Plus.
Ranging from £45- £75 per pot, the placenta face cream promises to hydrate dry skin and prevent ageing.
Did you consume your placenta after childbirth? And if not, would you try placenta encapsulation or any other option in the future?
Parenting advice, hot topics, best buys and family finance tips delivered straight to your inbox.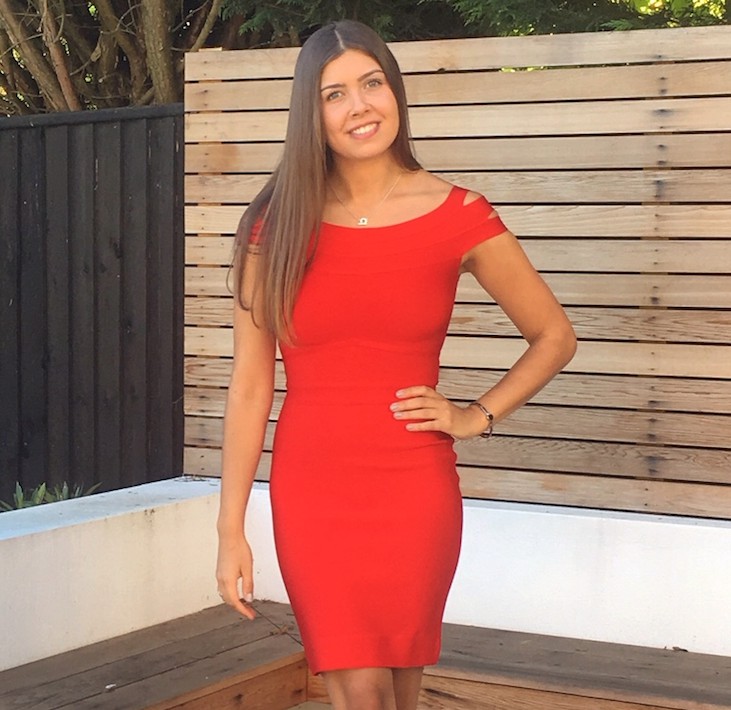 Sibelle Mehmet is a Junior Digital Writer at Goodto.com. She joined the team in April 2019 and was her first job since completing a MA in Magazine Journalism at City, the University of London in the summer of 2019. Sibelle previously interned at a number of national titles including OK!, Heat, Closer, Mother & Baby, and The Times Newspaper magazine. She's written extensively about the latest celebrity, showbiz, and royal news.