14 GENIUS products all wine lovers need
Because everyone needs a sports-bra that inflates with wine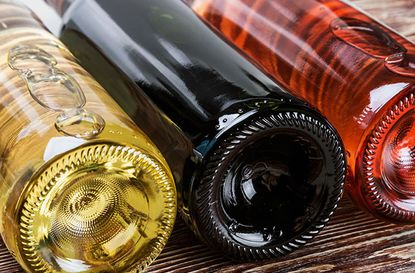 Whether it's red, white or rose, wine makes the world a better place. But it doesn't stop at just drinking it from the glass. Here are some of the best products than any wine lover needs.
Do you consider yourself a fellow wine worshipper who can't turn down the best cheap wine deals at supermarkets or resist a trip down the Aldi wine aisle? If the answer's yes - then you're in the right place.
From wine-scented home fragrances to specially designed accessories to help you drink your way through a bottle of delicious Lidl wine. We've rounded up some of the best essential wine gifts that are guaranteed to raise a smile.
These mulled wine scented home fragrances
Give your love of wine a festive twist at Christmas time with these sumptuous scented products from none other that high-street retailer Next (from £7.50). Packaged with cute love hearts and tiny wine glass charms, there will be no mistaking your love of wine with these in your home. Plus, the mulled wine fragrance of both the candle and the reed diffuser will give any room the warm and cosy smell of every wine-lover's favourite festive tipple.
These wine glass Christmas decorations
Why celebrate just Christmas when you can celebrate your love of wine at the same time? Display your fondness for the tipple the festive way by hanging your very own mini wine glass decoration on your Christmas tree. Priced at £12 and available from Urban Outfitters, you can choose between red, white or rose – so there's a type for every wine lover out there.
These life changing wine glass necklaces
Image: The Wine Centre
If the fact that you're stuck holding a glass is your least favourite thing about wine drinking, get ready to thank us.
Thinking of everyone who carries a clutch to parties or who simply likes to dance, the Wine Gift Centre have created wine glass necklaces. Costing £4 and made from a slip-free rubber, you can safely put your wine glass in it and enjoy your new hands-free way of drinking. Life will never be the same...
This revolutionary bottle stopper
Image: Firebox No, your eyes are not deceiving you, that really is a wine condom you see, and it's perfect for those (rare) occasions where you just can't finish that last glass. The shrink-to-fit technology ensures your wine is kept fresh until you're ready for round two, and apparently it's '99.9% effective at preventing unplanned wine spillages' - genius!
This bottle, which makes swigging a breeze
Image: Santero Santero 'Hand' Dilê wine is moulded for an easy-grip: ideal for dodgy pourers, or those who prefer to drink straight from the bottle. It comes in red, white and rose to please all palettes - and for those who are worried about being conned out of extra vino due to the unusual shape, you can rest assured that it contains the standard 75cl.
The van that hides a secret
Introducing the Camper Vin, a hilariously awesome box of wine that's going to be revving its way into your local Asda just in time for the Bank Holiday weekend. It's the equivalent of 3 bottles of Chenin Blanc (or 18 small glasses, but who needs those?) and you can get your hands on it for just £15. All aboard!
The bag that tells the truth
Image: Etsy Ever had your shopping bags make that really loud 'clink' noise, because they're full of nothing but bottles of wine? Yep, so have we. But now you can just tell the world you're buying prosecco because you deserve it and it tastes like happiness.
For when you've run out of wine glasses
Image: Etsy We've all done it. Either all the glasses have mysteriously disappeared or they're all on the side of the sink in need of washing up. And then as a last resort you turn to your old trusted mugs. But, that's ok. Wine from a mug is the same as wine from a glass. We don't judge.
When having children makes your wine breaks absolutely necessary
Image: Etsy Sometimes, at the end of a day of looking after the kids, wine is the only thing that makes it all better. Babies can't speak, but if they could then this bib explains it pretty much perfectly
For when there's a different wine for every problem
Image: Etsy Whatever your mood, there's a type of wine for it. And it has a 100% sucess rate of making you feel better (until the morning that is).
The perfect glass for when someone asks if you want 'one drink'
Image: Amazon This counts as just one right?
The bag that's stylish and practical
Image: Uncommon goods This bag lets you pour yourself a glass of wine on the go, wherever you go. Five litres of it actually. It really is the bag of dreams.
The Winerack
Image: Amazon Seriously, that's it's actual name. Quite literally a wine rack. This sports bra can be inflated with wine and has a tube leading to your mouth so you can drink as your run. It might actually make jogging enjoyable! (Maybe)
This t-shirt that tells it how it is
Image: Look human Why go out and do yoga when you could drink wine from the comfort of your own kitchen? It's seems silly really.
Trusted, informative, and empathetic – GoodTo is the ultimate online destination for mums. Established in 2007, our 15-year-strong archive of content includes more than 18,000 articles, 1,500 how-to videos, and 7,000 recipes.