Princess Charlotte spotted out with big brother Prince George and mum Kate Middleton
Princess Charlotte has been spotted a strawberry ice cream while out with her mum and big brother.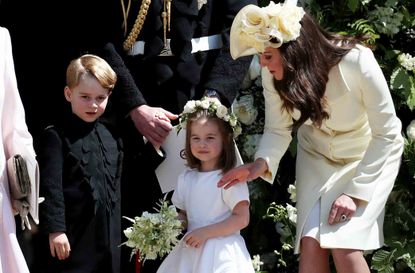 Princess Charlotte has a sweet tooth it seems, as she has been spotted enjoying what looks like a strawberry ice cream (opens in new tab) over the scorching Bank Holiday.
The little royal was spotted out and about with her big brother Prince George and their mum, the Duchess of Cambridge.
The youngest member of the Cambridge family, Prince Louis (opens in new tab), could not be seen but Kate could be using the time away from the newborn to make sure her other children still get enough attention. Prince William also appeared to miss the family day out.
Mum-of-three Kate recently revealed her favourite thing to do with Princess Charlotte and Prince George was to spend quality time together and it seems they were doing just that this weekend.
Kate loves spending time with her children
The family were at the Houghton Horse Trials on Sunday, which is likely to have gone down a treat with the youngsters.
Last week it was revealed that as well as skiing (opens in new tab), Prince George has taken up horse riding and is being taught on a Shetland pony by his dad's cousin Zara Tindall.
Princess Charlotte is also said to be fascinated by horses (opens in new tab) and Kate has previously said that she'll do everything she can to encourage and support her children's interests and hobbies.
This isn't the first time the family have visited the horse trials here. They are located close to the Cambridge's Norfolk home and Prince William and Kate were spotted there in 2016 with Prince George and Princess Charlotte.
Princess Charlotte was seen holding a big soft-serve strawberry ice cream (opens in new tab) and Prince George was seen exploring a fire truck, one of his favourite interests.
According to the Mirror last year the only item on Prince George's Christmas list was a police car, so this close up with her fire vehicle must have been a big deal for the little royal.
Despite this glimpse of the two little royals, it's unlikely we will see them again until the Trooping the Colour in June.