Devoted big sister Princess Charlotte 'won't leave Prince Louis' side'
Princess Charlotte is adapting to being a big sister with ease!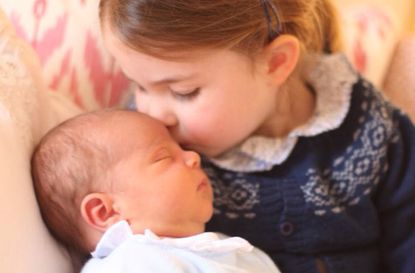 Princess Charlotte is thought to be besotted with her baby brother, the newest member of the Cambridge family, Prince Louis.
While Prince George is used to big brother duties now, for Princess Charlotte becoming an older sister has been a new and exciting role.
Her little brother, Prince Louis, was born on Monday 23 April (opens in new tab) and is Prince William and Kate Middleton's third child together.
When Prince George and Princess Charlotte visited their mum and brother (opens in new tab) in hospital it was clear that William and Kate's eldest two children already have a close bond as they shared an adorable moment together at the hospital. (opens in new tab)
And it seems Princess Charlotte is already bonding with her little brother very well too. According to US Weekly the three year old is thoroughly enjoying her new role.
The magazine revealed, 'She is really enjoying having a younger brother to play with. She's taking her big sister duties very seriously. She won't leave baby Louis's side.
'Charlotte is just like [George]. They have a great bond, and a similar connection is growing between Charlotte and Louis' - a bond that was evident in the adorable new Prince Louis pictures taken by the Duchess of Cambridge on Princess Charlotte's third birthday (opens in new tab).
As well as having a close emotional connection, the three Cambridge siblings have also been sharing each other's wardrobes and toys!
US Weekly also report that Prince George and Princess Charlotte are used to sharing toys at Kensington Palace. It's a known fact that royal children are not allowed to accept gifts or toys from people they do not directly know, so it's easier for them to share toys.
Although Prince Louis isn't old enough to enjoy his big brothers hand-me-downs just yet, Charlotte is taking full advantage.
US Weekly report: 'A lot of Charlotte's toys are hand-me-downs from George . . . She's got one of his old scooters and [a] motorised Jeep she loves to drive around the patio in.'