School strikes 2023 - Do you have to send your child to school on strike days? And everything else you need to know
School strike 2023 everything parents need to know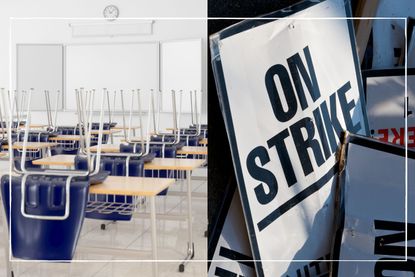 (Image credit: Getty / Future)
School strikes 2023 are now very much a reality for parents and carers across England and Wales, after the announcement was made that teachers voted FOR strike action.
As parents many of us get it, we understand that teachers have a tough job. They're spread thinly across a class of 30 children, and held accountable to many a red-tape from the Government. But, from rumours of a 4-daywork week (opens in new tab), or whether the school day will be extended (opens in new tab) and if they'd receive a fine for taking children out of school (opens in new tab) now parents face school strikes, teachers walking out, and childcare issues.
Joeli Brearley (opens in new tab), Founder of Pregnant Then Screwed comments, "We support the national teachers' strikes and believe that all teachers - who are predominantly women - deserve better pay and working conditions. We regularly hear from teachers who are quitting their much-loved careers because their pay doesn't cover their childcare costs; we are losing talent from an incredibly important profession as a result. We need clear messaging from the government to ensure that the parents (who will predominantly be mothers) who are forced to take a day off work due to homeschooling are supported and do not face any negative consequences as a result."
Working mum-of-one, Jess tells us; "I think teachers deserve far better in terms of pay, so I am understanding." When asked how she'll deal with childcare on the proposed days, she replies; "same as we did in lockdown I suppose. Though this time [my daughter] can do her Tricky Train words, number bonds, and mainline Disney +. I'm in the very privileged position of being able to do my job from home, not everyone can."
And Jess is right, everyone has a different dynamic, below is everything you need to know to get your childcare ducks in a row. And, it's worth knowing that even if schools don't close, the strikes are likely to cause major disruption to pupils.
School strikes 2023 - here's everything you need to know
The statistics: Nine out of 10 teacher members of the NEU (National Education Union) voted for strike action, with the union passing the 50% ballot turnout required by law. There was a 53.27% turnout, with an overwhelming 90% voting to strike. Support staff will not be striking as they did not meet the 50% turnout threshold. The NEU had organised a ballot of 300,000 members calling for a 'fully funded, above-inflation pay rise.'
First up are the teacher strike dates, that are worth nothing down. National strikes are scheduled for 1 February, 15 and 16 March.
Dates of school strikes happening across England and Wales:
February 1: All schools in England and Wales
March 15 and 16: Two-day strike of all schools in England and Wales
Dates of regional strikes:
February 14: All schools in Wales
February 28: North and north-west England, Yorkshire and Humber
March 1: East Midlands, West Midlands, and the NEU's eastern region
March 2: South-east and south-west England, and London
Why are teachers striking?
The main reasons are workload and pay, with recruitment and retention proving a huge issue, which has a knock-on effect on the teachers already in working roles. For instance, shockingly, 1 in 8 maths lessons are taught by a teacher not qualified in maths. This is because of the shortage of teachers, as many are leaving the profession in favour of better-paid jobs, according to the NEU.
Mum-of-three, who declined to be named tells us; "I understand changes need to be made, I do. But we're in a cost of living crisis, and when these strikes are affecting me paying my own bills because I'll miss out on shifts, it's hard to stay supportive and empathetic."
General Secretary of National Education Union, Kevin Courtney (opens in new tab) spoke on BBC Radio 2 on the Jeremy Vine show about the 'crisis in our schools'. He explained why the union's members were voting to strike: 'We are aware of so many schools where staff is leaving to go and work in supermarkets because they can be paid better.
'There are big problems in getting enough teachers in. Teacher pay has dropped in real terms by 13%.' When asked what teachers are hoping to achieve by striking, he replied: 'We are looking for something that will stop teacher pay falling and start making it go up. We don't want to go on strike but we have raised these issues by every other route we have and the government just isn't listening.'
Former primary school teacher and mum-of-two Jas agrees; "It's not a race to the bottom, teachers are frontline, they are molding the future minds of our country. If their jobs are too important to stop then surely their pay should reflect that."
The NAHT (opens in new tab) (National Association of Head Teachers) union teachers are not striking. A strike ballot held by the NAHT, the school leaders' union in England, did not meet the threshold for industrial action but they are considering a re-run of the ballot 'due to postal disruptions.'
How much do teachers earn?
Starting salary is £28,000 per annum in England and Wales, with opportunities for regular pay rises as skills develop and performance in the classroom is stronger, according to prospects.ac.uk (opens in new tab). Below is what the salary of a Qualified teacher may look like;
England and Wales - £28,000 to £38,810
London - £29,344 to £40,083 / £32,407 to £43,193 / £34,502 to £44,756
Scotland - £33,729 to £42,336
Northern Ireland - £24,137 to £41,094
The highest teaching salaries across the UK are paid to headteachers;
England and Wales - £50,122 to £123,057
London - £51,347 to £131,353
Scotland - £52,350 to £99,609
Northern Ireland - £47,381 to £117,497
Wages aside, primary school teacher and author, Lee Parkinson (opens in new tab) took to his Instagram platform to tell his 107k followers 'teachers aren't superheroes', and to remind them just how broken this system is and why school strikes are needed.
In his to-camera plea he starts by saying teachers aren't superheroes, teaching is not a vocation; "this narrative has allowed our education system to be decimated where staff is expected to do more with less... we are just as frustrated that funding isn't there... I just wish the same outrage was there when the Government cut free school meals.... Stop making out teachers can put up with anything because it's their calling."
He goes on to talk about how anyone outside of teaching has no idea of the true scope of the expectation of teachers. Before adding, "the education system is broken and it's going to need more than a wet paper towel."
Will private school teachers strike?
Yes, according to reports from Bloomberg.com (opens in new tab), some independent schools may face walkouts as teachers at private schools can strike after their ballots met the threshold. Though, it wasn't clear how many independent schools will be affected by this.
Will my school close?
Not necessarily, schools with large numbers of NEU members in England and Wales could close. It's up to headteachers to make the call, your school will make contact. Though as Headteachers aren't striking, they are expected to take "all reasonable steps" to keep schools open for as many pupils as possible during a strike, according to DfE guidance (opens in new tab). If your child's school is part of an academy this decision is for the academy trust to make, but it is usually delegated to the headteacher of the academy to make and communicate.
The DfE has advised schools to consider alternative cover arrangements to minimise the impact of the strike – this includes ensuring cover for safeguarding and SEN provision are in place. Teachers that are not striking can be asked to cover the classes of teachers who are striking. Some classes may be taught by a teacher with QTS.
In cases where the whole SLT is on strike, the school's governing board or the academy trust is able to ask another staff member to carry out the duties of the headteacher, e.g. a senior teacher or a retired headteacher employed by the school.
Should I still send my children to school on strike days?
Yes, according to educationhubblog.gov.uk (opens in new tab), unless school leaders inform you that the school is closed, then you still have to legally send your children to school unless they are unwell.
Will my child's nursery close too?
No, this strike action only applies to teachers of primary aged children, through to college teachers.
Will exams and exam preparation be affected?
Schools will be asked to prioritise and keep classes open for GCSE and A Level students. While it is not possible to rule out, the NEU have told the Telegraph (opens in new tab) that teachers will probably not strike on exam days.
Can I take time off work?
You can legally, yes it's within your statutory rights according to the Citizens Advice Bureau (opens in new tab). Employees are allowed to take time off work to look after their children if it's necessary, but may not be paid for the time taken off. It's worth checking your workplace policy or speaking to HR.
Will online learning be provided?
If your school closes then yes its likely online learning will be provided. The Department for Education (DfE) advised schools to use the advance notice period before strike action to develop contingency plans that aim to minimise the impact of any action.
It's been reported many schools have been preparing for online learning.
What about school strikes in Scotland and Northern Island?
Teachers in Scotland have already been on strike and there are 16 days of planned industrial action set to take place over the coming weeks. Each day until February 6, teachers from just two of Scotland's 32 local authorities will be going on strike which will result in school closures. Below is a full list of dates and local authorities affected below:
Monday January 16: Glasgow & East Lothian
Tuesday January 17: Perth and Kinross & North Ayrshire
Wednesday January 18: Orkney & Fife
Thursday January 19: Moray & North Lanarkshire
Friday January 20: Angus & East Dunbartonshire
Monday January 23: East Ayrshire & Dumfries and Galloway
Tuesday January24: Stirling & East Renfrewshire
Wednesday January 25: South Ayrshire & Edinburgh
Thursday January 26: Midlothian & West Dunbartonshire
Friday January 27: Renfrewshire & Falkirk
Monday January 30: Aberdeenshire & Borders
Tuesday January 31: Highland & West Lothian
Wednesday February 1: Clackmannanshire & Aberdeen
Thursday February 2: Dundee & Argyll and Bute
Friday February 3: South Lanarkshire & Western Isles
Monday February 6: Inverclyde & Shetland
Related features:
Video of the Week:
Stephanie Lowe is Family Editor at GoodTo covering all things parenting, pregnancy and more. She has over 13 years' experience as a digital journalist with a wealth of knowledge and experience when it comes to all things family and lifestyle. Stephanie lives in Kent with her husband and son, Ted. With his love of choo-choos, Hey Duggee and finger painting he keeps her on her toes.