How to tackle back-to-school shopping without buying everything brand new
Try a more sustainable approach to back-to-school shopping this year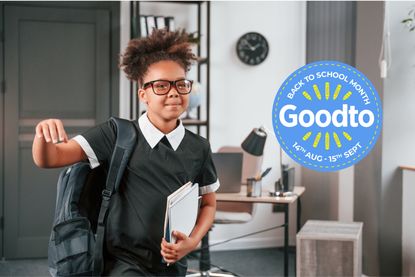 (Image credit: Getty Images)
Goodto Newsletter
Parenting advice, hot topics, best buys and family finance tips delivered straight to your inbox.
Thank you for signing up to GoodTo. You will receive a verification email shortly.
There was a problem. Please refresh the page and try again.
Second-hand is no longer 'second best', even when it comes to back-to-school shopping.
We've rounded up the best back-to-school initiatives, from big brands and independents alike, that will help you cut costs, be kinder to the planet, and ensure your kids are smartly dressed and feel confident. Whether you're shopping for the best school shoes or wondering what to do with outgrown uniforms, we've got the answers.
Read on for tips that will take you beyond the local charity shops, from uniform swaps, shoe trade-ins, clothing and toy rentals, and more – in our second-hand back-to-school shopping guide…
Second-hand is nothing new, but our attitudes towards pre-loved clothing, toys, and even back-to-school uniforms are starting to change.
You only have to take note of recent government initiatives encouraging schools to make second-hand uniforms more readily available (and reduce the amount of 'school branded' uniforms required). Or watch big-name retailers like Marks & Spencer wade into the pre-loved uniform space, with financial (as well as eco-based) incentives for shoppers.
'Traditionally, there has been a real stigma attached, particularly to second-hand uniform,' Charlotte Morley, founder, and CEO of thelittleloop, a kids' clothing rental and resale platform now available at John Lewis. 'I remember having conversations a couple of years ago: people who had the most need had the most concern about it. They felt it was charity and that they would look poor if they accepted second-hand clothing.
'I think that's really shifted in the last year. Around 62% of people who buy from our second-hand outlet are very open about that. Money saving is very much in peoples' minds.'
A recent survey from disability charity Scope (whose Outlet@scope in Andover is stocked with brand-new school uniform items ranging from £1-£5), confirms that people are becoming more open-minded when it comes to second-hand shopping, even for back-to-school basics.
In a survey of over 2,000 people, 36% said they would consider buying school uniforms from charity shops… up 7% from 2021. Of those surveyed, 45% said they'd purchase children's clothes at charity shops, with 64% agreeing second-hand clothes can look just as good as new ones.
1. Embrace circularity with school uniforms: M&S
According to The Children's Society, parents and carers can expect to pay a whopping average of £287 for primary school children and £422 for secondary school kids for brand-new kit. (But if you live in Scotland, Wales or northern Ireland, do check if you're eligible to receive a school uniform grant to help with costs.)
M&S to the rescue: the retailer's Shwopping initiative, in partnership with Oxfam and eBay, now covers school uniforms, which are made with stain-resistant fabrics and adjustable hems and waistbands, to last your child longer.
You can now donate any pre-loved M&S school uniform bits and bobs in good condition to your local M&S store throughout the summer (the scheme is available in over 200 stores across the UK). Sparks customers who do this will receive 20% off selected kids' clothing at M&S, marking the first time a national retailer has trialled an initiative of this kind.
Plus, you can purchase new (well, new to you) second-hand school uniforms for the kids through a dedicated pre-loved eBay back-to-school uniform shop. The circular scheme is designed so everyone benefits: considering M&S sells around seven million pieces of school uniform a year, that's plenty of merchandise to save from landfill… and a growing pool of accessibly-priced uniforms in good condition to cover every schoolchild.
Tip: If the school uniform you've ended up with happens to be from John Lewis, not to worry. You can still recycle it through the retailer's FashionCycle scheme, which accepts school uniform and gently used childrenswear. Bring in five or more items of pre-loved clothing to any fashion counter in-store, and, if you're a My John Lewis member, you'll get £5 off a homeware or fashion purchase over £20.
2. Shoe trade-in schemes have arrived: Kickers x Reskinned
With an average cost of £34 a pair, school shoes are a pricy investment… and that's before you've even considered things like comfort, fit, quality, and your child's 'sense of style' (which seems to be changing hourly).
Good news: you can now get money back from Kickers thanks to the brand's partnership with Reskinned, a platform dedicated to recycling used clothing and accessories.
The collaboration lasts all year and you can trade in your old Kicks for £15 credit towards new school shoes on the website. Or, send two pairs back and get £25 off.
Tip: You won't get money back, but you can save your kids' old footwear from ending up in landfill if you have any Start-Rite shoes lying around. Recycle them via the Shoe Aid recycling scheme. And soft play provider Wacky Warehouse has a uniform donation scheme running through September 3, where they will be accepting pre-loved school uniform shoes (and all the rest) at 69 locations nationwide.
3. Start with your child's school
'Every school now has to offer some sort of second-hand offering and they don't always advertise it,' says Morley, who found out about a second-hand sale at school the day after she'd bought her child new kit.
She tells parents to ask around: 'It might be that the Parent Teacher Association is selling it through their website or doing sales in the playground, or it might be a partnership with a different business. Like with everything, the more demand, the more it'll happen. It's a charitable thing to raise money for the school; a win-win for everybody.'
4. The fully recyclable school blazer has arrived: David Luke
Manchester-based retailer David Luke is known for its quality school uniform options, as well as its eco-uniform schemes, made from recycled plastic bottles. This year, the brand has developed a fully recyclable school blazer (£33) in partnership with The Circular Textiles Foundation, which is already being rolled out to independent schools. The company also runs a takeback scheme for any uniforms kids have outgrown.
5. Rental-meets-resale: thelittleloop
While not uniform-specific, clothing rental is a smart option for parents looking to save money, space, and the planet. And the kids will still need weekend clothes, after all.
thelittleloop offers rental and also has a resale outlet that sells off ex-rental stock (after a year of rental, rental stock is typically ready to be retired), as well as 'clear out' packs, which give you £5 when you fill up a bag of your pre-loved clothing.
From September, the brand will be partnering with specific clothing brands, so you'll be able to resell anything you buy from them or one of their brand partners right back to thelittleloop and watch the money pop into your account instantly. The aim is to 'make secondhand selling as easy and seamless as possible,' to create a circular resale loop in the same way they've done with rental.
For outerwear, Polarn O Pyret's second-hand shop can kit out your mini-me in school-friendly coats, jackets, rain gear, and accessories.
Tip: If you're U.S.-based and interested in rental, check out Rent-a-Romper for Halloween costume rentals up to age five (it will come around before you know it) and JoyLet for toy rentals, which adds new kit to the home without a lifetime commitment, or massive price tag.
6. What to look for – and avoid – in second-hand uniform
Another of Morley's top tips is to get your child's sizing figured out somewhere on the high street, then order anything you might need online from a second-hand site like Vinted, which has a robust school uniform offering. She also suggests 'looking out for better-quality uniform brands,' and name-checks David Luke and Stevensons for their built-to-stand-the-test-of-time uniform options.
Tierra Forte, CEO and co-founder of Mightly, a kids' clothing brand selling Fairtrade and GOTS-certified apparel for kids, which also offers resale, recommends investing in certain fabrics over others when scouring for second-hand bits.
'I avoid synthetic fibres like polyester or nylon unless it's needed for functionality (for example, in rain gear). Synthetic fabrics don't hold up as well as cotton, they pill more easily and retain odours, so they are not a good option for kids' clothing, new or used.'
7. Tips to make your school uniform last
You know the basics: stick a name on EVERY single item of school uniform (use stamps, labels, markers – just do it before the kids get a chance to wear the items out). Wash on cold to keep colours from fading. Adopt a 'repair and rewear' mentality for any rips (patch them up), lost buttons, or zips.
Tip: thelittleloop's Morley swears by buying shorts and short-sleeved shirts, when possible. 'The things that get destroyed on trousers and shirts are the knees and the cuffs. If you have the option to buy shorts or short-sleeved shirts, then your clothes are going to last longer. You'll also be able to buy those better-quality second-hand.'
---
Welcome to Back to School Month at Goodto where we're bringing you a host of content over the next few weeks to help you get fully prepped for back-to-school season. Whether you're wondering when the kids go back to school or fancy reading a few parent confessions on the things they're most looking forward to once the kids go back to school, we've got it all right here.
Parenting advice, hot topics, best buys and family finance tips delivered straight to your inbox.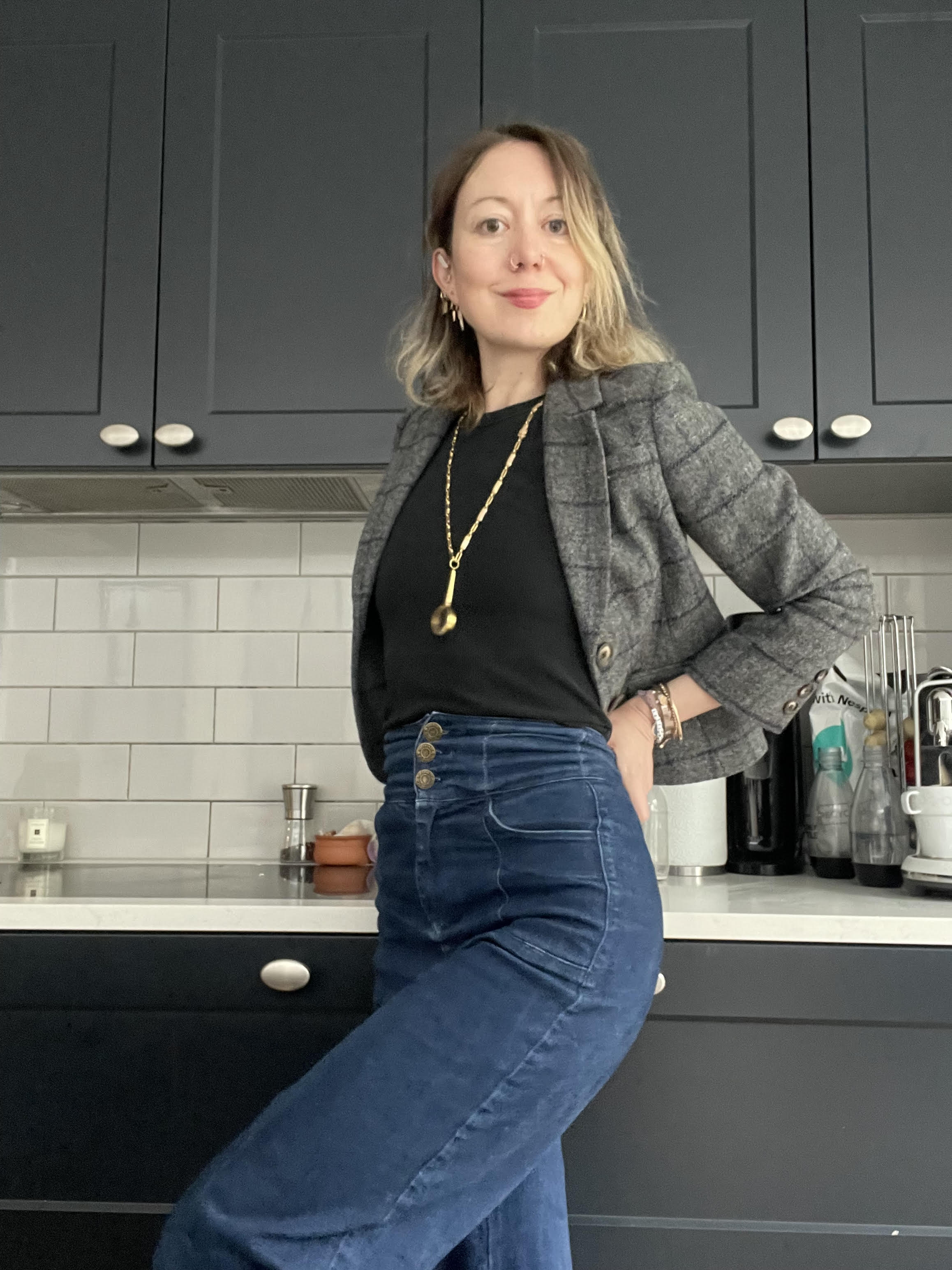 Jennifer Barton is an NYC-born, London-based freelance writer who has written for a broad range of consumer magazines, national newspapers, and websites, including British Vogue, WIRED, Grazia, The Independent, and others. She writes on everything from fashion to fitness, and from money to mental health.