'Your daughter will be embarrassed' Tamara Ecclestone criticised for breastfeeding photos
'I've heard her voice, I've heard her message, I don't feel these should be as publicized any more'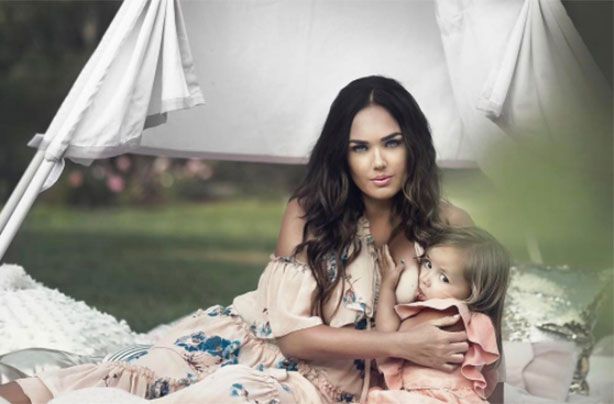 Tamara Ecclestone has been slammed over her latest breastfeeding (opens in new tab) post after many of her followers asked why she continues to breastfeed her three year old, accusing her of 'banging on' about it.
The famous heiress is known for being a huge advocate of normalising breastfeeding, and has hit headlines (opens in new tab) plenty of times in the past for posting images of herself openly breastfeeding her daughter Sophia.
Previously the star has had a rally of fans behind her and received support for speaking out about extended breastfeeding.
But, for some fans it seems that Tamara has taken her message too far after sharing another photo shoot and being asked by social media users 'When do you stop? What age will you stop at?'.
The mum-of-one took to Instagram to share a beautiful picture taken by Ivette Ivens (opens in new tab), a photographer who Tamara has worked with previously to promote her breastfeeding message.
The image shows the 32-year-old mum wearing a bohemian-style dress, laying in a stylish looking tipi with her little girl. As Tamara stares into the camera, Sophia can be seen latched on to her mother's nipple as she looks across at the camera also.
Tamara captioned the image, 'Nothing but love @ivetteivens always captures the most beautiful moments #hippyatheart'
The photo sparked an instant debate in followers, with some congratulating the mother on normalising breastfeeding whilst others felt that Sophia should be eating solids at her age.
One mum commented,'Beautiful. Thank you for normalising breastfeeding! I'm 19 months in and he's got no plans to stop, so long as he's happy then I am X'
Whilst another agreed, 'So lovely to see someone breastfeeding their toddler as it is so rare. Please keep this up, Tamara as you are probably one of the only celebrities I have seen promoting breastfeeding toddlers in a positive way and you are a role model for other mum's who choose to breastfeed past a certain age.'
Some social media users agreed Tamara's message was important, but felt that her approach may have become too much.
One commenter said, 'I breastfed but I just don't get why the need to bang on about it constantly. we get it. Enough already'
Another wrote, 'I've heard her voice, I've heard her message, I don't feel these should be as publicized any more. As natural as it is, I don't need to see pics on a regular basis if ANYONE feeding their baby. ❤'
Some Instagram users referenced Sophia's age, feeling that at the age of three breast milk isn't needed for her development.
'i think she's a toddler not a baby anymore 🙈 I was a breastfeeding mother so no hating just wondering when it's gonna get like BITTY 😂😂😂'
'The girl Dosent need a breast anymore if she can you a toilet and knife and fork.. it's for the mothers gain not the child now'
'Im sure Sophia eats a good diet....therefore breastmilk isnt really of much benefit now. Have another baby and feed it lol I agree with others....a year is plenty 😊😊'
And for another Instagram user Sophia's reaction when she becomes old enough to use the internet was a concern.
'Do you really need to put it on for all to see !!! Some things should remain private!!! Im sure your daughter will be highly embarrassed when she is older!!! '
At what age did you stop breastfeeding your little one? Let us know in the comments below
Trusted, informative, and empathetic – GoodTo is the ultimate online destination for mums. Established in 2007, our 15-year-strong archive of content includes more than 18,000 articles, 1,500 how-to videos, and 7,000 recipes.