How to make your own pinata
Our crafter Gemma Chandler gives you the perfect insight into how to make these cute party fish pinatas. There's certainly nothing fishy about these four steps.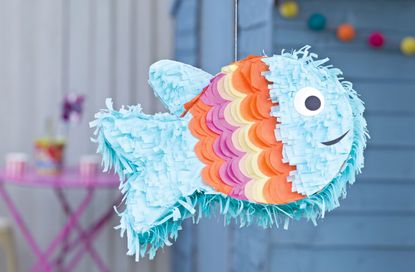 (Image credit: TI Media Limited)
As well as looking adorable swimming in the basking sunshine, this colourful party fish pinata makes a fun game for all ages. Fill up the pinata with yummy treats to make the game even more interesting!
These easy crafts are not only fun to play with, they're also simple to make and there's little jobs like drawing, sticking, gluing and cutting to keep the children occupied.
You will need:
Large cardboard box, flattened
Fish stencil
Pencil
Scissors
Ruler
Masking tape
Bright tissue paper
Pva glue
Black & white card
Skewer String
Step 1
Free-hand draw two fish shapes on the flattened cardboard box and cut out. Next, measure and cut 5cm wide lengths of cardboard for the outside of the fish. Then draw and cut out a small 'fin' shape.
Step 2
Take 1 of the fish pieces, and stick a cardboard strip all around the edge using tape. Place the second fish on top, and tape in place. Cut out a small 'door' in the side of the top of the fish (to pop sweets inside later). Make a small flap on the bottom of the cardboard fin and glue in place.
Step 3
Cut the tissue paper into 4cm wide strips. Snipping along each blue strip to create fringing, and cut a scalloped edge along the other colours. Glue the fringing to the fish layer by layer along the length of the tail. Glue the scalloped tissue strips to the body of the fish, alternating colours, until half the body is covered. Then continue with blue fringing covering the head of the fish. Stick fringed and scalloped tissue around the sides of the fish and on the fin. Trim the edges of the fish.
Step 4
Cut out 2 circular eyes in black and white paper, and stick to the fish's head. Make 2 holes at the top of the fish with a skewer, and thread some string through. Open the door and fill with sweets before hanging up.
Craft by: Suzie Attaway
Jessica Dady is Senior Content Editor at Goodto.com and has over 10 years of experience as a digital journalist, specialising in all things food, recipes, and SEO. From the best food hampers to cookbooks, from the best cake stands to baking sets, Jessica has a wealth of knowledge when it comes to must-have food products. A passionate baker, she spends much of her time creating celebration cakes for friends and family - particularly for her two lucky children.