How to make funny-face frames
Craft a circus-themed photo booth with these funny-face frames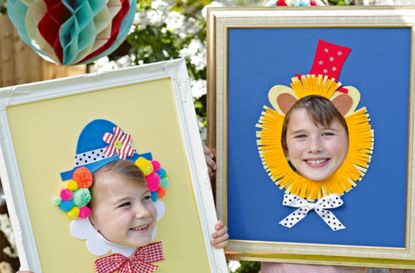 Our craft Queen, Gemma Chandler takes you through the steps to make your own colourful make.
This super easy craft will keep the kids entertained for hours, and just think of the photo opportunities! This craft will keep the 9-11 year old's in your life fully occupied.
You will need
Large picture frames
Mount board
Pencil
Craft knife and cutting mat
Felt
Pom poms
Polka dot and gingham wide ribbons
Paper flower and button
Glue
Sequin stars
Step 1
Ask an adult to remove the backing board and glass from the frame. Draw around the backing board on the back of a piece of mountboard, then draw an oval face shape in the middle. Ask an adult to cut it out with a craft knife, then fix inside the frame.
Step 2
For the clown frame, draw and cut out a felt hat and stick to the top of the face. Cut and stick a strip of polka dot ribbon to the hat, followed by a stripy paper flower and button.
Draw and cut a scalloped-edge piece of white felt and stick around the bottom of the face. Cut a 40cm length of gingham ribbon, tie in a bow and glue just below the scalloped felt. Glue some bright pom pom 'hair' either side of the face, and leave to dry.
Step 3
For the lion frame, cut out some pale yellow and brown felt 'ears' and stick them to the top of the face. Then measure and cut some 6cm wide lengths of pale yellow felt, and 5cm wide lengths of deep yellow felt, and snip all along each length to create fringing.
Stick them around the sides, bottom and top of the face. Cut a 40cm length of polka dot ribbon, tie in a bow and glue to the bottom. Draw and cut out a red felt top hat, and stick to the top, just underneath the fringing. Decorate with sequin stars.
Craft: Suzie Attaway
Stockists: 20 x 16" Dorchester Gold Effect Frame, £7.50; 20 x 16" Rococo Ivory Frame, £17, both Wilko (0845 608 0807 wilko.com). Daler Rowney Graduate A1 Mountboard, £3 per sheet; Felt Sheets, 50p each; Bright Shaggy Pom Poms, £; Sequin Stars, 49p for 100; Ribbons, from a selection, all Hobbycraft (0330 026 1400 hobbycraft.co.uk). Papermania Spots & Stripes Big Bloomers, £3 for 32; Spots & Stripes Chipboard Buttons, £3.95 for 24, all Docrafts (docrafts.com). Vintage Party Honeycomb Balls, from £3.95, Dotcomgiftshop (0208 746 2473 dotcomgiftshop.com).
Jessica Dady is Senior Content Editor at Goodto.com and has over 10 years of experience as a digital journalist, specialising in all things food, recipes, and SEO. From the best food hampers to cookbooks, from the best cake stands to baking sets, Jessica has a wealth of knowledge when it comes to must-have food products. A passionate baker, she spends much of her time creating celebration cakes for friends and family - particularly for her two lucky children.