How to make easy Easter pen pots from plastic bottles
These stationary holders are the perfect practical (and cute) craft, and are oh so easy to make!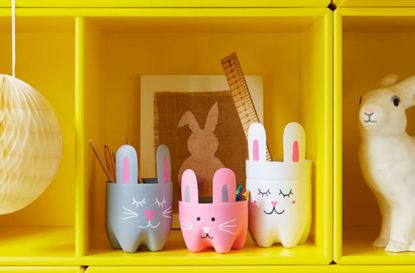 Want a children's Easter craft that is also functional around the home? Liven up your stationary with these bottles turned bunny rabbits.
Transform any plastic water bottle into a spring-themed pot to house all those stray pens and pencils lying about. The kids will need your help cutting the plastic, but you can keep them occupied decorating the creations once the hard part is done. Get creative and help your child paint these adorable creations in different colours – our examples include a more traditional palette but who says you can't make a blue or yellow rabbit?
Since this activity is a little more advanced, it is suitable for slightly older kids, from around ages five to seven. But have no fear - these little hoppers are still quite easy to make (and environmentally-friendly to boot). This activity is a great way to make use of something you would otherwise throw out. The kids will have fun creating them, and mum can utilize them all throughout the holiday season.
You will need
Empty plastic drink bottles
Scissors
Pink, grey and white acrylic paint
Paint brush
Glue
Black, white and pink marker pens
Step 1
Ask an adult helper to cut the bottoms off the empty plastic drinks bottles at different heights. Cut out some ear shapes from the top sections, then recycle the rest.
Step 2
Paint the pots and ear pieces with the pink, grey and white acrylic paints and leave to dry fully. They may need a second coat to get the colour you want, so add another once your first is dry if you think it needs it.
Step 3
Glue a pair of ears to the top of each pot and leave to dry again.
Step 4
Finally the fun bit! Draw a face onto each pot with marker pens, and leave to dry before using.
All that's left to do now is to fill them with your favourite pens and pencils.
Craft: by Suzie Attaway
Jessica Dady is Senior Content Editor at Goodto.com and has over 10 years of experience as a digital journalist, specialising in all things food, recipes, and SEO. From the best food hampers to cookbooks, from the best cake stands to baking sets, Jessica has a wealth of knowledge when it comes to must-have food products. A passionate baker, she spends much of her time creating celebration cakes for friends and family - particularly for her two lucky children.