Personalised jam jar craft
If you find yourself with some old jam jars, you don't have to throw them away. Just fill them with your fave nibbles and give as a present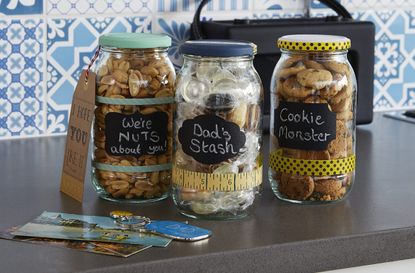 This jam jar craft proves that these jars are really are one of the most versatile household items, and are always worth recycling. Because they're great for an afternoon of crafting! Kids can be kept busy for hours with this new jam jar craft - it's perfect for 7-9 year olds.
Every household has jam jars but the trouble is that the vast majority of them get thrown away. However, there's no need to waste them when you can transform them into new storage ideas.
You could fill them with peanuts or cookies for example, but otherwise it's completely up to you or your little ones - kids can make them as the perfect Christmas or birthday gift, just find out what nibbles people prefer or even better, just surprise them!
Although it's great fun filling each jar with lots of nibbles, kids will also enjoy getting arty and painting the acrylic lids whatever colour they like.
It's important to use patterned craft tape because this adds extra colour to the jar making it a whole lot prettier to store on shelves.
If you also want to make your lid nice and colourful, you could always add patterned craft tape there too - there are literally no rules. Make it as bright and colourful as you like!
To make these jam jars you will need:
Large jam jars
Acrylic paint
Paint brush
Chalk labels
Chalk
Patterned washi tapes
How to make personalised jam jars:
Step 1
Remove the lids from the jam jars and make sure they are clean and dry. Paint the lids with acrylic paint and leave them to dry completely.
Step 2
Stick a chalk label onto each jar, making sure there are no 'bubbles'. Write a message on the label with chalk.
Step 3
Stick some patterned craft tape around the jar, above or below the chalk label (or both). You can also decorate the lids with tape.
Step 4
Fill the jars with sweets, nuts, cookies or other goodies that Mum or Dad will like, and replace the lids tight.
These also make perfectly cute presents for someone who loves decorating their kitchen with personalised items.
Jessica Dady is Food Editor at Goodto.com and has over 10 years of experience as a digital editor, specialising in all things food, recipes, and SEO. From the best food hampers to cookbooks, from the best cake stands to kitchen appliances, Jessica has a wealth of knowledge when it comes to must-have food products. A passionate baker, she spends some of her time creating celebration cakes for friends and family including her two lucky children.