Best pushchair toys 2023: 20 of the top-rated options for buggies and prams
Keep your baby engaged, learning and happy while on the move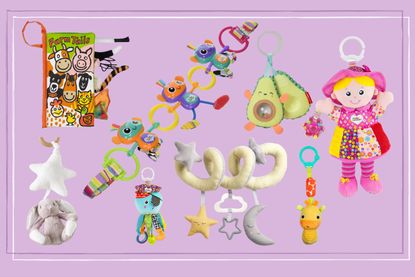 (Image credit: Future)
Heading out to the shops? Running some errands? Or just getting some fresh air? Then the best pushchair toys can help keep your little learner entertained while on the go.
The best toys for their pram or pushchair really come into their own when trying to keep your toddler interested and immersed while in their stroller. Along with helping to entertain them while on the move, many of the best pushchair toys on today's market also come with a whole host of development benefits.
Think: colourful features, teething elements, mirrors, crinkly textures and interesting fabrics that can help your little stroller make sense of the world around them. While other pushchair toys are kitted out with engaging activities to complete. All of which can help boost their sensory stimulation and teach your baby the basics of cause and effect. Pretty good, right?
But where should you start when it comes to adding a pushchair to to your collection? Baby and sleep coach, Nicole Ratcliffe of Baby 2 Sleep says: "For younger babies, having toys that may dangle down in front of them so they can hit them, grab them or make sounds can be really helpful. The same goes for toys that have a sensory element to them, so crinkly fabrics, bright coloured soft toys, and toys with parts to chew on to help with teething can be nice, or toys that play music."
As your baby grows, Nicole recommends still looking out for toys that come with similar sensory touches but in book forms, with eye-catching pictures and sounds that will attract and keep their attention. If possible, you'll also want to find pushchair toys that clip onto your buggy. Otherwise, you can rest assured that their toys will literally be thrown out of the pram!
To help you find the best toys for you and your little one, we've pulled together a list of the best pushchair toys, with prices ranging from £5 to £30. Playtime never has to end with the best pushchair toys for little explorers!
Best pushchair toys 2023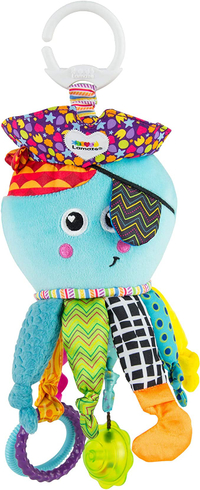 LAMAZE Captain Calamari - £11.20 | Amazon
Age suitability: From 0 to 6 months
LAMAZE's bright and beautiful Captain Calamari toy might be small, but its features sure are mighty.
The friendly octopus comes with a surprise mirror at the bottom to help little eyes focus and explore, a crinkle hat, clacking rings that can help soothe achy gums, and a rattle on its tentacles. While the bright colours and patterns help to promote visual stimulation. Scoring an impressive 4.9 stars out of 5 on Amazon, simply clip Captain Calamari onto your buggy or stroller and let the learning begin.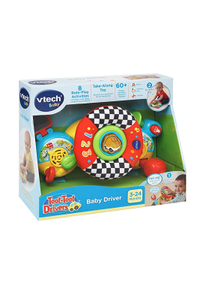 VTech Toot Toot Drivers Baby Driver - £24.99 | Amazon
Age suitability: From 0 to 6 months
Babies and toddlers can be the captain of their own ship (or buggy) with this bright and colourful adorable driving toy from VTech. It comes with 8 different role play activities and 60 different sounds to keep them entertained on the move.
The toy also has a soft touch steering wheel, a two-stage indicator, ignition, and a gear stick to help encourage your little one's motor development. Attach this to their buggy and let them be in the driving seat.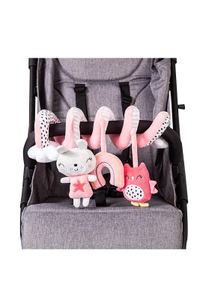 Red Kite Baby Spiraloo Dreamy Meadow - £11.99 | Amazon
Age suitability: From birth
Along with being a great addition to any pushchair, this soft and colourful spiraloo is a wonderful idea for a gift. The toy wraps around strollers, pushchairs, cots and car seats and it can also be used independently. So you get more bang for your buck.
Pretty in pink, it contains friendly bunny and owl characters along with a mirror and crinkle fabrics. It also chimes, rattles and squeaks.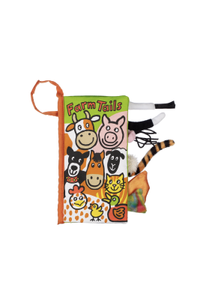 Jellycat Farm Tails Children's Soft Book - £15 | John Lewis
Age suitability: From birth
There's nothing like getting lost in the world of fiction. No matter whether you're a seasoned reader or you're just getting started. And this beautiful illustrated soft book from Jellycat, which comes with a velcro strap so you can attach it to your stroller, is no different. It will introduce your little one to their soon-to-be favourite farm animals.
It's designed to encourage interaction and reading and features fabric animal tails that pop out the side. It's great for exploring minds.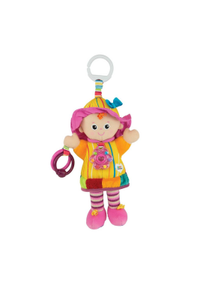 LAMAZE My Friend Emily - £13.99 | Amazon
Age suitability: From 0 to 6 months
Similar to LAMAZE's Captain Calamari, My Friend Emily is another rendition of the tried and tested cult classic pushchair toy.
Emily can be clipped onto your buggy, stroller or pushchair and is kitted out with a soft velour body which is perfect for snuggling into.
The soft doll also has clacking rings, a rattle necklace and a crinkly dress so little fingers can explore, learn and stimulate the senses.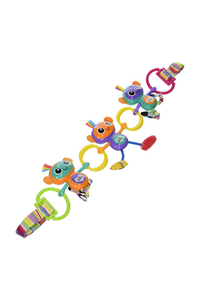 LAMAZE Monkey link clips - £19.50 | Amazon
Age suitability: From birth
There's a lot to see, touch and twist with these cheeky monkeys. From their patterned, crinkly feet to their soft multi-coloured satin ribbons which make up their hair. If their legs are pulled, these LAMAZE monkey link clips also make clicking sounds, which is exiciting for babies practicing their hearing.
Simply attach the fabric straps to the stroller, and prepare them for a wild and wonderful ride.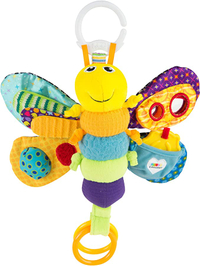 LAMAZE Freddie The Firefly - £13.99 | Amazon
Age suitability: From 0 to 6 months
Tipped as an Amazon best seller, Freddie the Firefly is a cuddly soft toy no pram would be complete without. It's bound to create a buzz as it's designed with a super soft velour body to encourage touch and it has a mirror, crinkle wings, squeaker and clacking rings. So there's lots of activities to help stimulate their senses.
This cuddly soft toy also doubles up as a teething toy, allowing them to chew to help ease the moments of discomfort that come with growing a new set of teeth. Attach this to your pushchair, car set or pram and let the hours of fun begin.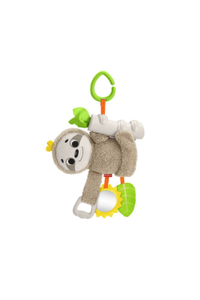 Fisher Price Stroller Sloth - £25.53 | Amazon
Age suitability: Suitable from birth
Just like the real-life version, this toy sloth hangs overhead and if you pull its hand down babies and toddlers can watch the sloth 'climb' back up the branch.
Once attached to your stroller, your newborn can see their own reflection in the sunshine mirror, touch the sloth's super soft body and play with a variety of textures. From the branch's satiny feel and the crinkled leaves, help them practice their gross motor function while on the move or at a standstill.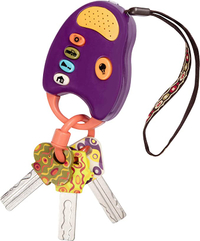 B. Toys FunKeys Toy - £11.95 | Amazon
Age suitability: 10 months +
Does your little one love your keys? Well, now they can have their own pair to look after thanks to this colourful option from B. Toys which is made using recycled materials.
It comes with four car sounds, a flashlight and three keys which are bound to keep tiny fingers busy.
Plus — you'll be pleased to know that this toy comes with a strap so you can attach them to the pram to stop them from being lost or dropped.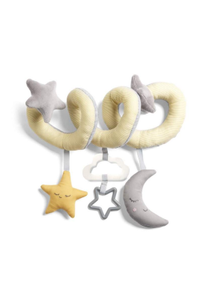 Mamas and Papas Spiral Dream Upon A Cloud Travel Toy - £19 | Millie and Ralph
Age suitability: from birth
Little imaginations will be on cloud nine with this cute moon and star scene which wraps around your pushchair and features teethers, a rattle and hidden crinkle textures — all of which are designed to encourage your baby's senses.
Thanks to the soft spiral design, there's no chance of this pushchair goodie falling off. So hours of fun can be had while on the go.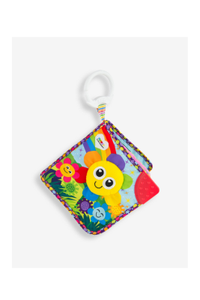 LAMAZE Fun with Colours Soft Book - £8.99 | Amazon
Age suitability: From birth
As you might expect, this isn't just any book. This cute and colourful interactive read includes a discovery mirror for visual stimulation, a squeaker, rattle and crinkle fabrics for hearing.
Plus, there are also flaps to help develop motor skills. And if you're baby is teething, the soft fabric is perfect for chewing on to help provide some relief. This is a book that keeps on giving.