The best viral breastfeeding pictures we've EVER seen
These women are taking a stand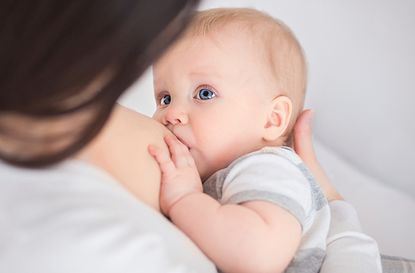 Not a week goes by where we don't hear another example of stupid things said about breastfeeding, but these amazing women are taking a stand against the status quo.
These women have gone viral around the world, simply for showing that they shouldn't be pressured into not breastfeeding in public or feel embarrassed to nurse their child.
These modern mums couldn't care less if the sight of them breastfeeding makes you feel uncomfortable, their baby needs feeding and they'll be darned if you're going to stop them doing exactly that.
So here is a round-up of all the badass breastfeeders who've gone viral, just for doing what comes so naturally to them, and we salute you mums.
The 'covered up' breastfeeder
https://www.facebook.com/photo.php?fbid=1523798484366615&set=a.128674367212374.33632.100002094355348&type=3&theater
Nicolle Blackman had the sassiest response for a women who demanded she cover up whilst feeding in public, because her husband was staring.
Tucked away in the corner of her local MacDonald's, Nicolle was breastfeeding her two month old son when she was approached by a stranger who apparently told her to cover up, because her husband couldn't stop looking at the breastfeeding mother. Irritated and frustrated, Nicolle chose to cover herself up instead of her son, who she maintained had every right to eat in public.
Dining with her eldest daughter, Nicolle took to Facebook to share a picture the little girl had snapped.
'My 11 year old daughter has never seen me cover up so she snapped some pictures because she was upset I'd cover up,' she explained. 'This was my response to covering up.'
The military breastfeeder
https://www.facebook.com/photo.php?fbid=403970959984049&set=a.129086460805835.1073741828.100011134452465&type=3&theater
Avery Lane was situated at a military post for her job when she needed to breastfeed her baby, but as she started nursing her little one the mum was asked by a manager 'Can you cover up with a towel or something?'.
Shocked and offended, Avery gave an awesome response, hitting back with 'No but I have a muslin if you would like to cover your face. You must not know Georgia's breastfeeding laws', yet was still asked to leave the area. Knowing her rights, Avery contacted the Military Police and had them inform the manager that she is entitled to breastfeed her baby in public if she chooses to.
Avery has said that she hopes to encourage other mums to 'stand up' to normalising breastfeeding, which has been met with waves of support from other mothers congratulating her 'for sticking up for the most natural thing in the world for your baby'.
The bridal breastfeeder
https://www.facebook.com/photo.php?fbid=1263494280360197&set=a.226946294015006.53727.100000989119477&type=3&theater
New mum Anecia Wright shared this adorable picture of her breastfeeding in her wedding gown to her Facebook page, along with the caption: 'Hubby told me this was one of his favorite pictures and that he loves my dedication in nursing our son. I love nursing and nobody can ever make me feel embarrassed or ashamed about feeding our child in the most natural way. #BreastIsBest #NormalizeBreastfeeding #NursingLikeABoss #AndServingFaceWhileDoingSo'
She later told the Daily Mail that she'd chosen her dress specifically with the ability to breastfeed in mind.
'I decided to nurse Jayce on my wedding day because nursing is a part of me and all my friends and family know that, so even though my wedding day is [a] big deal it's no reason why I wouldn't nurse on my big day,' she explained.
'Also before committing to my dress I sat in the dressing room and made sure my breast would be easily accessible and that's when I knew this was my dress. Jayce is a part of me and my husband and we couldn't imagine not having our baby boy present on our big day.'
The breast-pumping enthusiast
Mum and breast milk sharing enthusiast Chi Chi La-Flare took this snap to show how much her breasts change before and after her first pump of the day. Chi Chi runs her own milk sharing page and is a strong advocate of mothers breastfeeding and pumping to help each other.
In her hashtags she alludes to pumping 40oz of breast milk, much to the amazement of her followers who can't believe how relieved she must have been! One Instagram user commented, 'Oh my word! I remember how much it hurt to be that engorged! Way to go mama!' whilst another said, 'I can only imagine how relieved you were to pump all that milk out lol.'
The working breastfeeder
Mum and artist Hein Koh shared an amazing picture of her breastfeeding her twins last year while working on her laptop. The picture was taken in response to the criticism that having children can hold women back in the creative world.
However, in this epic reponse Hein showed that she can work and be a mum at the same time. In her Instagram post she said: 'Becoming a #mom (of twins no less) has personally helped me become a better #artist - I learned to be extremely efficient with my time, prioritize what's important and let go of the rest, and #multitask like a champ.'
While she was quick to say that non-parents also make brilliant artists, she added: 'What I am saying is that parenting is like any other challenge in life - the biggest f***ing challenge in my own life thus far - and if you embrace it and figure out creative solutions, you can emerge a better person.'
The triathlon breastfeeder
https://www.facebook.com/bfmamatalk/photos/a.471668436214912.96317.411182815596808/1089243304457419/?type=3&theater
When yoga teacher and serial triathlete Katrina Bolduc finished her first triathlon after having a baby, the internet gave her a massive hi-five. Not only did she complete a huge sporting achievement but she stood proudly breast feeding her seven-month-old son on the finish line to care for his feeding needs.
Her picture was posted on the 'Breastfeeding Mama Talk' Facebook page where Katrina declared 'Got my medal and fed my baby like a champ!' - and we couldn't agree more! Floods of positive comments were posted to the page including 'mommas can be strong, accomplish amazing feats and still nourish their babies!' and 'congratulations on winning and breastfeeding, you are great'.
Katrina told Today: 'I never really thought of myself as a public breastfeeding advocate, but now I'm like, heck, yeah, I'll stand up for women everywhere, the athletic community and just moms in general.
'I think there needs to be more positivity and encouragement so we can continue to live our lives and feed our children and not feel like we need to run away and hide in a car or bathroom.'
The celebrity breastfeeder
Film star Thandie Newton is the latest mum to stand up for her right to breastfeed in public, in this latest Instagram snap. The 43-year-old mum of three posted the photo of her breastfeeding her two-month-old son Booker at the Latitude music festival, captioning the photo: 'Perfect happiness @latitudefest This is what my body is made for. And the rest is my choice. #Freedom'
Her social media fans have been quick to praise the star, with one commenting: 'Beautiful. Absolutely beautiful', and another adding: 'Yes Thandie! Amazing, beautiful, empowering and totally cute!!'
The Welsh-born award-winning actress, famous for her roles in Crash and The Pursuit of Happyness, also has two daughters - Ripley 16, and Nico, 11 - with her English writer, director and producer husband Ol Parker.
The (other!) bridal breastfeeder
Image: Lana Nimmons Photography Nothing was going to stop this mum breastfeeding her baby - not even her own wedding! When Christina Torino-Benton was marrying her partner Danny Benton earlier this month she didn't think twice about breastfeeding her nine-month-old baby girl Gemma. 'At the church it was 40 degrees, Gemma was hot, she missed her nap and was overall really crabby,' Christina told Daily Mail.
'When she started crying I couldn't focus on my wedding. Once I got her in my arms, I was able to calm down and focus. A lot of people think that my feeding her mid ceremony was a bother but actually it was nice having her up there with us. She is always a joy to have around.'
Christina then shared the heart-warming snap to a breastfeeding support group on Facebook, where she got over 7,000 likes and many other women sharing their breastfeeding pictures too.
The appreciative breastfeeder
https://www.facebook.com/photo.php?fbid=1062021600545529&set=a.157023334378698.42008.100002130964463&type=3&theater
Tissues at the ready! This sweet story might just melt your heart.
Nursing mum Briar Lusia Mcqueen shared a snap on Facebook of her breastfeeding along with a story of a kind deed. In the post she explains she was breastfeeding in a cafe for the first time when she was approached by an older woman. Briar admits in the post that she was nervous, saying: 'I was scared, thinking she was gonna tell me to put my boob away [sic].'
However, instead of a stern telling off, Briar explained that the woman wanted to help her. In her post she wrote: 'Instead she starts cutting up my breakfast for me and said "what a good mama you are, we can't have your food getting cold can we".'
With over 10K shares and 12K comments it's safe to say there are lots of people that think this is a fab story - and it's just the kind of thing we love to hear, too!
The wedding breastfeeder
[instagram]
Naomi Jael was at a friends wedding when 10-month-old TJ needed feeding, and as is customary in her native Germany she started feeding him in front of friends and family while carrying on with her meal. Posting the picture to her Instagram friends, the 21 year old went to bed as normal.
The next morning she woke up to find that her picture had gone viral, but began attracting unwanted criticism. So in true awesome mum style, Naomi simply edited the caption to read; 'Whoever gets mad about this, I also fed my son at the church ceremony IN the church. Here in Germany people don't get mad about it. This is why I have breasts! Cause God gave me boobs for feeding my babies!'
The multi-tasking breastfeeder
[instagram]
Haddas Ancliffe, nicknamed by her husband as Dahs, shared this photograph of her breastfeeding her son Jonah at her sister's wedding. Despite only being shared with friends, in 24 hours the picture (which shows Dahs looking completely flawless) had attracted over 5000 likes, but also breastfeeding critics.
Stefan Simitsch said; 'Inappropriate! If you want to show your boobs, go to topless beach, do not use children for that!'
The mother-of-one simply responded by saying; 'Just me and my baby having a drink (Gotta do what you gotta do, wedding or not).' We couldn't agree more.
The tandem breastfeeder
[instagram]
Elaine Gibson's breastfeeding picture went viral after she exposed a side of breastfeeding that mothers don't often talk about in public - not having enough milk. Elaine, or Laylay to her friends and family, has twin girls - Quincy Kay and Roe James, and was unable to breastfeed them herself so had to ask for donations from friends and family.
Elaine said; 'I tried everything in my power to build a supply for my girls. Pumping, lactation consultants, mothers milk tea/vitamins, formula wired to my nipples, up all hours of the night and having emotional breakdowns not understanding why...I also feel like people don't talk about how hard breastfeeding can be and if you can BF you're incredibly lucky. I pump all day to be able to provide my girls with one ounce of my milk, and I've excepted that's the best I can do. All I can give them is my love and that's most important.'
Absolutely!
The firefighting breastfeeder
https://www.facebook.com/cfavic/photos/pb.7390614415.-2207520000.1463736571./10153976690019416/?type=3&theater
Fighting fires must seem a breeze after navigating a sleepless night with a newborn, and Victoria County Fire Department in Australia decided to share this picture of a volunteer firefighter, Angela, wearing her uniform and proudly breastfeeding her daughter in public.
According to the page administrator, after the photo was published many people un-liked the page in backlash. But luckily many others offered support for the amazing working mum. Niki Jackson summed up our feelings when she commented saying; 'Feeding a new generation of firefighters who save our homes and lives. But seriously, it's just a boob. We've all seen them at some point. It is literally a chunk of flesh that helps to contain milk. Not the apocalypse.'
The wet-nursing breastfeeder
https://www.facebook.com/themilkmeg/photos/pb.409295012457689.-2207520000.1463736687./965743576812827/?type=3&theater
When Meg posted her breastfeeding snap to Facebook, on her page The Milk Meg, people were quick to criticise, but not for the reason you might expect. See Meg wasn't breastfeeding in public or offending a stranger's eyes, but she was wet nursing her sister's son instead.
Meg explained; 'My gorgeous little nephew! While my sister was at work today I tried to give him a bottle of her expressed milk a few times (which he wouldn't take). I could see he was tired so I popped him on the boob and voila, he was asleep in minutes.'
But commenters were not at all happy with Meg's decision and were quick to tell her so - she responded by rising above the negativity and simply saying; 'Thanks for all the support!'
Trusted, informative, and empathetic – GoodTo is the ultimate online destination for mums. Established in 2007, our 15-year-strong archive of content includes more than 18,000 articles, 1,500 how-to videos, and 7,000 recipes.