23 of the best Christmas movies on Netflix 2022: What Christmas films are on Netflix UK this year?
So, what Christmas films are on Netflix UK for you to enjoy this year? Take a look at our list…and enjoy!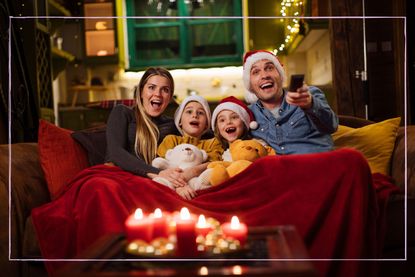 (Image credit: Getty Images)
The festive season is well and truly here, so it's time to get cosy and watch some of the best Christmas movies on Netflix this year.
Whether it's the best Christmas movies on Disney+ (opens in new tab), Amazon Prime or Netflix, all the streaming services have plenty of festive favourites for the whole family to enjoy - with new film Spirited (opens in new tab) proving to be a favourite this year. And while snuggling up on the sofa in front of The Christmas Chronicles or Let It Snow is one of the greatest Christmas traditions (opens in new tab), choosing which film to watch can be a challenge.
Luckily for you, we've put together a list of the best Christmas movies on Netflix this year, so all you need to do is pop on your matching family Christmas pyjamas (opens in new tab), sit yourself down in front of the TV and work your way through this list.
The best Christmas movies on Netflix in 2022
1. Dr Seuss' How the Grinch Stole Christmas
Rating: PG
Probably the most classic film on this list, Dr. Seuss' How the Grinch Stole Christmas tells the story of the grumpy Grinch, who vows to stop Christmas from coming after being annoyed by Whoville's festivities.
2. Falling for Christmas
Rating: PG
New for 2022, Lindsay Lohan stars in this film that follows a spoiled heiress who, after losing her memory in a skiing accident, lands in the cozy care of a down-on-his-luck widower and his daughter at Christmastime.
3. The Noel Diary
Rating: PG
Another new release, this festive tale follows a novelist who is cleaning out his childhood home at Christmas, when he discovers a diary full of secrets about his own past, and meets a woman searching for her birth mother.
4. Single All the Way
Rating: 12
Peter asks his best friend to pose as his boyfriend on a Christmas visit home, in order to avoid his family's judgment about his perpetual single status. But their plan - and feelings - change when Peter's family play matchmaker.
5. Love Hard
Rating: 15
Nina Dobrev of Vampire Diaries fame takes the lead role in this romcom. After meeting her perfect match on a dating app, an LA writer learns she's been catfished when she flies 3,000 miles to surprise him for Christmas.
6. Dash & Lily
Rating: 12
Admittedly this isn't a film, but it's a TV series short enough to binge on those days between Christmas and New Year. The tale shows that opposites attract at Christmas as cynical Dash and sunny Lily trade messages and dares in a red notebook they pass back and forth around New York City.
7. Holidate
Rating: 15
Starring Emma Roberts, this festive tale follows two strangers fed up with being single during the holidays who agree to be each other's platonic plus-ones all year long, only to catch real feelings along the way.
8. A Cinderella Story: Christmas Wish
Rating: PG
Despite her vain stepmother and mean stepsisters, an aspiring singer works as an elf at a Christmas tree lot and finds her own holiday miracle when she meets one of the new employees.
9. The Holiday Calendar
Rating: PG
A talented photographer stuck in a dead-end job inherits an antique Advent calendar that may be predicting the future - and pointing her towards love.
10. Alien Xmas
Rating: U
A young elf mistakes a tiny alien for a Christmas gift, not knowing her new plaything has plans to destroy Earth's gravity — and steal all the presents.
11. Dolly Parton's Christmas On The Square
Rating: PG
An embittered "Scrooge" of a woman plans to sell her small town, regardless of the consequences to the people who live there.
12. Operation Christmas Drop
Rating: U
By-the-book political aide Erica ditches her traditional family Christmas in favour of a mission across the Pacific. However, after clashing with a handsome pilot, Erica begins to fall for the man she finds herself at odds with.
13. Jingle Jangle: A Christmas Journey
Rating: PG
An imaginary world comes to life in a holiday tale of an eccentric toymaker, his adventurous granddaughter, and a magical invention that has the power to change their lives forever.
14. The Princess Switch
Rating: PG
When a down-to-earth Chicago baker and a soon-to-be princess discover they look like twins, they hatch a Christmastime plan to trade places. Starring Vanessa Hudgens, if you're a fan of this festive film you'll want to check out The Princess Switch: Switched Again and The Princess Switch 3: Romancing the Star too.
15. The Christmas Chronicles
Rating: PG
A brother and sister accidentally crash Santa's sleigh just hours before Christmas - so along with a rather straight-talking St Nicholas, they band together to save the festive season overnight...
16. Angela's Christmas Wish
Rating: U
Set in Ireland in the 1910s, 'Angela's Christmas' is a funny, heart-warming and poignant story about the power of family and the innocent desire of a child to ensure everyone is safe, warm and loved at Christmas time.
17. Klaus
Rating: PG
A selfish postman comes together with a shy, reclusive toymaker, in this Netflix Christmas film. Together, they work to deliver some festive spirit and joy to a village that is lacking...
18. A StoryBots Christmas
Rating: U
When Bo mistakenly thinks that her friends don't like her gifts, she heads to the North Pole to ask Santa for help making better presents. She learns along the way that Christmas is about far more than just the toys. Ed Asner guest stars as Santa Claus.
19. The Knight Before Christmas
Rating: 12
Vanessa Hudgens plays Brooke is the new Netflix film, which has been released ahead of Christmas 2019. After giving up all hope of finding her 'happily ever after', Brooke meets Cole - man who says he's a knight who has travelled from the 14th century. Is he the one she's been hoping for her whole life?
20. Let It Snow
Rating: 12
When a snowstorm hits a small town on Christmas Eve, a group of high school seniors finds their friendships and love lives colliding.
21. A Christmas Prince
Rating: PG
Christmas comes early for an aspiring young journalist when she's sent abroad to get the scoop on a dashing prince who's poised to be king.
22. Holiday Rush
Rating: PG
Radio DJ Rashon 'Rush' Williams (Romany Malco), is dealing with the death of his wife by buying his four kids almost everything on their Christmas list. However, things don't go to plan when he loses his job just before the holidays, and he's forced to re-evaluate...
23. Christmas Inheritance
Rating: PG
Heiress Ellen must carry out an errand in Snow Falls, the hometown she never knew, before she can inherit her father's business. To experience life's true gifts, her parents insist that she make the trip anonymously, without fame or fortune to aid her…
Video of the Week
Ellie joined Goodto as a Junior Features Writer in 2022 after finishing her Master's in Magazine Journalism at Nottingham Trent University. Previously, she completed successful work experience placements with BBC Good Food, The Big Issue and the Nottingham Post, and freelanced as an arts and entertainment writer alongside her studies. In 2021, Ellie graduated from Cardiff University with a first-class degree in Journalism.