27 naughty Elf on the Shelf ideas to copy for Christmas 2022
The best naughty elf on the shelf to try this December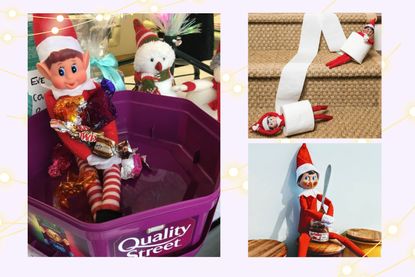 (Image credit: Future)
Naughty Elf on the Shelf ideas can be hard to think up on your own. Which is why we've rounded up these rare and hilarious examples for you to give a go at home.
The Elf on the Shelf phenomenon has become a new feature in many a family home this Christmas. With the ritual almost as synonymous as other Christmas traditions (opens in new tab) like picking out a tree, wrapping up the top Christmas toys (opens in new tab) and belting out some cheery Christmas music for kids (opens in new tab).
A great activity to get them excited for the holiday - whilst also encouraging lots of good behaviour - you can pick out a few of your favourite ideas to copy from our Naughty elf list below. Or similarly mix them in amidst your tried-and-tested poses of years gone by. Either way, it's not just the children who deserve a good laugh with this game in December. Top tip from Family Editor, Stephanie Lowe (opens in new tab): "Set an alarm for each evening so you don't forget to change Elf on the Shelf poses... like I have done multiple times. Oops."
What is Elf on the Shelf?
Elf on the Shelf is a festive game that sees an Elf toy placed in different locations around the house acting out various fun activities and scenarios. It takes place in the countdown to Christmas, with parents surprising kids with a new Elf surprise daily.
The idea is that this Elf is checking in on the children before Christmas and reporting back to Santa - letting him know if they are behaving. Mums and dads can prep the next Elf surprise when the kids are in bed, ready for them to wake up and hunt him down in the morning. In America the tradition kids off the day after Thanksgiving but over in the UK we tend to start around the 1st of December. Almost like an alternative advent. You can pick up your 'Scout Elf' as they're known online or we have a fantastic homemade elf on a shelf (opens in new tab) craft if you'd rather make your own little army of cheeky elves.
---
---
Where did the Elf on the Shelf tradition come from?
The Elf On The Shelf tradition originates from America, and more specifically a 2004 book by Carol Aebersold and daughter Chanda Bell. The two wrote the 'Elf on the Shelf' story to honour their own family tradition of an Elf visiting to watch over them at Christmas time.
The official storybook comes with a small Elf character to put your adventures into action. And many parents tend to read the children the story about the naughty Elf to introduce them to the fun December game. Children can chat to the elf but can't touch him otherwise he will 'disappear forever' according to the book. The authors are also keen to share that the elves are not "bought" but "adopted". With the retail outlets selling the toys known as "adoption centres".
What are the rules of Elf on the Shelf?
Kids can not touch the Elf or the Elf will lose their power.
The elf does not move nor speak when the kids are awake, but it does see and hear everything.
The Elf reports back to Santa each night on the day's behaviour.
What's a good age to start Elf on the Shelf?
Three years old is a good age, or as soon as they start to understand the magic of Christmas. Of course, if there are older siblings in the house, the tradition will start even sooner than that. There's really no harm in starting earlier—your child just might not be as engaged at an earlier age.
Best naughty Elf on the Shelf ideas 2022:
1. This Elf who kindly offered to help out with the baking
One clever mum has raided the biscuit tin to help her create this naughty Elf on the Shelf scenario. A cheap and easy idea you can recreate at home without popping to the shop for supplies.
2. This Elf who's just had enough already
This naughty elf has turned to some dutch courage to get him through the holidays. A naughty Elf on the Shelf idea that little kids will find hilarious.
3. This Elf who was feeling ignored
When kids aren't taking the Elf fun seriously it's time to bring your A game. As this inspired Dad with - taking the time to wrap the entire toilet up (and leave a cheeky message).
4. These elves have gone on strike!
It's the kids and their own naughty behaviour that has left nothing else for these exaperated elves' to do but strike. A warning if ever we saw one.
5. This Elf let his snowman friend melt...
With his guilty face, it seems that this Elf was up to no good and let the snowman melt on purpose... Set this great naughty Elf on the Shelf idea up using buttons, googly eyes, some twigs and a carrot in a clear roasting dish.
6. This Elf is tampering with the Oreos
Tampering with Oreos is a big no-no in our books. But it seems this young kid didn't get the message about adequate teeth-brushing. So what's an elf to do?
7. This Elf is on a jewellery heist
Sound the alarm. This elf has turned criminal this Christmas and is raiding mum's jewellery box. We love the little black felt mask which helps turn this elf into a proper criminal.
8. These Elves have been through mum's purse
This is a bit of a harsh tease for little ones - with mums and dads explaining there might not be any Christmas presents this year because these naughty elves have ripped up all the money! A tongue in cheek Christmas elf idea to try, using fake money (Mononpoly notes could work well here?).
9. This Elf is getting crafty wth a pen
We think this naughty elf's actions will land him in some hot water come morning. Let's hope that pen washes off and she looks in a mirror before leaving the house. This is one that will definitely raise a laugh or two from young ones.
10. This Elf found someone's credit card
A hilarious naughty Elf on the Shelf idea. This one has run off with mum and dad's card and is no doubt racking up big bills on some last minute Christmas present purchases.
11. This Elf has found the frozen peas
First of all we're applauding the time and effort that must have gone into this naughty Elf on the Shelf idea. Toilet humour normally goes down a treat with kids - so we reckon they'll find this elf's prank nothing short of hilarious.
12. This Elf has found the Nutella
This elf has certainly got some cheek - tucking into everyone's favourite toast topping! We're big fans of the tiny Nutella pot, but you could easily recreate this with a full sized one too.
13. This Elf made up a messy toilet roll game
From the official Elf on the Shelf Instagram account (opens in new tab), we love these cheeky elves that are "rolling into the holidays". This is a cheap and fun one to try - if you can be bothered to re-wrap the toilet paper up afterwards that is...
14. This Elf has found himself in elf jail
A comical reminder of what happens to incredibly naughty elves who steal. You can likely pick up a decorative bird cage from your local pound shop or Amazon (opens in new tab).
15. This Elf has a sweet tooth
Not the Quality Street! This elf has been incredibly bad - eating all this family's favourite Christmas chocolates. A cheap (and rather tasty) naughty Elf on the Shelf idea you can copy at home.
16. This Elf has hit the bottles hard
Put those (empty) mini bottles from your alcohol advent calender (opens in new tab) to good use in this naughty Elf on the Shelf idea. Nothing like a boozy, bad-behaving elf to raise a laugh or two.
17. These elves have made snow much mess
This mum wanted to shock her kids with something out of character for these otherwise well-behaved elves. All you'll need is some flour and the hoover to vacuum it up after.
18. These elves are breaking the law
It's amazing what a bit of clingfilm and imagination can do? We love this 'No fishing' set-up that is sure to surprise little ones on their next loo trip.
19. This Elf has it out for this soft toy
A blender and your kid's favourite soft toy - and you've got yourself one evil Elf on the Shelf idea to try in December.
20. This Elf really had to go
One that will amuse the adults too. We love this creative naughty Elf on the Shelf idea that sees him take a tinkle in an alcohol bottle.
21. This Elf found the Ketchup bottle
A reindeer target game with a difference. This female elf had some fun firing her shot at the wall. But there's certainly soem room for practice.
22. This Elf has made a switch
This elf has made a cheeky switch from shoe laces to strawberry laces, kids will see the funny side to this naughty Elf on the Shelf idea. @naughty_elf_ideas (opens in new tab)
23. This Elf is enjoying McDonald's
This cheeky chappy has treated himself to a takeaway without asking! The creators of this idea have used novelty erasers, available to buy from Etsy (opens in new tab), to create this scene.
24. This Elf has turned Pirate
Another easy naughty Elf on the Shelf idea. All you need is some black and white card to make the hat, sign and map.
25. This Elf is cheating at Rubik's Cube
Mischievous elves at their finest! This is one of the most exciting scenes on our list of naughty Elf on the Shelf ideas. It uses a Rubik's cube, paper and some colouring pens to create this silly set-up.
26. This Elf is just hanging around
As naughty Elf on the Shelf ideas go you might want to try this one when the family aren't visiting. @naughty_elf_ideas (opens in new tab)
27. This Elf is tree decorating
This is a great one to do to have the kids in stitches before school, anything to do with pants will get the laughs. @naughty_elf_ideas (opens in new tab)
Related features:
Video of the Week: