Aldi launch nitrate free 'healthier bacon'
Aldi's new 'healthier bacon' which is completely nitrate free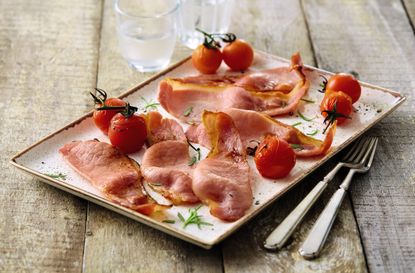 Aldi has answered all of our prayers once again and has launched a new 'healthier bacon' which is completely nitrate free.
If you love a rasher or two of bacon with your breakfast fry up or crisped on the BBQ to top your burger, you will love Aldi's latest product launch - healthy bacon.
Yes that's right, Aldi is calling it a 'major British breakthrough product' for food safety that allows you to indulge in some bacon completely guilt-free.
The new healthier bacon option from Aldi is labelled as such because it is free of Nitrite, preservatives and allergens - all of which are normally used to give bacon its classic flavour, colour and texture.
Nitrates are one of the reasons that processed meats such as bacon are often linked to cancer.
Speaking about the healthier bacon, Professor Chris Elliot said: 'Many forms of processed foods have come under the spotlight over recent years for their unhealthy attributes. Processed red meat, in particular, has been a focal point...
'Nitro containing compounds, used in the manufacture of traditional bacon, are known to cause the formation of chemicals that have negative health impacts. To have a bacon produced naturally, that doesn't require such chemicals to be added or formed during processing, is a very welcome development.'
Aldi's nitrate-free bacon could make our breakfast pancake recipe even healthier
Aldi is no stranger to providing some fantastic bargains from cheap booze to dupes of popular Jo Malone products - and their new 'healthier bacon' is no exception.
The nitrate-free bacon costs £2.29 for a 180g pack which contains roughly six slices. It is on sale from the 26 April, while stocks last, and can be bought as part of Aldi's Super Six meat deal.
Nitrate-free bacon, named Naked Bacon, launched earlier this year in the UK and was the brainchild of Finneabrogue, a leading UK sausage and venison supplier to some of the top supermarkets in the country.
Neil Parish, MP and chairman of the House of Commons Environment, Food and Rural Affairs select committee, said: 'Making bacon without nitrites – and reducing the risk in the famous full English breakfast – is a remarkable feat of food technology and a brilliant British success story.'
Finnebrogue worked with a Spanish chemist to perfect the flavourings of traditional British bacon using the natural flavour produced from natural Mediterranean fruit and spice extracts.
It took ten years of research and development and is fantastic product for all the bacon-lovers out there. According to Finneabrogue, the average Brit consumes more than three kilos of bacon every year.
Will you be rushing out to buy Aldi's new healthy bacon? Let us know in the comments box below if you would buy it and what you thought of it compared to normal bacon!
Jessica currently works as a Senior Food Writer at Future. She writes food and drink-related news stories and features, curates product pages, tests, and reviews equipment, and also develops recipes that she styles on food shoots. An enthusiastic, self-taught cook Jess adores eating out and sharing great food and drink with friends and family. She has completed the Level 1 Associate course at the Academy of Cheese and is continually building on her knowledge of beers, wines, and spirits.