Aldi are selling Lindt lookalike Easter bunnies for a fraction of the price!
Aldi's Easter bunny range starts from just 79p!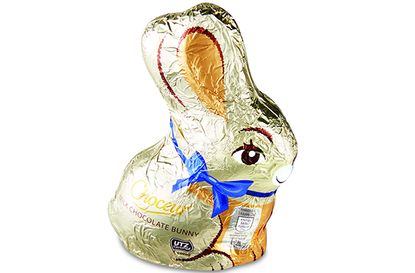 Lindt Easter bunny chocolates might have been your go-to chocolate in the past, but Aldi have got a cut-price copy to tempt you this year.
It's that time of year again when chocolate Easter bunnies and eggs fill the shelves - but cheap Easter eggs (opens in new tab) that still taste great can sometimes be hard to find.
But thanks to Aldi, you can taste a variety of flavours for a fraction of the price of some better-known brands on the high-street.
Heavily inspired by Lindt, Aldi are selling their own version of the brand's famous gold bunny, but instead of paying £3.00 for 100g of chocolate, you can pick Aldi's version up for just 79p.
On sale now, the foil wrapped Choceur Chocolate Bunny is available in milk, white or dark chocolate - and for that price you could easily pick yourself up all three flavours.
Or you could treat yourself to a bumper pack, where you get five mini versions of the Lindt-inspired bunnies for just £1.49.
Aldi also offer a wide range of both little and large chocolate bunnies, with the most expensive - their Giant Chocolate Bunny - setting you back just £3.99 for 450g of chocolate.
Made with milk chocolate and decorated with white and dark chocolate, the large offering is available from February 18.
Also on sale this Sunday are Aldi's Cadbury inspired individually wrapped DairyFine Hollow Milk Chocolate Easter Bunnies, at just 79p each they're a perfect gift for the little ones Easter egg hunts.
And if all that choice of chocolate wasn't enough, Aldi has also thrown in their own Hollow Easter Characters - Lucy the Lamb, Pete the Piglet and Charlie the Chick.
On sale Sunday, the milk chocolate characters are just £1.99 each - an ideal way to break up all those chocolate bunnies you'll no doubt have stocked up on.
Aldi's wide range of chocolate bunnies both little and large are each made with UTZ or fairtrade certified chocolate.