Best cake stands for 2022: John Lewis, Lakeland and more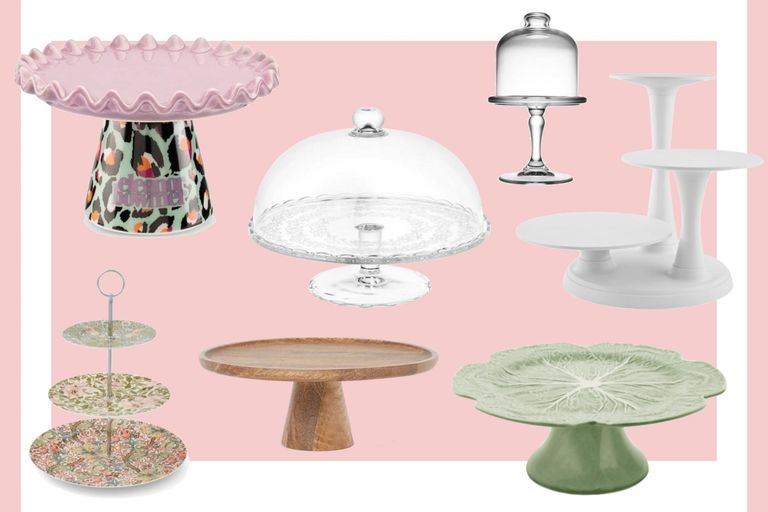 From elegant glass cake stands to impressive three-tier towers, here are the best cake stands available to buy online this year.
If you're an avid baker looking for a way to really showcase those bakes, a cake stand is a perfect way to achieve this. "Presenting your bakes on a cake stand is a lovely way to celebrate your creations. The best cake stands are sturdy and reliable, but most importantly they must look the part," adds Deputy Food Editor, Rose Fooks (opens in new tab).
"Cake stands can command a lot of cupboard space, so we favour minimal styles that can look splendid whatever the cake. Glass is a wonderfully versatile option that looks great with all cakes. When buying a cake stand consider the size of cake you cook most, choose a cake stand slightly larger than that. If your cake stand is too big it may make your cake look out of proportion."
Lakeland, Squire Kitchen, and Not on the High Street are just a handful of brands that are selling the best cake stands for 2022. Other than presenting your favourite Victoria sponge recipe (opens in new tab), for example, this range of cake stands is suitable for other baked goods and afternoon tea ideas (opens in new tab) too. Those include mini stands for cupcakes and cake stands with a dome for savoury nibbles like cheese and crackers.
Best cake stands 2022
Cake stands with dome
Glass cake stand & dome 39cm
Star rating: ⭐⭐⭐⭐ | Size: W24.5 x D24.5 x H39cm
Why we love it: It's a contemporary handmade cake stand for under £40.
Not only is this stand ideal for presenting a classic 20cm round cake, it keeps the cake fresh too with a glass dome. This charming cake stand is 39cm in height. We love that this cake stand is handmade giving it an impressive, yet unique look. It's easy to clean with a dry, soft non-abrasive cloth.
LSA Ivalo cake/cheese dome & ash base
Star rating: ⭐⭐⭐⭐ | Size: W32 x D32 x H20.5cm
Why we love it: Made by LSA Intentional who specialises in contemporary handmade glass.
Rated 4.9 stars by Amara customers, this cake stand by LSA International is a multifunctional choice ideal for cakes, cupcakes, cookies, cheeses, and more. One happy customer said that they "love the quality and design!" of this particular stand. Perfect for larger cakes at 32cm round.
ARV BRÖLLOP cake stand
Star rating: ⭐⭐⭐⭐⭐ | Size: D29cm x H22cm
Why we love it: It's a budget cake stand at just £12 for both the glass dome and stand.
With an overall rating of 4.8 stars by IKEA customers, this stand is certainly one to consider if you're looking for a bargain buy that still looks the part. "Great product. Really good price. The cake stand itself is beautifully etched, is a good size probably take a 10" cake and it has a glass dome too. Very very pleased with it. Would make a great gift. I'm considering buying another I'm so pleased with it," said one very satisfied IKEA customer.
Multifunction clear acrylic cake stand and serving bowl
Star rating: ⭐⭐⭐⭐ | Size: D31cm x H21cm
Why we love it: A great multifunctional cake stand is worth the money.
Perfect for parties, this cake stand is multifunctional as both a cake stand, serving bowl, and even punch bowl. This cake stand is lightweight and easy to clean made with durable clear acrylic. Lakeland three year guarantee included.
Wooden cake stands
Mango wood cake stand
Star rating: ⭐⭐⭐⭐ | Size: W29 x D29 x H11.5cm
Why we love it: A stylish, budget wooden stand that is under £20.
A sleek design made from 100% wood. This cake stand is food contact safe and just perfect for displaying larger cakes and bakes. "Lovely rustic cake stand, larger than expected. Make sure to check measurements before buying as it may or may not be the right size for you. I love H&M's wooden items! Please bring out some more things."
NUPTIO wood cake dessert stand with black matt base
Star rating: ⭐⭐⭐⭐⭐ | Size: W25.5 x D25.5 x H10cm
Why we love it: Available in a variety of sizes as well as a set of three stands for a more extravagant bake.
At just £16.98 this 21cm cake stand towers above the rest making your cake, cupcakes or homemade wedding cake really shine. Available in 25.5cm and 29cm too, this cake stand is made from wood and has a classy black metal base. Easy to assemble with two parts. This stand is hand wash only.
Three-tier cake stands
Three-tier Pippa Premium Houseware cake stand
Star rating: ⭐⭐⭐⭐⭐ | Size: W27 x D27 x H35cm
Why we love it: Perfect for displaying cupcakes when hosting afternoon tea.
This three-tiered cake stand by Premier Houseware has a stylish floral pattern on each tier. Made from bone china this cake stand comes with a one year guarantee. Wipe clean with a damp cloth and store in the cupboard ready for the next special occasion.
Premium Houseware three-tier cupcake stand
Star rating: ⭐⭐⭐⭐ | Size: W28 x D28 x H49cm
Why we love it: A great three-tiered multiple-use cake stand made from sturdy metal.
Make your cupcakes really stand out with this elegant, yet sturdy cake stand. The cream colour keeps it neutral meaning it can match with a variety of different afternoon tea or birthday themes. This cake stands hold up to 18 cupcakes. Lightweight and easy to transport.
Cornishware three-tier cake stand
Star rating: ⭐⭐⭐⭐ | Size: W28 x D28 x H34cm
Why we love it: A traditional cake stand for classic bakes such as mini lemon drizzle, Victoria sponge, and more.
Choose from three different striped coloured stands; blue, pink, and yellow. This classic three-tiered stand is part of a traditional, Cornishware set including tea pot, cups, and saucers. Free delivery is available when spending over £25.
Artesano original tray stand
Star rating: ⭐⭐⭐⭐⭐ | Size: W41 x D25.5 x H49cm
Why we love it: Sophisticated restaurant-style cake stand ideal for displaying both sweet and savoury treats.
This Artesano original tray stand is the perfect buffet food display option. Ideal for mini cakes such as cupcakes. It would also work perfectly for displaying canapés so is a great multipurpose choice. Easy to clean using lukewarm water hand washing only.
Cake stands for wedding cakes
Pavoni white cake stand
Star rating: ⭐⭐⭐⭐⭐ | Size: W28 x D28 x H15cm
Why we love it: The perfect wedding or summer party cake stand with an elegant design and finish.
We just love this simple yet impressive cake stand. This stand can take any cake up to 10 inches round. A great wedding cake stand choice as the sleek white finish and delicate edges make it look more expensive than it is. Plus you can keep it after for future bakes.
Wooden wedding cake crate
Star rating: ⭐⭐⭐⭐⭐ | Size: W36 x D36 x H20cm
Why we love it: Unique wedding cake stand ideal for your boho wedding.
Make your cake stand extra special with this personalised design. With a variety of options to choose from including sizes, personalisation, and colour you can alter this stand to make it suit your big day. Rated 4.9 stars by Etsy customers; "Absolutely in love with our cake stand! So impressed with the quality and fast delivery. Highly recommended."
Morris & Co. spode three-tier cake stand, 28cm
Star rating: ⭐⭐⭐⭐⭐ | Size: H40cm x D28cm
Why we love it: The perfect wedding cupcakes display option.
If you're choosing cupcakes or mini bakes over a large tiered wedding cake, displaying it on a vintage-style floral tiered stand is a great idea. And if you're really pushing the boat out, you could have one on each table - and give to the bridal party as gifts after use.
Gold cake stands
Round marble two-tier cake stand
Star rating: ⭐⭐⭐⭐⭐ | Size: H38 x W30 X D30cm
Why we love it: An impressive cake stand for a higher budget.
A 5-star rated cake stand, we just love this modern cake stand from Oliver Bonas. With a high-quality finish, this gold-rimmed cake stand has two tiers each with a marble base. Hand washes only. Matching items available.
Metal cake stand
Star rating: ⭐⭐⭐⭐ | Size: W24.5 x D24.5 x H8.5cm
Why we love it: A great budget option at just £7 (on sale)
This gold coloured cake stand is perfect for your festive cakes or cupcakes. Standing at 8.5cm in height. Voted 4.7 stars, one H&M customer said; "Around the size of a standard eating plate. Beautiful and trendy but also classy looking. Great quality too."
Ceramic food stand
Star rating: ⭐⭐⭐⭐ | Size: Medium W26 x D26 x H12cm
Why we love it: It's a decorative and fashionable handmade cake stand.
Available in three different sizes; small, medium, and large, and in three different colours too; white, gold or platinum. This cake stand is made from natural ceramics. This impressive stand is multipurpose displaying not just cakes, but other treats too. Microwave, oven, and dishwasher safe.
White cake stands
Wilton three-tier pillar cake stand
Star rating: ⭐⭐⭐⭐⭐ | Size: 41.1 x 50.1 cm
Why we love it: An extravagant way to display up to three cakes.
Voted 4.6 stars by over 1,000 Amazon customers. "We used this for our daughter's wedding recently. The stand provided different levels so that the three cake tiers could all be seen perfectly. They are spaced attractively. The stand was easy to put together and to take apart. Perfect for what we needed and looked great with a circlet of flowers in each tier."
Lakeland white cake stand
Star rating: ⭐⭐⭐⭐ | Size: W25 x D25 x H9.5cm
Why we love it: A simple cake stand that does exactly what you need it to do.
This 25cm white cake stand is just £19.99. With a large footer, this stand can hold heavier cakes. Made from glossy white stoneware. Available in a smaller size too. Lakeland 3 year guarantee included.
Modern cake stands
Marble and Acacia display stand
Star rating: ⭐⭐⭐⭐⭐ | Size: W30 x D30 x H13.5cm
Why we love it: Not just for cheese, this stand is perfect for square cakes or celebration loaf cakes.
This beautiful marble-topped cake stand is ideal for cakes, cheese, and desserts. The marble helps keep the food displayed cold - perfect for gateau cakes. Made from natural materials and acacia wood has long-lasting strength and durability.
Eleanor Bowmer leopard print bone China small cake stand
Star rating: ⭐⭐⭐⭐⭐ | Size: H6.5cm x D12cm
Why we love it: Vibrant, bold, and a stand-out cake stand.
A charming cake stand with a matching tea pot, cups, and saucers from John Lewis. Display miniature bakes such as cupcakes, fondant fancies, cookies, and more on this beautiful cake stand. We just love the colours.
Bordallo Pinheiro Cabbage Cake Stand, 33.5cm
Star rating: ⭐⭐⭐⭐ | Size: H15.5cm x D33.5cm
Why we love it: A unique cake stand that's also durable.
This cabbage leaf cake stand is a unique design that will give your cakes a quirky feel. Made from earthenware, this is strong and practical for everyday use. Matching items available.