The best Easter eggs for kids 2023
12 of the best Easter eggs for kids including Colin the Caterpillar, Thorntons and Lindt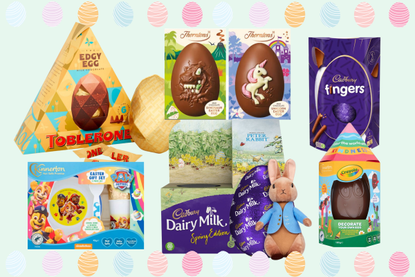 (Image credit: Future)
A Colin the Caterpillar Easter egg, a Thorntons dinosaur Easter egg and the all-new Toblerone geometric Easter egg are just a few of the best Easter eggs for kids in this year's roundup.
If you're looking for the perfect Easter egg for your little ones this April, we've got plenty to choose from. Everything from Cadbury to Hotel Chocolat is featured here, and we've even included a delicious Lindt Bunny Easter egg for good measure. All the chocolate eggs included in this collection are under £15, are available to buy online, and make perfect Easter gifts for kids.
'The best Easter eggs for kids are obviously ones that taste delicious to children's taste buds - so factor in their favourite kind of chocolate and don't waste cash on exotic flavours since most kids' tastes are pretty simple,' says Goodto's Consumer Editor Heidi Scrimgeour.
'But packaging is also super important to kids - they are just as likely to remember a fancy box that was fun to open. One of the best Easter eggs for kids is anything featuring their favourite film or TV characters as they bound to enjoy the packaging as much as the chocolate egg itself. You could even opt for a personalised Easter egg if you think it'll impress your chocolate-loving youngster. Finally, don't get hung up on sugar content vs. cocoa content - Easter is not the time to focus on nutrition!'
Best Easter eggs for kids 2023 at-a-glance
Best Easter eggs for kids 2023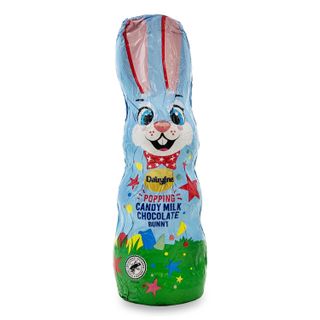 1. Dairyfine Popping Candy Milk Chocolate Bunny
Our top chocolate pick to celebrate Easter! We are reliably informed by our very own Senior Celebrity Writer that this is hands-down one of the most delicious Easter eggs you can get your mitts on. (Ok, it's not technically an egg but we're letting that slide because chocolate and popping candy - what's not to love? Best of all, it costs barely more than a quid. (And if the kids aren't keen, filling it with Baileys before you polish it off is apparently an absolute winner.)
---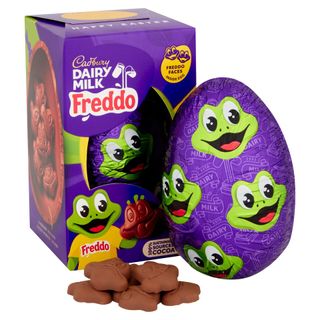 2. Cadbury Dairy Milk Freddo Faces Easter
If you want to treat a little one to some Easter yumminess without overindulging them, you can't do better than this cute little Freddo Faces offering from Cadbury. It's the equivalent amount of chocolate to just over 2 bars of Dairy Milk and it's filled with - you guessed it - Freddo Faces. Youngsters will love discovering these cute treats inside. And look at the price - just £1 if you have a Clubcard! Tesco has several other Easter eggs at the same price that are also perfect for kids.
---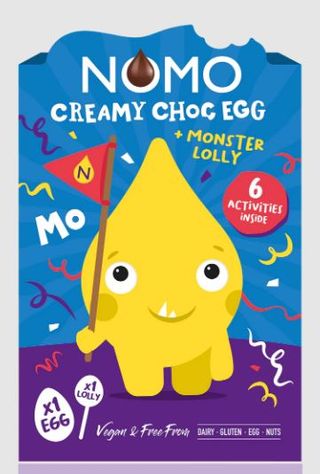 3. Nomo Monsters Crispy Chocolate Egg
This cute non-dairy Easter egg is a good choice for little ones who don't do dairy, gluten, egg or nuts. The egg itself is a non-dairy alternative to milk chocolate studded with crispy pieces and it comes with a non-dairy chocolate lolly included. There are 6 fun activities to explore too.
---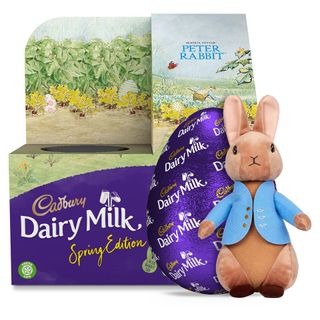 4. Cadburys Peter Rabbit Easter Egg
It's hard to beat this cute cuddly toy and yummy Cadbury chocolate egg combo. The milk chocolate egg is medium-sized so it won't be the end of the world if they scoff the lot in one go, plus we love that the box is recyclable with no use of plastic. The Peter Rabbit toy is velvety soft and still a favorite cuddly in our house from last year's egg!
---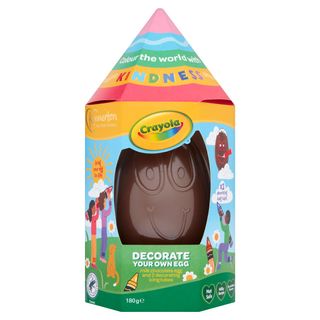 5. Crayola Decorate Your Own Easter Egg
We love this clever idea from Kinnerton and Crayola. This delicious chocolate egg comes with two tubes of icing so the kids can draw and decorate their Easter eggs before eating. These would make a great Easter activity if you're hosting a party with friends or family. You could even add your own writing icing tubes (£2.35) for even more fun and variety.
---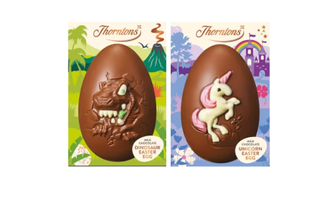 6. Thorntons Dinosaur and Unicorn Easter Eggs
Made with smooth Thorntons milk chocolate, these classic Easter eggs are hits with kids year after year. The designs are made with white chocolate and coloured chocolate. These Easter eggs are the perfect size for kids as they're not too big so they won't overindulge. Certainly one of our favourite Easter eggs for kids for 2023.
DINOSAUR - VIEW AT THORNTONS | £4
UNICORN - VIEW AT THORNTONS | £4
---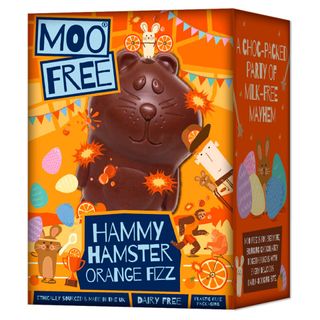 7. Moo Free Orange Easter Hamster
Another delicious dairy-free choice that's ideal for kids, this orange-flavoured alternative to milk chocolate Easter egg contains popping candy and is made using cocoa from Rainforest Alliance Certified farms to support sustainable farming.
---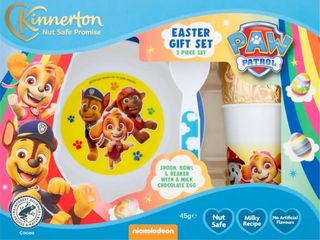 8. Paw Patrol Easter Gift Set
For the Paw Patrol fan in your life, this Easter egg isn't just about chocolate as it comes with a Paw Patrol spoon, bowl, and beaker. The egg itself is small, nut-free, and made with milk chocolate. It's a great gift set if you're looking for something more substantial than an Easter egg this year.
---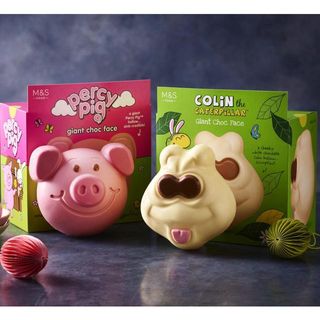 9. M&S Colin the Caterpillar Giant Choc Face
We haven't yet managed to lay our hands on a Colin the Caterpillar Easter egg so this is the next best thing - his face! It's the best Easter egg for those kids who are always the first ask if they can have the face whenever a Colin the Caterpillar birthday cake appears!
---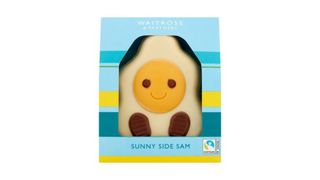 10. Waitrose Sunny Side Sam Easter Egg
Make the kids smile with this Sunny Side Easter egg from Waitrose. 'Eggcelent gift for all the yolkers out there, smashing price too!' said one happy Waitrose customer. We just love the quirky, cartoon-like design. It's the perfect egg if you're making your own Easter hamper or goodie bag for the kids this year.
---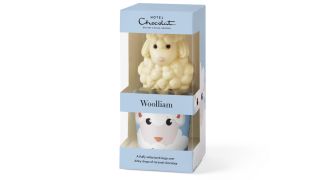 11. Hotel Chocolat Wooliam Hollow with Tiddly Pot
This cute little chocolate sheep is moulded in smooth and creamy white chocolate, with milk chocolate detailing and the whole thing is sketched, painted, and hand-carved by Hotel Chocolat's very own chocolate sculptress. It comes with a 'tiddly pot' of delicious caramel chocolate drops, perfectly sized for little fingers. Elizapeck the chick and Rabbert the rabbit are also available and designed for those who prefer milk or dark chocolate. The Elizapeck Hollow with Tiddly Pot is equally delicious if you prefer a milk chocolate option.
VIEW AT HOTEL CHOCOLAT | £7.50
---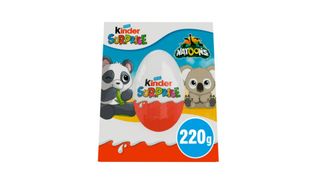 12. Giant Kinder Egg
Watch your little one's face light up when they see this giant Kinder egg. Like a traditional Kinder Egg, this Easter egg is hiding a surprise toy inside. The toys vary from egg to egg, and all need to be assembled just like a classic Kinder Egg. Keep in mind that Kinder Egg toys can contain small parts so this egg is not suitable for younger children.
---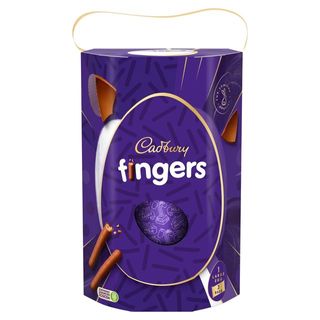 13. Cadbury Dairy Milk Fingers Easter Egg
Kids who can't resist Cadbury fingers (and frankly, who can?) will be delighted with this Easter treat. You get one large hollow Dairy Milk chocolate egg (which you'll obviously have to help them with) and three bags of Cadbury Fingers to enjoy - or share, if you must.
---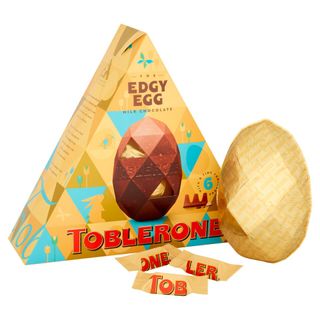 14. Toblerone The Edgy Egg Milk Chocolate Easter Egg
Toblerone is an acquired taste for kids with its honey and nougat vibe but those who can't resist the Swiss chocolate treat will be chuffed to get this brand-new geometric chocolate egg from the Easter bunny.