Asda has launched two new unicorn desserts- and kids are going to love them
These candy-coloured treats are guaranteed to be a hit at your next party…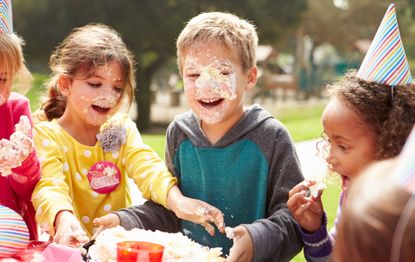 (Image credit: Monkey Business/REX/Shutterstock)
Asda's candy-coloured unicorns treats are guaranteed to be a hit at your next party…
It might feel like the whole world has gone unicorn-mad lately, especially if you've got kids. After all, we've already welcomed everything from unicorn turkey nuggets (opens in new tab) to unicorn blankets (opens in new tab) into our lives this year.
But Asda still thinks there's room for a bit more unicorn-inspired excitement in our lives – and we think they might just be right.
They're now selling packs of two Unicorn Sundaes and a party-size Unicorn Smash Dessert.
The pretty trifle-style Unicorn Sundaes, which cost £2.25 for two, are made up of layers of strawberry sauce, vanilla mousse and pastel pink marshmallow, topped with a white chocolate horn. Each sundae contains 173 calories, so while they might be indulgent, we reckon you needn't feel too bad about treating yourself to one…
Or if you're after a showstopping sharing dessert that will make a real impact at your next kids' party, the Unicorn Smash Dessert is bound to be a hit.
If your little darlings can bring themselves to smash its adorable white chocolate head, they'll find a vibrant rainbow-coloured vanilla mousse inside, sitting on top of a yummy biscuit base. The 400g dessert costs £5.49 and has 422 calories per 100g.
The desserts are available in Asda stores now and are expected to land online soon.
But if you can't wait to order them online, you could always treat yourself to a tub of Asda's Unicorn Ice Cream in the meantime. If you're catering for a special birthday, the beautiful Unicorn Celebration Cake is sure to go down a storm, too – just remember the Unicorn Paper Plates!
And let's not forget about Easter – the supermarket's adorable white chocolate Unicorn Egg is bound to be a hit with your little one, and the Unicorn Biscuit Kit will while away a lazy Bank Holiday.