Iceland are selling Christmas tree flavoured crisps to get you in the festive spirit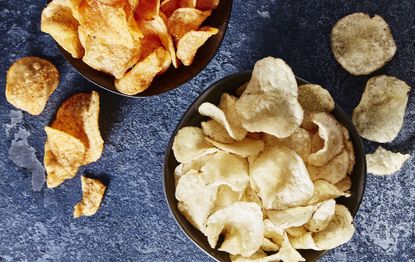 (Image credit: Iceland)
Throughout the nations shops are doing their best to come up with quirky creations for the festive season.
Tesco has upped the pigs in blankets game with their pigs in duvets wreath (opens in new tab), Marks and Spencer has released its addictive Christmas spreads (opens in new tab) (including one that tastes like Jaffa Cakes), and Aldi is doing a prosecco bottle (opens in new tab) large enough to serve a whole office party - and we're not even exaggerating!
But, one supermarket is taking Christmas foods to the next level with their rather bizarre crisp creation. While you might expect roast turkey, lamb and mint or, at a perhaps even, beef and brussel sprout and beef flavours to make an appearenece on supermarket shelves, you probably wouldn't have been expecting this...
Frozen food specialist Iceland has released a new bag of crisps, and they are Christmas tree flavoured!
The Christmas Tree Flavour Salted Hand-Cooked Crisps are part of the supermarket's luxury festive range and are sprinkled with pine salt flavour seasoning to get that unique Christmas tree taste.
Internet users have been divided with some being curious to try the out-there nibbles, while others aren't so keen.
Some Instagram users are certainly intrigued by the supermarket's one-of-a-kind product, writing: 'this is a game changer', 'I would probably try them just to see what they were like', 'I guess I'd have to give it a try' and 'Christmas snack?'
But others are planning to steer clear, commenting: 'so weird', 'who's eating Christmas trees?', 'I've never eaten a tree before' and 'whatever next!?'
If the forest-like snack has piqued your interest, you'll be glad to hear they're available to buy now in-store and online for only £1 for a 180g bag.
That's a bargain for six servings and they're suitable for vegetarians.
However, if the pine taste isn't for you, check out the rest of their festive flavour range which includes Luxury Lobster and Pigs in Blankets flavours!
Happy snacking!
Aleesha Badkar is a lifestyle writer who specialises in health, beauty - and the royals. After completing her MA in Magazine Journalism at the City, the University of London in 2017, she interned at Women's Health, Stylist, and Harper's Bazaar, creating features and news pieces on health, beauty, and fitness, wellbeing, and food. She loves to practice what she preaches in her everyday life with copious amounts of herbal tea, Pilates, and hyaluronic acid.