Marks & Spencers are launching a readymade Jaffa Cake cocktail mix
It's only £10 a bottle and is ready to use...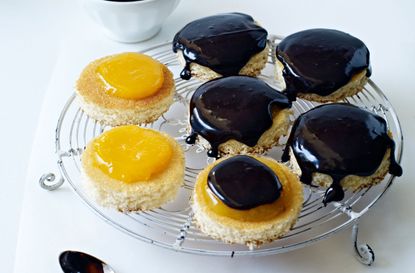 Love Jaffa Cakes? We've got good news as this Christmas you'll be able to grab yourself a bottle of pre-made Jaffa Cake cocktail from Marks & Spencer!
Jaffa Cake cocktails are a game-changer for those who cannot get enough of the chocolate-coated, orange-jelly-topped cake (or biscuit) treats... Hello new favourite tipple!
Marks & Spencer are launching the pre-made cocktail this Christmas but we're already very excited. People went crazy for the £1 Jaffa Cake cheesecake (opens in new tab) from Tesco and we reckon this Jaffa Cake cocktail mix is going to prove just, if not more popular!
The cocktail mix is made with rum and is ready to drink, though M&S recommend giving it a good shake in a proper cocktail shaker with plenty of ice rather than drinking it straight from the bottle – despite how tempting that might be!
To give this cocktail the full five-star treatment it deserves you should serve it over more ice and garnish with a slice of fresh orange. You could also add a little extra chocolate syrup to the mix for an even sweeter finish...
It could also be delicious as a kind of freakshake when mixed with milk and topped with squirty cream, chocolate shavings and an extra Jaffa Cake or two for good measure... You could use Jaffa Cake minis if you want to make it look super chic!
The cocktail mix, which has an ABV of 20 per cent, and hits stores on 26 September but if you can't wait until then why not try your hand and making your own Jaffa Cakes (opens in new tab)?
Once the cocktail mix is on sale you should definitely host a Jaffa Cake themed afternoon tea for your friends and this tipple will be the perfect accompaniment. From Jaffa Cake pancakes (opens in new tab) to a Jaffa drizzle cake (opens in new tab) – we've got plenty of Jaffa cake recipes to satisfy your craving!
Will you be heading out to stock up on Mark & Spencer's Jaffa Cake cocktail mix? What other treats would you like to see reimagined in cocktail form? Head over to our Facebook page to share your ideas – we're thinking something Caramac-inspired....