McDonald's has brought back the Twix McFlurry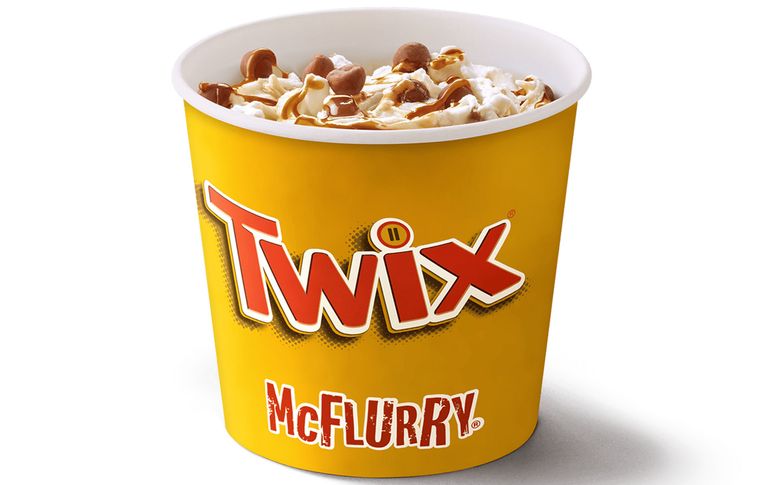 (Image credit: McDonald's)
We all get excited when there are any new fast foods on the scene.
Bakery chain Greggs' newest addition, their vegan sausage roll (opens in new tab), got fans all riled up earlier this month.
Any bake fans who were trying to follow a vegan lifestyle were over the moon that they finally had a grab-and-go roll they could dig into.
And then McDonald's fans were sent into a tizzy last week when the restaurant chain announced that they were releasing a new addition to their Big Mac menu (opens in new tab).
And now the leading fast-food chain has sent fans wild again with another new(ish) release.
The worrying bacteria found on McDonald's screens
The fast-food favourite is bringing back the Twix McFlurry to their menu, and fans are losing their minds.
The classic ice cream dessert has long been a favourite at McDonalds, with it's creamy one-of-a-kind soft serve whip, indulgent chocolatey toppings and handy container complete with plastic spoon.
And now the popular eatery has brought back the in-demand classic biscuit chocolate bar flavour, which features little pieces of chocolate-coated Twix, and chocolate caramel sauce swirled into the iconic ice cream.
Fans have taken to Twitter to express their excitement at the dessert's return, writing: 'Wonderful News Everyone, The Twix McFlurry Is Back', 'So McDonald's is doing a twix McFlurry atm, thought everyone deserved to know' and 'Twix McFlurry is life!!!'
The only drawback to this legendary dessert being back on the menu? It's knocked the indulgent Galaxy McFlurry back off the board!
The creamy Galaxy flavour, complete with a gooey caramel drizzle returned to menus at the start of this month (opens in new tab), but it has now made a swift exit to make way for the Twix version.
You can your hands on the Twix McFlurry and Twix Mini McFlurry (for when you're feeling slightly less naughty) for £1.39 and 99p respectively in branches across the country.
Or if you're not into biscuity Twix bars, take your pick from the other treat options on the menu. Choose from a Cadbury Dairy Milk McFlurry, Cadbury Crunchie flavour or an ice cream filled with crushed Oreos.
Aleesha Badkar is a lifestyle writer who specialises in health, beauty - and the royals. After completing her MA in Magazine Journalism at the City, the University of London in 2017, she interned at Women's Health, Stylist, and Harper's Bazaar, creating features and news pieces on health, beauty, and fitness, wellbeing, and food. She loves to practice what she preaches in her everyday life with copious amounts of herbal tea, Pilates, and hyaluronic acid.