Here's how you can get free fruit when you visit any Morrisons store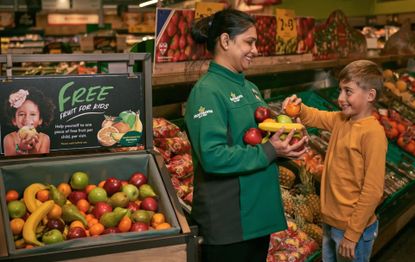 GoodTo newsletter
Sign up to the GoodTo Newsletter. You can unsubscribe at any time. For more information about how to do this, and how we hold your data, please see our privacy policy
Thank you for signing up to . You will receive a verification email shortly.
There was a problem. Please refresh the page and try again.
Morrisons free fruit scheme has been announced as the supermarket reveals they will be giving away produce throughout their UK stores.
The leading supermarket is rolling out a new scheme that will offer free fruit (opens in new tab) to children in an effort to help them get one of their five a day (opens in new tab).
Morrisons are hoping that the scheme will also help to tackle the nationwide issue of food waste (opens in new tab), as the fruit that they will be offering will be at produce that is at risk of going to waste if not otherwise eaten.
However, they have assured that the fruit will still have plenty of time left before its use-by date so will perfectly fresh for their young shoppers to eat.
The grocer's Free Fruit for Kids scheme will be rolled out this week and fruit will be available as long as the store is open.
There will be no risk of the store running out of free fruit if you don't get there in time, as the provisions will be replenished throughout the day to make sure that it's always on hand if any of their underage shoppers get peckish.
A spokesperson for the supermarket said that they will have a range of fruit on offer for their young customers, including bananas, apples, pears, sweet clementines and satsumas.
Morrisons are expected to hand out up to two million pieces of fruit each year.
They will display the healthy snacks in wooden stands towards the entrances of their shops, in the hope that kids will take a piece of fruit when they visit the stores with their parents.
'Sometimes our stores are left with unsold fruit and customers would prefer us to find a use for it,' said Clare Linstead, fruit buyer at Morrisons.
'So we're putting out fruit – that's at risk of not being sold – for children to help themselves. It's healthy for them, reduces food waste in our stores and will help make shopping easier for parents.'
The new scheme will be rolled out in stores throughout the UK, so next time you're doing the weekly shop, take the kids along for a healthy snack.