Mr Kipling unveils new mint fancies – and you can get them in Tesco and Morrisons!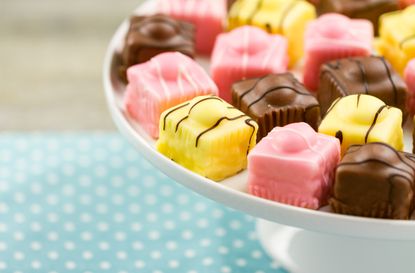 Mint chocolate fans rejoice – Mr Kipling has just unveiled a new mint flavour for the brand's famous fondant fancies.
The news comes as supermarkets begin to roll out their Christmas food, including Asda's chocolate orange After Eights.
The Mr Kipling 'After Dinner Mint Fancies' are already going down a treat with shoppers, which comes as little surprise given their chocolate-flavoured sponge cake and mint crème topping, all covered with chocolate fondant icing – yum!
Read more: Coca-Cola is launching Clementing Diet Coke for Christmas and we're excited already (opens in new tab)
The treats have already been spotted in Morrisons and Tesco.
The launch was reported by the NewFoodsUK Instagram account on Sunday (September 1), who shared the news that the cakes were on offer at Morrisons with two boxes of eight fancies priced at £2.
The post has Instagram into meltdown, as cake fans wasted no time in commenting on the new Mr Kipling product.
'After dinner mint fancies look so good!!!!,' wrote one Instagram user, while another added: 'The mint ones look lush.'
A third simply commented:'After 8 fondant fancies. What a world.'
The post also showed two more new flavours of Mr Kipling treats – Chocolate Caramel and Pecan Slices and Apple, Pear and Custard Crumble Tarts - as part of the Morrisons offer.
Read more: 33 retro chocolate bars that need to be brought back IMMEDIATELY (opens in new tab)
We're certain you'll want to try all three flavours, but if you aren't local to Morrisons, fear not! The mint-flavoured fancies have also been spotted on Tesco website for £2.50 a box.
The mint fancies aren't too destructive to your diet either, as each cake contains only 106 calories, making them a delicious sweet treat if you're watching your waistline (and can stick to just one!).
If you've been circulating the same old digestives at teatime, or want a delicious alternative to traditional chocolate mints after Christmas dinner, we reckon it's time to head to Morrisons or Tesco to try the new Mr Kipling mint fancies.