M&S is giving away £100 vouchers - here's how to win one!
M&S is bringing back its legendary 'food porn' ad campaign – and they want you to get in on the act…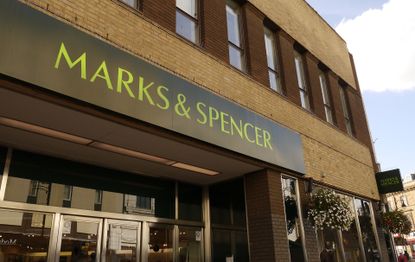 (Image credit: Mark Newcombe/REX/Shutterstock)
M&S is bringing back its legendary 'food porn' ad campaign – and they want you to get in on the act with a new competition.
The iconic 'This is not just…' M&S ads have been off our screens for an incredible 12 years now – and oh, how we've missed them.
But it's time to get excited, food fans, because they're back!
M&S is launching its new 'best ever' trifle (opens in new tab) as part of the new campaign. And we suggest you stock up now – sales of its melting middle chocolate pudding shot up by 3,500 per cent when it was featured in the original campaign!
The first ad from the new campaign hits our screens this week, and it's had a tongue-in-cheek modern makeover. 'M&S will be stepping into the lives of customers in the key moment they're daydreaming about delicious M&S food,' the store explained.
The new ad is already a hit on social media. 'Yay, I'm glad you brought #ThisIsNotJust back…' one fan tweeted. 'Whenever I eat M&S food, I say these exact things.'
Others are still struggling to comprehend the fact that those oozing chocolate puddings have been off our screens for more than a decade. 'HOW has it been TWELVE years already since @marksandspencer stopped doing #thisisnotjust adverts?!' one Twitter user demanded. 'I feel like I was just watching them a few months ago. Which is probably why I now do half of my grocery shopping there #timeflies.'
https://www.facebook.com/MarksandSpencer/photos/a.99675113611/10156692174713612/?type=1&theater
And in even better news, to celebrate the campaign's return, M&S wants you to have a go at recording your very own #ThisIsNotJust advert. The top 10 entries will win a £100 M&S Food voucher.
The brand laid down the challenge on their Facebook page, saying: 'We've shown you our seductive voice, not it's your turn to share yours. Warm up your vocal chords and seduce us with your best #ThisIsNotJust M&S Food voice.'
To be in with a chance of winning, just flick your front camera on and record yourself selling trifle, salmon, sourdough or pizza in your best 'seductive M&S voice', then post it in the comments.
You've only got until the end of the week though, so get in quick!
Samantha is a freelance writer at Goodto who has been with team since 2019. Initially trained in psychology, she specialises in health and wellbeing and has additionally written for magazines such as Women's Health, Health & Wellbeing, Top Santé, Healthy, Refinery29, Cosmopolitan, Yahoo, CelebsNow, Good Housekeeping and Woman&Home.