M&S is releasing its 'best trifle ever' and it sounds amazing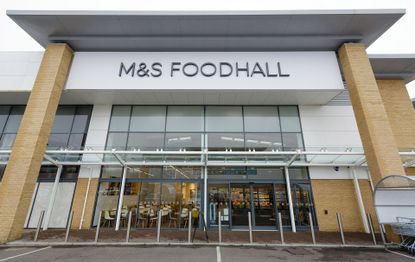 (Image credit: Patch Dolan)
M&S has spent a year developing the ultimate pudding…
Last week, they shocked us with their naughty chocolate 'yoga bunnies' (opens in new tab) but now it looks like M&S are going back to their roots.
Trifle is the quintessential English dessert, and we all know that M&S do quintessentially English better than anyone else. Now they've decided to up the ante by calling their latest pud, 'Our Best Trifle Ever'.
And while we're all for trying something different – like the controversial Crème Egg trifle (opens in new tab) – there's always room at the table for something classic.
The trifle is packed with the highest quality ingredients – think free range eggs, Madagascan vanilla-infused custard and fruit compote made up of 80 per cent whole strawberries and raspberries.
But the secret is in how the layers are balanced, according to M&S's dessert developers (yes, that's an actual job, and no, we're not jealous at all).
It's taken a whole year to perfect the ratio of cream, custard, sponge and fruit with 'scientific precision'.
All in all, it's got everything you could want in a trifle – with the possible (and controversial) exception of jelly. That's right – it uses compote instead.
Mary Berry would be proud – in an interview with Woman's Hour this month, she proclaimed that a grown up trifle 'certainly has no jelly in'.
The declaration set Twitter alight. 'Mary Berry doesn't put jelly in her trifle. What a nutter!' exclaimed one user.
'No jelly in Mary Berry's Trifle! 250ml sherry in! What a girl!' remarked another.
'Of course the legendary Mary Berry is correct,' another argued. 'Trifle should not contain jelly.'
We suggest you reserve judgement until you've sampled M&S's 'best ever'. After all, they've been making trifle for 50 years!
'It's rarely shifted from being in our top three puds, but we're expecting even greater things now and are hoping to see it top the charts!' dessert developer Dan Fletcher boldly proclaimed.
The trifle serves six and will be available in store from April 3rd, costing £5.
Samantha is a freelance writer at Goodto who has been with team since 2019. Initially trained in psychology, she specialises in health and wellbeing and has additionally written for magazines such as Women's Health, Health & Wellbeing, Top Santé, Healthy, Refinery29, Cosmopolitan, Yahoo, CelebsNow, Good Housekeeping and Woman&Home.