Papa John's is launching a Marmite stuffed crust – and it's got pizza fans divided
The new stuffed crust option will be available at all Papa John's stores from Monday 25th March.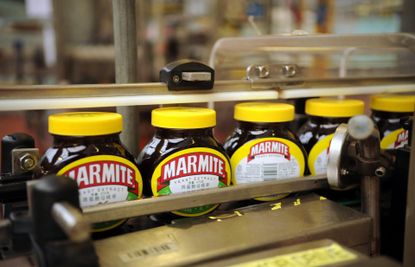 Papa John's latest launch involves one of the most controversial foods of our time - Marmite.
For an extra £2.50, you can have marmite added to any pizza of your choice. The Marmite stuffed crust will be filled with the oozy, gooey mozzarella cheese used in the chain's standard stuffed crust option, but with the glorious (or not, depending on your point of view) addition of a healthy dollop of Marmite (opens in new tab).
Unsurprisingly, the new addition to the menu seems to be a love-it-or-hate-it thing. Excited and horrified pizza lovers alike took to Twitter to express their opinions on the announcement.
'Sounds delicious. Absolutely yes,' said one user. '@PapaJohnsUK bringing out a Marmite & Cheese stuffed crust pizza is an absolute game changer,' another added.
'My life is now complete,' another declared. 'Well done @PapaJohnsUK.'
Another crafty Marmite fan commented: 'This would ensure nobody else in the house would pinch my pizza … Excellent.'
The haters were equally vocal in their disapproval. 'No, that's just WRONG!' one exclaimed. 'I've seen some nasty things on Twitter but there's no need for this!' another agreed.
Others went even further, with one declaring, 'I'd pay the extra £2.50 for it not to have Marmite.' One went as far as saying, 'I'd rather poke my eyes out with a plastic spoon #hatemarmite'.
If you're in the #lovemarmite camp, you'll have to be quick - the new stuffed crust option will be available at all Papa John's stores between Monday 25th March and 20th May.
Papa John's partnered with Marmite to introduce Marmite Pizza Scrolls as a limited edition side dish earlier this year. Part pizza, part pastry, they're popular in Australia, where they're traditionally filled with Vegemite.
'Following the huge success of our Marmite Scrolls earlier this year, we're extremely excited to spread the partnership beyond our side menu and into the crusts of our popular pizzas,' said Papa John's Managing Director Liz Williams. 'Ingredient innovation is at the core of our menu and we're sure that the addition of Marmite to our cheesy crusts will be a huge hit.'
Samantha is a freelance writer at Goodto who has been with team since 2019. Initially trained in psychology, she specialises in health and wellbeing and has additionally written for magazines such as Women's Health, Health & Wellbeing, Top Santé, Healthy, Refinery29, Cosmopolitan, Yahoo, CelebsNow, Good Housekeeping and Woman&Home.