Asda is selling a Marmite flavour chocolate Easter egg – whether you love it or hate it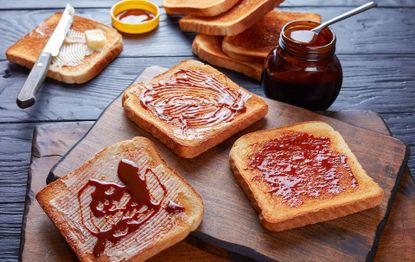 (Image credit: Getty)
There are certain controversial foods that seem to divide the nation.
Jaffa cakes (opens in new tab) and whether they're a cake or a biscuit, Bounty chocolate bars (opens in new tab) and whether their sweet desiccated coconut it heavenly or repulsive and, of course, Marmite.
The yeasty spread that adorns half the nation's morning toast slices has long-been a topic for debate among British social groups.
Makers of the toast-topper, which is famously either loved or hated, have even launched a Gene Project that analyses people's DNA to find out which side they land on.
Read more: Is Marmite good for you? The surprising health benefits of the savoury spread (opens in new tab)
And now the nation's most divisive spread is moving on from bread and pairing itself with one of our other favourites vices – chocolate.
Because as Easter (opens in new tab) swiftly approaches, everything turns to chocolate - whether it makes sense or not is another thing…
Say hello to the Marmite Easter egg. Yes – really.
On sale in leading supermarket Asda, the Marmite Flavour Chocolate Easter Egg is 160g worth of hollow milk chocolate that is somehow flavoured like the yeast extract. Yum?
'The one and only yeaster egg,' Asda writes about the dubious Easter treat. 'Full on flavour.'
'Love it or hate it You just have to try it!'
Like the original yeast spread, the 'yeaster egg' is 100 per cent vegetarians, so those non-meat eaters don't get a get of jail free card when it comes to trying the odd combination.
Read more: Easter food traditions: 11 things you have to eat at Easter – and why we eat them (opens in new tab)
If you're curious enough to give this a try or just a die-hard fan of the sticky spread, you can get your hands on the Easter egg in Asda stores across the country or on the retailer's website.
Though those Marmite lovers have got in there quick, as the novelty egg has already sold out in some stores. But we're sure with this popularity it will be back in no time.
We're not saying we wouldn't try it…it is chocolate after all!
Aleesha Badkar is a lifestyle writer who specialises in health, beauty - and the royals. After completing her MA in Magazine Journalism at the City, the University of London in 2017, she interned at Women's Health, Stylist, and Harper's Bazaar, creating features and news pieces on health, beauty, and fitness, wellbeing, and food. She loves to practice what she preaches in her everyday life with copious amounts of herbal tea, Pilates, and hyaluronic acid.