Pepper shortage 2023: Why are supermarkets running out of peppers in the UK?
Struggling to find one on shelves? Here's why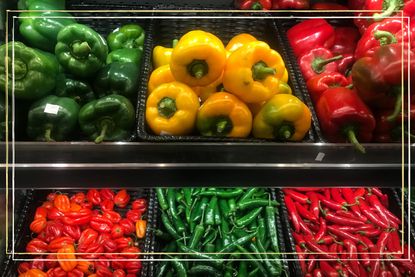 (Image credit: Future/Getty)
Whether you're a fan of red, yellow or green - you might have noticed there's a severe lack of peppers on supermarket shelves in 2023 and this is the reason why.
It's been a turbulent year for British supermarkets, thanks to an ongoing egg shortage, a recent tomato shortage and fears for an upcoming toilet roll shortage too. But the most pressing concern for grocery stores at present is a lack of peppers, that shoppers up and down the country are currently coming face to face with.
We've looked into the issue, to understand why the UK is facing a pepper shortage and also shared details of which countries help get the tasty salad favourite to your plate.
Why is there a pepper shortage in the UK?
Cold weather in Southern Europe has been given as the reason for a pepper shortage in the UK. Low temperatures in Spain - who export a large number of peppers to Britain - has affected crop, leading to less peppers being exported.
Andrew Opie, director of food and sustainability at the British Retail Consortium, confirmed to Sky News: "Difficult weather conditions in the South of Europe disrupted harvest for some fruit and vegetables including peppers."
Shortage of peppers, now like the tomato & egg problems we are now rationed on peppers. So much going down the pan in UK at the moment.April 24, 2023
See more
Bad weather was a similar reason given for the recent tomato shortage, with heavy rain and cold patches affecting crop ripening. At the time, the National Farmers' Union warned that a continued reliance on imported fruit and vegetables had left the UK exposed to "shock weather events". Which in turn has caused supply chain issues.
During the winter months, Britain relies heavily on other countries for exported fruit and vegetables, with their climate being better for growing crop at this time of year.
Whilst issues exports from abroad are to blame for the current pepper shortage, people on Twitter were quick to suggest that Brexit was another factor behind the lack of peppers.
Indeed, new Brexit legislation has made things harder for British farmers, says Dr Philip Morley, Horticulturalist and technical officer of the BTGA. Farmers have seen a shortage of seasonal labour which would previously have been made up of EU workers. This is in addition to new administrative checks and costs - including health checks on seeds entering the UK to rule out plant viruses that can affect crop.
The cost-of-living crisis has also impacted farmers, with inflation affecting the money needed to carry out their jobs.
"Rising fuel costs has meant transportation costs are now higher. Other input costs such as seeds, fertiliser and feed have also increased between 100 and 400 percent," Morley said. "Those costs are also passed on to the grower."
Are supermarkets rationing peppers?
British supermarket Morrisons have confirmed that they have placed a restriction of two packs of peppers per customer, whilst stock supplies are low.
Whilst Morrisons is the first retailer to put in place pepper rationing, other big name supermarkets are also struggling to fill shelves with pepper currently. Waitrose are currently out of all peppers online, except the green pepper variety. And shoppers have reported empty shelves at local stores up and down the country.
Andrew Opie, director of food and sustainability at British Retail Consortium said: "A few stores have implemented temporary limits on how much customers can buy to ensure availability for everyone. However, availability should improve for those impacted in the coming weeks as we enter UK growing season."
I don't know, but it's the first time I've seen such a shortage of peppers at that Waitrose after being a regular shopper there for 7 years.April 21, 2023
See more
Where does the UK get most of its peppers from?
The UK gets most of its peppers from Spain and the Netherlands. Over 90% of tomatoes sold in supermarkets today are imported from abroad.
Data from Tridge revealed that in 2021, the UK received 46.5% of peppers from the Netherlands and a further 40.8% from Spain.
Tangmere Airfield Nurseries in West Sussex is one of Britain's biggest farmers of sweet peppers, grown on home land. According to Countryside Online, around 65 million sweet peppers are picked each year at Tangmere, supplying more than a third of peppers which appear in supermarkets and shops.
"The UK growing season begins with planting the crops in December, then harvesting the peppers from March to late November," explains Mark Knight, crops manager at Tangmere. "We pick every pepper by hand at exactly the right time to maintain flavour and freshness.
"Our bell peppers are grown sustainably in our climate-controlled glasshouses using a hydroponic system without the need for soil."
A small pepper - measuring about 1cm in length - takes between 35-40 days to grow and turn a mature green colour. Left for a further three weeks they then transform into other coloured peppers like red, yellow and orange.
Related features:
Video of the Week
Emily Stedman is the former Features Editor for GoodTo covering all things TV, entertainment, royal, lifestyle, health and wellbeing. Boasting an encyclopaedic knowledge on all things TV, celebrity and royals, career highlights include working at HELLO! Magazine and as a royal researcher to Diana biographer Andrew Morton on his book Meghan: A Hollywood Princess. In her spare time, Emily can be found eating her way around London, swimming at her local Lido or curled up on the sofa binging the next best Netflix show.