Coffee Mate shortage 2023: Why are supermarkets running out of Coffee Mate in the UK?
Nestlé has revealed why the popular product has been missing from supermarket shelves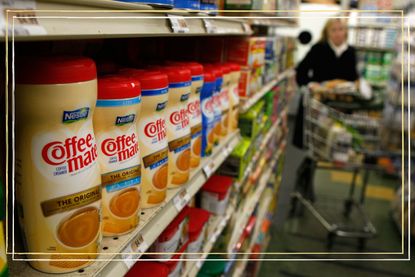 (Image credit: Getty Images)
If you're a fan of the Nestlé creamer, you've probably noticed a Coffee Mate shortage over the past few months.
There's more than a few items that have become harder to get our hands on in recent months, thanks to the ongoing egg shortage (opens in new tab) and a general fruit and vegetable shortage (opens in new tab) - among it a widely criticised tomato shortage (opens in new tab) too. Combined with food prices going up (opens in new tab) for a variety of reasons, the weekly shop is becoming increasingly difficult.
And now there's another item that shoppers have noticed is missing from supermarket shelves. Recent months have seen a Coffee Mate shortage, so we've delved into the issue to find out exactly where all the Coffee Mate has gone...
Why is there a Coffee Mate shortage?
The Coffee Mate shortage has been caused by the decision to change the product's packaging. This has led to some minor production issues that have resulted in the product's absence from supermarket shelves.
Nestlé - the company that manufacturers Coffee Mate - made the decision to change the packaging in a bid to make the product more eco-friendly. But this has meant that the creamer - which is used by some as an alternative to milk and comes in flavours including vanilla, chocolate and crème brûlée - has been in short supply for some months now.
Hi Suzie, we're sorry you're having trouble finding Coffee Mate. It is currently out of stock due to a production issue and unfortunately we expect this issue to last a few months. (1/2)February 6, 2023
See more
The shortage comes after The Grocer (opens in new tab) reported back in October that Nestlé had shrunk the Coffee Mate packaging by 50g to "mitigate souring costs."
What has Nestlé said?
Nestlé has apologised after customers complained of a shortage of Coffee Mate, and has said the company is working to resolve the manufacturing issues that have resulted in its absence from some supermarkets.
A spokesperson said: "We have taken the positive step to move our packaging to be fully recyclable, but we're currently encountering some production challenges. We are working very hard to resolve these issues as soon as possible. Apologies for any inconvenience caused."
Video of the Week
Ellie joined Goodto as a Junior Features Writer in 2022 after finishing her Master's in Magazine Journalism at Nottingham Trent University. Previously, she completed successful work experience placements with BBC Good Food, The Big Issue and the Nottingham Post, and freelanced as an arts and entertainment writer alongside her studies. In 2021, Ellie graduated from Cardiff University with a first-class degree in Journalism.