Is there a toilet roll shortage in the UK? What we know so far
Lacking loo roll?!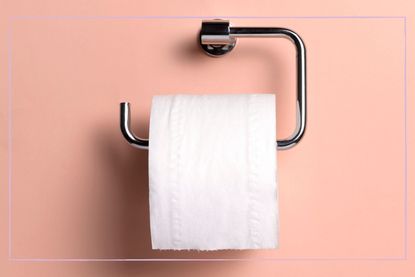 (Image credit: Future/Getty)
Some are panicking that a toilet roll shortage is set to grip the UK again. Here's what you need to know.
2023 has been a year of supply chain issues for the UK. Be it the ongoing egg shortage, the current pepper shortage (part of the wider fruit and vegetable shortage) or the upcoming global rice shortage - there's been many a disgruntled supermarket shopper unable to get their hands on essentials in stores.
In news that will transport many back to the days of the pandemic, toilet paper is the next item that's been billed as at risk of running out, thanks to the passing of new legislation in May. Insiders have predicted the law will have an impact on the production of toilet paper for some companies, which could result in a shortage down the line. Here's what's been said.
Is there a toilet roll shortage in the UK?
No there is currently not a toilet roll shortage in Britain. The last known toilet roll shortage was during the Covid-19 pandemic when some shoppers panic-bought supplies ahead of UK-wide lockdowns.
In March 2020, some supermarkets were forced to limit the amount of toilet paper customers could buy, alongside other in demand items such as pasta and hand gel. In September 2020 it was recorded that toilet roll sales were up by 23%. The panic buying led to limited supplies in local stores, and in some cases, completely empy shelves with some shoppers unable to get their hands on loo roll.
I'll never forget the great toilet roll shortage of 2020April 16, 2023
See more
Whilst supermarkets have not reported a toilet roll shortage to date, some experts fear that another could be underway soon.
Will there be a toilet roll shortage?
Industry experts have suggested there could be a toilet roll shortage in 2023, as companies get to grips with a new EU law coming into effect in May.
The new law will ban products that are linked to deforestation, including certain wet wipes and toilet roll. Some companies still rely on virgin pulp to make toilet roll, which is a huge contributor to global deforestation, especially when it's obtained unsustainably.
Chris Forbes, Co-founder of Cheeky Panda, told the Grocer this law change will have a "gigantic effect" on the toilet paper industry, seeing as the "vast majority" sold in the UK and EU still get their material from newly harvested trees.
"There will definitely be a squeeze on availability and we can expect the price of recycled tissue to rise as demand for alternatives increases," Forbes said.
A supply chain issue could arise as these companies fork out "billions of pounds" to make operational changes in keeping with the new law. And these changes are something that can't be done overnight, warns Forbes.
A new study by American finance company MSCI found that less than 40% of current paper companies had a deforestation policy in place. They outlined that "preparedness does not appear to be high" ahead of the law change.
"Firms that have been thinking of deforestation as an issue for somebody else or someday down the road, may have to get a handle on it and in a hurry."
Despite the evidence, toilet tissue company Accrol has claimed they're not predicting a subsequent toilet paper shortage. "We don't anticipate paper supply shortages as a result of these regulations but potentially a surge in demand for FSC certified, PEFC and other sustainably sourced stocks," Accrol head of marketing and communications, Vikki Makinson told the Grocer.
Toilet paper firms Cheeky Panda and Who Gives a Crap are two companies that have already paved the way environmentally, by using Bamboo as an alternative for their loo roll - and not wood.
The new EU law is a big first step for nature protectionBut the clearing of wetlands, grasslands and other priceless ecosystems for agricultural expansion must stop, along with European banks financing nature-destroying projects#Together4Forestshttps://t.co/2dkZeEg4aUApril 21, 2023
See more
Why are toilet paper prices going up?
Rising energy costs and a shortage of materials to make toilet rolls are the reasons why toilet paper prices have gone up in recent years. With manufacturing costs increasing, some of this cost has passed on to customers.
According to washloo, toilet paper production is reliant on electricity within paper mills. "With the cost of electricity rising, these factories are now struggling to manage production costs as they require a vast amount of energy to transfer wood into pulp and then into toilet tissue," they explain.
Co op prices are madness, my local has a "deal" on toilet roll, £9.50 for 9 rolls!April 14, 2023
See more
It's not just the current cost-of-living crisis which has led to prices going up. There's a national shortage of lumber and wood pulp, used to make toilet roll. As manufacturers compete to get access to these raw materials, their price is increased due to demand.
"A material shortage is also an after-effect of the pandemic," adds washloo. "Some factories use recycled paper to make toilet rolls, and with a shortage of office waste over the COVID-19 pandemic, recycled tissue is also in short supply. Toilet paper manufacturers have had to increase their prices to cover this."
Related features
Video of the Week
Emily Stedman is the former Features Editor for GoodTo covering all things TV, entertainment, royal, lifestyle, health and wellbeing. Boasting an encyclopaedic knowledge on all things TV, celebrity and royals, career highlights include working at HELLO! Magazine and as a royal researcher to Diana biographer Andrew Morton on his book Meghan: A Hollywood Princess. In her spare time, Emily can be found eating her way around London, swimming at her local Lido or curled up on the sofa binging the next best Netflix show.